As I wrote last November, an FDA advisory committee on November 15, 2012, voted 13-to-1 Dynavax's (NASDAQ:DVAX) Hepatitis B vaccine Heplisav was effective, but by a vote of 8-to-5 (with one abstention), the panel voted the data were insufficient to demonstrate safety (which is different from saying the vaccine was not safe, an important distinction!). Wall Street was quick to knock the stock down, dropping it more than $2 following the advisory committee vote.
Now, the other shoe has dropped. With the announcement by the company that the FDA sent them a Complete Response letter (CRL), the stock once again was sent tumbling, this time below $2, before recovering to close just above that level Monday, February 25, 2012. Wall Street, of course, is quick to throw the baby out with the bath water. So the question is: are things as dire as the reaction on the Street would have you believe. Facts suggest otherwise.
According to the company, "In the CRL, the FDA specified that the indication in adults 18-70 years of age cannot be approved without further evaluation of safety in this broad age group. The FDA also continues to express concern that novel adjuvants may cause rare autoimmune events. However, the Agency indicated its willingness to continue discussions regarding a more restricted use of Heplisav. Dynavax plans to discuss the CRL with the FDA to identify the most expeditious path to approval for Heplisav, particularly in adults who may receive the greatest benefit from Heplisav."
You can read the comments made by management here. In essence, there are two factors to be addressed: (1) those pertaining to Heplisav, specifically, and (2) to an FDA request for additional data from Dynavax's process validation program and clarifying information on the manufacturing controls and facilities related to the assurance of the quality of the commercial product. The company believes it can provide the data and information requested without any problem, so I won't dwell on these matters.
First, a little history. Recall, it was the FDA itself that requested the company submit a BLA covering adults 18-70. In fact, the original submission was delayed so that the company could expand the application to patients up to age 70. As well, by agreement with the FDA, Dynavax agreed to withhold it BLA for chronic kidney disease (CKD) until after Heplisav had been approved for hepatitis B (Hep B). (NB: Importantly, the Application for Marketing Authorisation (MAA) submitted in Europe and accepted in August 2012, addresses both Hep B and CKD indications.)
There is no question Heplisav is a superior treatment for both Hep B and CKD. Compared to GlaxoSmithKline (NYSE:GSK) Engerix-B, the current standard of care, Heplisav provides faster, higher, and longer lasting protection. As well, Heplisav is safe and well-tolerated. Compared to Engerix-B, Heplisav requires only 2 doses on a 0, 1 month schedule for Hep B. For patients with CKD or on dialysis older than 18 years, it only requires 3 doses (0, 1, 6 month schedule) versus 8 doses of Engerix-B at 0, 1, 2, and 6 months. Finally, local and systemic reactogenicity, adverse events, and serious adverse events occurred at similar rates.
If you still have doubts about the superiority of Heplisav, perhaps this figure will convince you of the products qualities: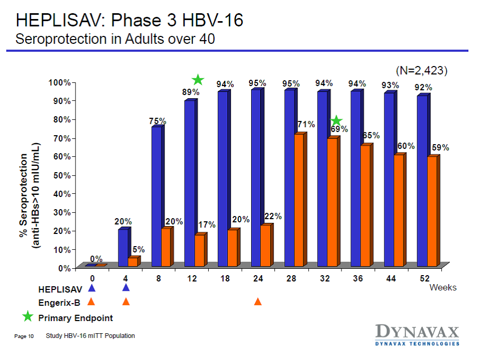 Figures courtesy Dynavax (Corporate Presentation, October, 2012)
Dynavax has said it now hopes to meet with the FDA within the next 6 weeks to seek a path forward for a more 'focused label' for Heplisav. Included were pursuit of the CKD disease population, adults over age 40 years, and other groups who have not responded well to currently available Hep-B vaccines.
The figure above (from a Dynavax corporate presentation last October) already shows why the FDA would be interested in Heplisav for patients over 40 years.
The figure below shows the efficacy of Heplisav for patients with CKD (for the Trial HBV-17). Again, note only 3 doses are required to achieve 90% SPR while GSK's treatment, comprising 8 doses, only achieves 82% SPR.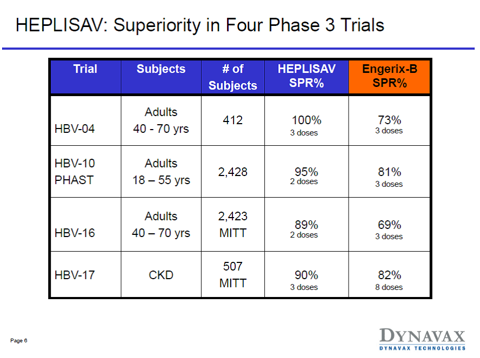 'Other groups' undoubtedly includes patients with diabetes. Here, Heplisav again exhibits superior seroprotection qualities, as seen in the figure below…seroprotection achieved with 2 doses (0. 1 month) versus the 3 doses (0. 1, 8 months) required for GSK's product.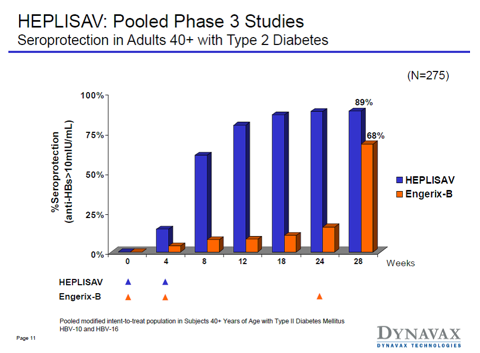 Clearly, Heplisav has much to offer patients over what they are receiving from the current standard of care. And again, as I noted above, it's not that the advisory committee found Heplisav unsafe…it's that they felt more data were required to substantiate the treatment's safety profile…something both the FDA and Dynavax already had agreed to prior to the advisory committee meeting through the implementation of a post-approval Phase 4 safety study. (The draft agenda, briefing papers, and other relevant documents for this meeting can be found here) To see this, consider Section 7.0 from the advisory committee briefing document:
Section 7.0 Pharmacovigilance Plan:
"Dynavax has proposed an open-label, prospective, observational study to assess the incidence of medically significant adverse events, including autoimmune disease, in 5000 individuals initiating vaccination with HEPLISAV. A concurrent population of 5000 individuals initiating vaccination with Engerix-B will be evaluated for comparison. Participants will be followed for 12 months after the first injection. In addition to this postmarketing study, Dynavax has proposed routine pharmacovigilance to identify potential risks."
At this point, we await word from Dynavax as to when they will be meeting with the FDA…and of course, the outcome of these meetings and the path forward for the approval of Heplisav.
Technical Analysis
The Daily chart, courtesy StockChart.com, shows the stock closing Monday night just above $2. Clearly, there is a large gap to fill from the close on the previous Friday night. The stock is oversold.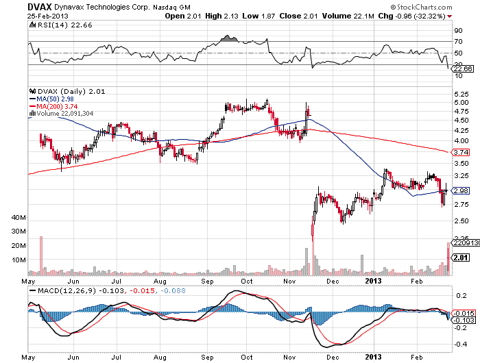 On the Weekly chart, the stock broke support at the 200-week moving average and is in 'uncharted' territory. It is nearing oversold territory. The MACD is negative.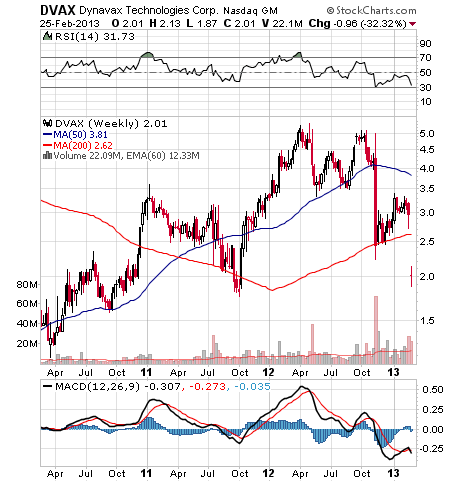 Disclosure: I am long DVAX. I wrote this article myself, and it expresses my own opinions. I am not receiving compensation for it (other than from Seeking Alpha). I have no business relationship with any company whose stock is mentioned in this article.
Additional disclosure: I am long DVAX. I am not a registered investment advisor and do not provide specific investment advice. The information contained herein is for informational purposes only. Nothing in this article should be taken as a solicitation to purchase or sell securities. Before buying or selling any stock you should do your own research and reach your own conclusion. It is up to investors to make the correct decision after necessary research. Investing includes risks, including loss of principal.