A number of stories in the financial media in recent days argue that two developments are having an impact on precious metals prices - outflows from the world's gold ETFs (negative) and a new crisis in Europe (positive).
Given that the gold price has been rising sharply so far this week, it seems clear that only one of these developments is really affecting the gold price, however, that hasn't stopped a well-known investment bank from predicting doom and gloom for precious metals investors.
To be sure, gold as an investment in the U.S. has lost some of its appeal in recent months. This is due to a number of factors, one of the most important being the failure of the price to continue rising after the Federal Reserve launched new money printing efforts late last year.
Relative calm in Europe over the last six months has also dented demand for the metal as a safe haven, however, that situation appears to be changing rather dramatically since an election in Italy over the weekend.
We'll get to that in a minute.
Not surprisingly, with broad equity markets rising steadily and with the gold market correction now in its 18th month, U.S. investors and traders have lost some of their interest in gold.
After reaching record highs late last year in anticipation of the Fed's latest monetary stimulus, there have been large outflows from gold ETFs and this trend is shown below using the SPDR Gold Shares ETF (NYSEARCA:GLD).
(Note: There are many other gold ETFs in the world and Bloomberg collects all the data on their gold holdings in this handy graphic. The overall data is consistent with that of GLD and, since the GLD data is more convenient, it's used below.)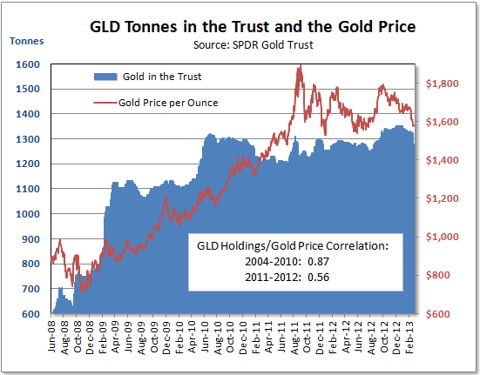 Click to enlarge
(Click to enlarge)
As shown in the text box above where a simple Microsoft (NASDAQ:MSFT) Excel correlation coefficient is calculated for two time periods, while there used to be a strong correlation between GLD holdings and the gold price, that is no longer the case.
This point is also clear to see in the two curves in the chart.
From mid-2008 to the end of 2010, GLD holdings and the gold price almost doubled, following a similar course in doing so. But, over the last two years, GLD holdings have been fairly steady while the gold price has repeatedly surged and then tumbled.
In short, there is now only a modest correlation between gold ETF holdings and the gold price and, as such, comments by Goldman Sachs analysts as recounted in this Bloomberg story seem unfounded:
The turn in the gold cycle has likely already started... The latest collapse in gold ETF holdings stands in sharp contrast to our assumption that ETF positions were likely driven by longer-term allocation rather than short-term trading.
They go on to conclude that prices will fall along with ETF holdings and that rising real interest rates will play a key role, which, when you think about it, is also a rather dubious forecast.
The Fed has promised to keep short-term interest rates low for some time to come (likely until 2015) and, since inflation is now at one of its lowest levels since the financial crisis, the only way real interest rates could rise over the short-term is if inflation falls further.
As noted here last week, we are likely to get sharply higher inflation readings as soon as next month when surging gasoline prices are included in the calculation and the recent jump in core inflation (excluding food and energy) is all the more reason to think that inflation is not headed lower.
Importantly, large and growing short positions by futures traders are an entirely different matter and, as opposed to gold ETF flows, these are likely to make it difficult for the gold price to rebound, but that's an entirely different discussion.
As for what's going on in Europe, relative calm on the continent in recent months has often been cited for the lack of safe-haven gold demand. But, that has clearly changed after inconclusive elections in Italy produced a political vacuum that could persist for some time to come.
All of a sudden, people are again talking about whether the common currency will survive, a question that has been asked only infrequently since last summer.
Yesterday, this contributed to the biggest one-day decline for U.S. stocks in almost three months and a surge in the gold price, perhaps a sign of things to come.
In short, safe haven demand could now be back as the region's third largest economy appears to be in open revolt to the austerity measures imposed by policy makers in Brussels.
There's no telling where this may lead, but it's important to remember that Europe was a source of strong on-and-off gold demand in recent years as the sovereign debt situation lurched from one crisis to the next.
This is made clear in the graphic below from the World Gold Council's latest Gold Demand Trends report.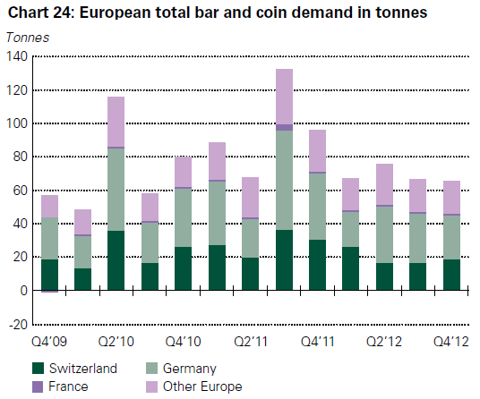 Click to enlarge
(Click to enlarge)
While Europe is not one of the world's leading sources of gold demand, it's not insignificant either and it's no coincidence that the gold price peaked back in the third quarter of 2011 along with demand from the euro zone.
Clearly, sentiment has turned against precious metals in recent months, but the prospect of higher inflation in the U.S. (the subject of another article to come this week) combined with renewed safe haven demand stemming from a new phase of the European sovereign debt crisis could turn that around quickly.
As I've learned in recent years, gold ETF holdings are fun to watch and provide some insight into how U.S. investors feel about the metal, but they don't really have an impact on the gold price.
Disclosure: I am long GLD. I wrote this article myself, and it expresses my own opinions. I am not receiving compensation for it (other than from Seeking Alpha). I have no business relationship with any company whose stock is mentioned in this article. I also own gold coins.