On February 25th, 3D Systems (NYSE:DDD) released its Q4 and full-year results. The market's reaction was mired by confusion and the stock price whipsawed during the trading day, reaching a low of $30.28 from its previous close of $37.97 in early morning trading and recovering strongly into the afternoon before giving up to close at $34.55. As background of my analysis of DDD, I recommend reading my previous articles here and here.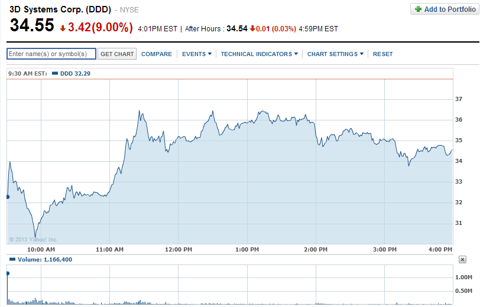 The disorientation was presaged by a 3:2 stock split in the form of a 50% dividend that went into effect after close on February 22nd. After adjusting for the stock split, the previous closing price of $56.48 would have been $37.65. It is important to stress that the split was purely cosmetic - theoretically, the effect was a 50% increase in shares outstanding and a corresponding 33% decrease in the share price to account for the change. Those unaware woke up to a precipitous decline, which surely caused some panic selling.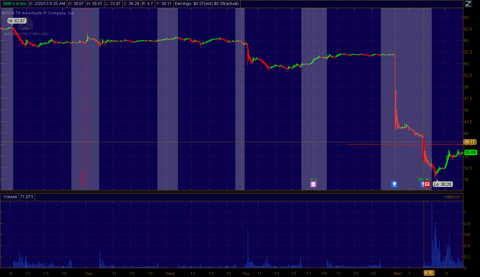 Undoubtedly, misunderstanding added fuel to the fire, as the stock continued to fall in the morning during the company's conference call. As late as 2:30 pm, people were still bungling the numbers and comparing pre- and post-split figures incorrectly (As an aside, among The Motley Fool and penny stock newsletters, one provides valuable investing ideas and the other is The Motley Fool). Q4 EPS slightly beat the aggregate analyst expectation of $0.38, coming in at $0.39 on a pre-adjusted basis. Revenue was a slight miss at $101.6 million for the quarter, compared to an average expectation of $103.9 million. And future guidance was actually rosier than analyst expectations, when adjusted for the stock split: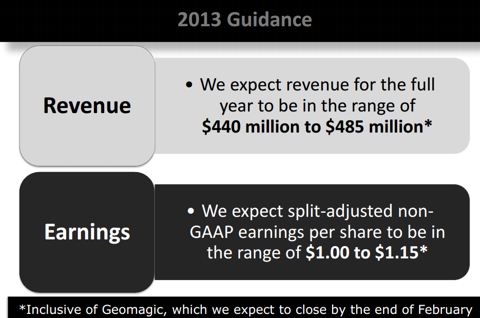 Analysts previously expected revenue in 2013 to reach $442.2 million, and EPS of $1.58. The revenue figure remains unaffected by the split, but EPS expectations are dragged down to $1.05. As with revenue, analyst forecasts for earnings are decidedly in the lower range of the company's guidance. Enacting the stock split at close the day before an annual earnings report was insanity on management's part.
Compounding the poor judgment, the company released its figures 20 minutes before the conference call, and analysts were scrambling to make sense of them as the call was ongoing. In a rare departure from the mood of most earnings calls, one analyst criticized management's release in an exasperated tone, and noted that his feelings were shared by most others on the call. Regardless, releasing results in an untimely fashion when partly missing expectations is not a strong look.
The company beat at the bottom line, and fell short on revenue by 2%, even though sales grew QoQ by 45%. Yet the stock plummeted, as the bull story cracked. All of this confirms the notion that the stock had been priced to perfection. A slight miss unraveled the myth. The company had, for the last year, delivered a number of significant beats. Given anything but strong numbers, the froth the stock experienced was bound to subside quickly.

At a cursory glance, revenue trends across all sectors remain healthy, with printer sales experiencing a YoY growth rate of 90.1%, materials sales at 46.2%, and services revenue at 32.8%.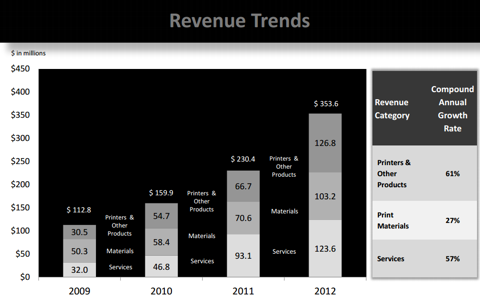 And gross margin rates have expanded annually by 390 basis points, as increased sales have led to improving fixed cost absorption.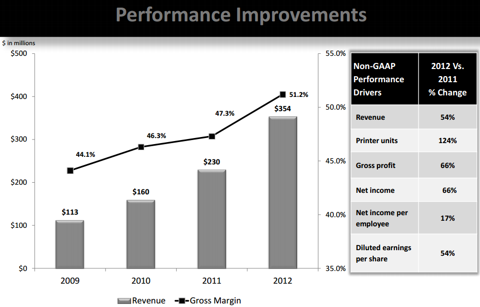 Confirmation and Repudiation
Depending on their views and orientation, different segments of the market look at different things in earnings reports. As I wrote in "3D Systems: How Market Dynamics Have Created a Bubble," bulls and bears are particularly polarized on the company's future, leaving little room in the middle. And earnings reports are viewed as a confirmation or repudiation signal of the story of a stock. The story bulls have clung to is that 3D printing will revolutionize industry and how the consumer creates. Revenue growth is the leading litmus test of the thesis. And the revenue miss in Q4, combined with a 2013 revenue outlook of growth in the range of 24%-37%, was not a powerful confirmation of that thesis. On the opposite side of the spectrum, the broader bear thesis, based on overvaluation, a bubble market, and the unsustainable nature of acquisition-driven growth, received further confirmation. Although total revenue growth for the year came in at 53.5%, the organic growth rate (excluding acquisition revenue for companies acquired in the past 12 months), came to a much tamer 22.4%. After months of criticism on how the company flushes out organic growth from its overall growth rate, concerns surfaced during the conference call, when Bryan Drab of William Blair & Company said the following:
I am looking back at the transcript from fourth quarter 2011 right now and you said, business organically for both fourth quarter and annually [sic] 19%. So that's confusing. I mean if those kind of discrepancies are out there it would be great to find out after - right after that call instead of a year later, because I have been modeling based on those numbers.
The company instead reported that organic growth for Q4 2011 was 8.8%. The consequence of this, as Drab says:
And now you are saying it's 8.8% for the fourth quarter. And I have asked this in the past but when there are discrepancies like that it sure makes me feel uneasy about your ability to give us accurate organic revenue growth?
Another concern that had been raised repeatedly is the manner in which acquisitions inflate what the company calls "organic revenue growth." During the conference call CEO Abe Reichental acknowledges that the company sells its own 3D printing machines into the new sales channels it gains through acquisitions.
Let me first of all be crystal clear. The previous question has nothing to do with demos into our resellers. It has to do with demos that we keep within our showrooms worldwide. We do not go back and forth and take resellers within our showrooms worldwide. We do not go back and forth and take resellers demos and put them back into our inventory. So I want to be crystal clear about that. The previous answer had to do with our own haul on the equipment and how it's deployed either in our own showrooms or in inventory for sale purposes. With regards to did we factor anything in our guidance for incremental sales to Geomagic resellers, no we did not because we don't view that as significant. We believe that the only significant sales of printers through the channel are sales to end users. And so although there may be temporary incremental benefit from selling some initial units to Geomagic resellers, that's not built into our guidance.
Reichental addresses concerns that the company is "channel stuffing," but all of this is beside the fundamental idea. When DDD rolls up Geomagic, it will not include its revenues for the first 12 months, and only include growth from that initial base as "organic revenue growth" after 12 months. Yet as Reichental notes, the acquisition provides 3D Systems with access to 80-100 new resellers. After talking with employees at Geomagic, it became clear that these resellers focus on scanner equipment primarily (estimated 90% of sales). It is in this context that Reichental's following statement makes sense:
That gets us to now a channel of nearly 500 resellers and with that, we see that there's lots of opportunity for cross selling and upselling and opportunities to generate incremental growth rate, very similar to the growth rate that we enjoyed in printers and other products in 2012 which was for the year 90%, for the quarter 93% and organically 40%.
The company is selling its own printers through newly acquired sales channels. These printer sales are treated as organic revenue because they are products that were either developed by the company or acquired companies past the 12-month mark. Yet fundamentally, these sales are not organic because they would not exist had the company not acquired the new reseller channels. This is a reiteration of the fact that the organic growth rate the company reports is not the same growth rate it would have experienced had it not acquired companies. As such, it is misleading of the company's future growth opportunities. Yet even the company's inflated organic growth rate is below the additive manufacturing industry's overall growth. In 2011, 3D Systems reported organic growth of 19.2%, which is far below the 29.4% growth of the entire industry, pointing to an eroding competitive position that is not indicative of a market leader in a growth industry.
A Proliferation of Systems in Channels
3D Systems claims it will have nearly 500 authorized resellers after it gains 80-100 more resellers in its acquisition of Geomagic. The sales channels operate at a basic level in the way that the automotive industry sells vehicles to end users. In the United States, there are around 25-35 "dealers," companies like 3D Systems Z Corp, Stratasys (NASDAQ:SSYS), etc. who produce machines. In 2011, 31 producers manufactured at least one professional-grade 3D printer. Each of these dealers has authorized resellers, who have showrooms of their own, much like automotive dealers. After conducting channel checks of 3D Systems' resellers, it became abundantly clear that to be an authorized reseller, you must purchase the machines you wish to sell from 3D Systems. You can't run a dealership without any cars. You have to buy in. As one 3D Systems reseller said, "They make you buy a system. If you want to sell a $50,000 machine, you have to buy a $50,000 machine for your showroom." Another reseller explained that these models, if sold, have to be replaced by the reseller to continue selling 3D Systems printers.
And every acquisition that increases 3D Systems' reseller count buys clients, but it also boosts revenues in the period as more showrooms buy models. Another industry insider called it a "proliferation of systems in the sales channels." After speaking to yet another reseller in the Northeast, I learned that a medium-to-large reseller has around two to four machines priced in a range of $75,000 to $200,000. The reseller mark-up is not significantly large. Under the assumption that the average reseller has just one machine, at an average purchase price of $75,000, that means 3D Systems generates $75,000 in revenue for every new reseller. These models are not usually sold to consumers, and if they are, the reseller has to buy a new showroom model from DDD. As per the 2012 10K, "the Company recognizes revenue on sales to resellers at the time of sale." According to the resellers I spoke with, the models have been on their floor on average for more than a year. My research confirms a previous Seeking Alpha article's conclusion, in which the author states:
Reichental told the resellers at this meeting that DDD had just purchased Z Corp for $134 million. Z Corp independent resellers were told to buy both a Projet 1500 (sells for $10-15k) and a Projet 3000 (sells for $60-90k) if they wanted to continue being a part of the reseller program. After this initial meeting in 1Q12, this message was further relayed to Z Corp resellers across the globe.
I estimate showrooming has positively affected revenue in 2012 by $17.65 million, under assumptions that are much, much more conservative than the reality I think is unfolding. In 2013, the Geomagic acquisition alone could have a potential $7.5 million impact.

The effect on revenue in 2012 is staggering. Reported total revenue growth falls from 53.5% to 45.8%, while printer revenue growth falls from 90.2% to 63.8%. This showrooming phenomenon makes sense given how printer sales have so far outstripped material sales - the printers in showrooms are used less than those bought by companies for use.

If the assumptions are toggled more realistically, the company could potentially have sold $25-$30 million in printers as part of the showroom effect in 2012. It is impossible to determine just how much these tangential sales have impacted revenue figures. Yet we do know that they have improved the sales numbers of the company, and they have rendered the company's organic growth rate calculations into aerated numbers with little predictive value for investors.
The Incongruity of Non-GAAP Figures
Generally Accepted Accounting Principles center on the accrual method of matching revenue and expense timing regardless of when cash is received. Many companies publish supplemental Non-GAAP results as well, in which they exclude non-cash charges and extraordinary items, claiming they provide valuable additional information on the company's performance.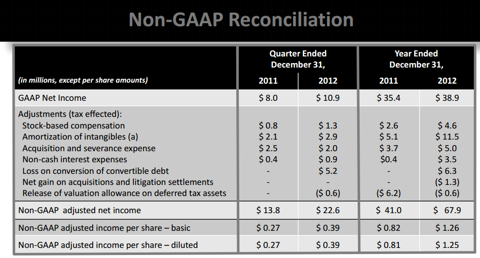 As the discrepancies between the two reporting methods have widened, many press releases and analyst forecasts focus on the Non-GAAP figures for 3D Systems. In 2012 alone, the gap between net income figures was $27 million, more than 69% of GAAP net income. Most problematically, the adjustments are made to take out certain expenses that have become recurring staples in DDD's business strategy. There are a litany of adjustments that make the Non-GAAP figures less indicative of future performance than the GAAP figures. Stock-based compensation recurs every year, and it dilutes equity holders even if it is not a cash expense. Amortization of intangibles primarily has to do with intangibles DDD gained by acquiring companies, which has become a mainstay of its strategy and which will continue in 2013 and for several years further. The same is true for acquisition and severance expense, as the company has begun the year with a significant acquisition. The idea that the company can claim all the revenue benefits of the acquisitions but disregard the expenses associated with them does not stand up to even the most basic logical standards. And the company incurred a loss on convertible debt because debt it issued was converted into shares, which again diluted equity. All of these have a material effect on the value of a share of DDD.
For a company with such an unstable business model, neither GAAP net income nor Non-GAAP adjusted net income provides accurate color of the underlying business. If one were to look at 2012 free cash flows of 3D Systems, they would see how deleterious the acquisition binge has been to shareholders, who were entitled to free cash flow of negative $149 million in 2012.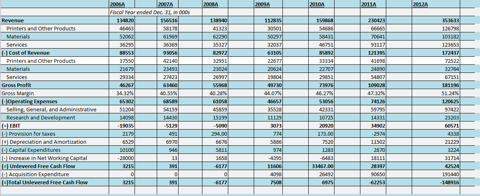 Conclusion
Today's annual results were long anticipated, as longs and shorts held on to paradigms that were irreconcilable with one another. The company's future is promising but hampered by uncertainty in the industry and the stability of its own business practices. Some have criticized my articles as Ebenezer-esque. Yet an accurate understanding of how financial figures come about is an a priori consideration to valuation of the company. Some numbers are bulletproof. DDD's are not. Instead, they reflect a business that is much weaker on a fundamental level than the company's proponents claim. And if the company's results and future were so promising, there would be no need for their financial statements to be so opaque and muddled. The company needed great results to quell the short sentiment. Until it can deliver a rebuttal of the short thesis, it will continue to hemorrhage its lofty valuation premium.
Disclosure: I have no positions in any stocks mentioned, and no plans to initiate any positions within the next 72 hours. I wrote this article myself, and it expresses my own opinions. I am not receiving compensation for it (other than from Seeking Alpha). I have no business relationship with any company whose stock is mentioned in this article.