We issued two Alerts last week about Linn Energy LLC (LINE). "Buy the Dip in Linn Energy LLC" responded to allegations of improper accounting practices leveled against the firm by short sellers. This bearish viewpoint gained additional attention when Barron's published a negative article about Linn Energy.
As we indicated in the Alert, the resulting sell-off in units of Linn Energy proved to be an outstanding buying opportunity; in fact, the stock closed the trading session higher.
Our second Alert, A Game-Changing Acquisition, offered our initial take on the partnership's fourth quarter results and $4.3 billion acquisition of Berry Petroleum (BRY) -- a deal that will bolster the limited liability company's (LLC) distributable cash flow significantly in the back half of the year. Management also announced plans to hike the quarterly payout to $0.77 per unit from $0.725 per unit.
Given the volume and significance of recent news flow, we will revisit Linn Energy's fourth quarter results, the purchase of Berry Petroleum and management's commentary during the subsequent conference call. For our take on the accounting controversy and the short sellers' case against the stock (see "Buy the Dip in Linn Energy LLC").
Organic Growth
Linn Energy posted solid fourth quarter results, with average daily production surging to 800 million cubic feet of natural gas equivalent - up 88 percent from year-ago levels.
Excluding acquisitions, the upstream operator replaced 150 percent of its reserves at a cost of $2.88 per thousand cubic feet of natural gas equivalent. With the price of natural gas hovering around $3.25 per million British thermal units, Linn Energy has focused its drilling activity on the liquids-rich Granite Wash and Permian Basin.
In the Granite Wash, the upstream operator has targeted the oil-rich Hogshooter formation, identifying at least three productive zones in this play. The 26 horizontal wells that Linn Energy has drilled in the Texas portion of the play have yielded an average initial production rate of 2,150 barrels of oil equivalent per day - 1,500 barrels per day of crude oil, 385 barrels per day of natural gas liquids (NGL) and 2.4 million cubic feet per day of natural gas. In other words, about 70 percent of the output from these wells is high-value crude oil, as opposed to discounted NGLs and natural gas.
Management estimates that the LLC's acreage includes 10 remaining drilling locations in the Texas portion of the Hogshooter.
In the fourth quarter, the firm also drilled its first well in Oklahoma portion of the play, where the formation's pay zone is appreciably thicker. Drilling results reflect this advantageous geology: The well flowed 5,406 barrels of oil equivalent per day, 2,055 barrels day of crude oil and 1,915 barrels per day of NGLs.
Linn Energy also sank a second well in the Oklahoma Hogshooter that's awaiting completion, while two additional wells are currently being drilled. One of these new wells targets the Checkerboard, a deeper formation that's prospective for oil. If these wells pan out, Linn Energy's inventory of drilling locations could expand dramatically.
Management discussed the Hogshooter play's prospects during the Q-and-A portion of its conference call to discuss fourth quarter results:
Analyst: Results on the Oklahoma side of the Hogshooter look pretty darn good. If - do you have any ideas for like targeted number of wells they will put down there this year or have you done full assessment work to get the [well] inventory number?

CEO Mark Ellis: Yeah John, we're still in the process of evaluating that. We've got our first well down there as we talked about - actually have out first two wells down. We're completing the second one right now. We're very encouraged by what we're seeing out there but it's early these wells that we're drilling this year. Initial wells are fairly scattered so it's going to take a bit of time before we're going to really have a good inventory number for you. Maybe next quarter we'll have a little better feel for that, but everything we've seen so far, very encouraged, we like the zone that we're getting into in this particular area and it compares very favorably to the Texas side.
Management has allocated $400 million of its $1.1 billion in planned capital spending to drilling in the Granite Wash, with a target of operating or participating in at least 80 wells. Not all of these production sites will target the Hogshooter.
Linn Energy's operations in the Granite Wash have posted impressive production growth; in the fourth quarter of 2012, the LLC's total output in the region surged 117 percent from year-ago levels to 187 million cubic feet equivalent of natural gas per day.
These results blow up Bronte Capital's assertion that Linn Energy owns thousands of marginally profitable stripper wells that yield only a few barrels of oil per day. Even if we factor in the high decline rates associated with horizontal wells, this drilling program has generated an internal rate of return of about 30 percent.
Management has allocated about 18 percent of its 2013 capital budget to the Permian Basin, a mature oil-producing region in west Texas that has been revitalized by hydraulic fracturing and horizontal drilling. Linn Energy holds 100,000 net acres in the play, where its 1,450 wells produced hydrocarbons at a rate of 13,800 barrels of oil equivalent per day in 2012 - a 14 percent increase from the prior year.
In terms of organic growth, the Wolfberry Trend represents Linn Energy's best opportunity in the Permian Basin. Last year, the MLP ran six rigs in this play and sank 116 operated wells; this year, the firm has allocated $225 million for four rigs to drill about 100 wells in the Wolfberry.
We expect the Permian Basin to be an important upside driver for Linn Energy.
For one, Linn Energy's holdings in the region overlap with the Berry Petroleum's acreage, providing ample opportunity for organic expansion.
At the same time, Linn Energy last year studied the ramifications of tighter well spacing (20 acres versus 40 acres) on hydrocarbon recovery rates in the Permian Basin. In Linn Energy's conference call to discuss fourth quarter results, CEO Mark Ellis indicated that this infill drilling program appears feasible in many portions of the MLP's acreage:
Analyst: Just one quick question on the operational side in the Permian. Can you give a little more detail and color around what you've seen from your 20-acre infills in the Wolfberry?

CEO Mark Ellis: Yeah, we've done three actual areas now in the 20-acre infills. The western area is the most mature of those. We're watching in-fills at this point in time. The two newest areas are on the eastern part of the Wolfberry play. We still need to gather some data on that part.

We've got plenty of 40 acres available to us to continue to develop, so we really don't need to start to drill the 20's the run-way anyway. We're just hoping to be in a position we're ready whenever… the 20s start looking like they are available for us. And so, I would say the 20-acre infills, it's not, to me it's not a question of if, but when the most of the areas, but there will be some areas that are better than others.
Although the opportunity for tighter well spacing would increase Linn Energy's inventory of potential drilling locations, management estimates the firm's existing set at about 350 sites prior to the acquisition of Berry Petroleum. At this stage, Linn Energy won't need to start infill drilling right away, though the potential is an encouraging sign for investors.
Acquisitions in 2012
Last year, Linn Energy completed $3.29 billion worth of acquisitions, including four major transactions.


(Click to enlarge) Source: Bloomberg
With the price of natural gas sinking to less than $2 per million British thermal units in spring 2012, many producers curbed drilling in gas-producing basins and shifted their capital expenditures to liquids-rich plays that offered superior returns. Trends in the U.S. rig count reflect this reaction: Over the course of 2012, the number of units actively drilling for natural gas plummeted from 809 rigs at the beginning of the year to only 411 by year-end.
For Linn Energy, the ultra-depressed price of natural gas represented an opportunity to purchase gas-producing acreage at fire-sale prices from producers looking to fund drilling in liquids-rich plays.
For example, the MLP purchased 136 billion cubic feet equivalent of dry-gas reserves in eastern Texas for $1.29 per million British thermal units. Not only did this extreme discount ensure that Linn Energy would earn a decent return when the price of natural gas fell to less than $2.00 per million British thermal unit, but this bet also appears particularly prescient when you consider that the commodity now fetches more than double the partnership's entry cost.
Management also inked lucrative deals to acquire wet-gas acreage from BP (NYSE:BP) in Wyoming and Kansas. Although the price of ethane and propane plummeted in 2012, a mixed barrel of NGLs is still worth significantly more than an energy equivalent volume of natural gas. Despite the return-enhancing liquids content in these plays, Linn Energy paid only $1.40 per million cubic feet of natural gas equivalent reserves in Wyoming and $1.64 per million cubic feet of natural gas equivalent reserves in Kansas.
To reduce exposure to fluctuations in commodity prices and lock in solid returns, Linn Energy hedged all acquired production for the next 3 to 5 years, taking advantage of the futures market's expectation for higher natural gas prices.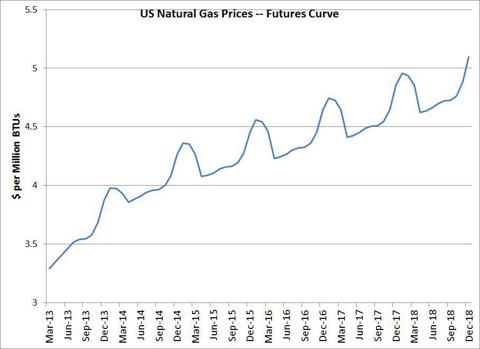 (Click to enlarge) Source: Bloomberg
Whereas natural gas for delivery in March 2013 trades at less than $3.30 per million British thermal units, the market is willing to pay $4.00 per million British thermal units in March 2014 and more than $5.00 per million British thermal units in 2018. By hedging anticipated production, the MLP secures a favorable rate of return on its investment and retains the option to increase output if natural gas prices rally.
We're also sanguine on Linn Energy's joint venture with Anadarko Petroleum Corp (APC) in Wyoming's Salt Creek field, a mature oil-producing play in the Powder River Basin. To enhance recovery rates from this play, Anadarko Petroleum has been injecting volumes to carbon dioxide. Linn Energy estimates that continued gas injections should boost its portion of the field's net production to 3,800 barrels of oil per day from 1,600 barrels of oil per day in 2016. Not only does this joint venture add to the MLP's production base, but the firm can also apply the knowledge gleaned from this experience to its own reserves.
Berry Petroleum Acquisition
The announcement of Linn Energy's deal to acquire Berry Petroleum for $4.3 billion overshadowed the MLP's solid fourth quarter results.
In this all-stock transaction, Berry Petroleum's stockholders will receive 1.25 shares of LinnCo LLC (LNCO) for each share of Berry Petroleum. Structured as a corporation, LinnCo went public on Oct. 12, 2012, raising about $1.1 billion that was used to purchase a 13.2 percent equity stake in its parent company, Linn Energy. Each share of LinnCo represents one unit of Linn Energy and its qualified dividends mirror its parent's quarterly distributions.
After the acquisition, Berry Petroleum will convert to an LLC and LinnCo will contribute the assets to Linn Energy in exchange for units in the LLC. This complex arrangement will enable Linn Energy to acquire Berry Petroleum without incurring any immediate tax liability.
Berry Petroleum currently produces 240 million cubic feet equivalent of natural gas per day, with crude oil accounting for about three-quarters of this output. Linn Energy expects the acquisition to boost its overall hydrocarbon production by about 30 percent.
Based on Berry Petroleum's proved reserves of 1.65 trillion cubic feet equivalent of natural gas, Linn Energy paid $2.61 per thousand cubic feet - a premium to the deals that the MLP struck last year. However, the target's oil-heavy resource base justifies this higher valuation: On an oil equivalent basis, the partnership paid about $15.60 per barrel of reserves - a reasonable price in the current environment.
As usual, Linn Energy will seek to mitigate its exposure to commodity prices by hedging 100 percent of the expected hydrocarbon production from its newly-acquired assets. However, given the size of the deal, the MLP may take longer than usual to build its hedge book. Management addressed this plan in its conference call to discuss fourth quarter results:
Consistent with our regular practice of hedging acquisitions we have partnered with Berry on a strategy to hedge production associated with this transaction. Berry already has significant oil hedges in place which covered more than 60 percent of the expected oil production for the rest of 2013. Over the coming months Berry will hedge additional oil volumes at our direction to become substantially hedges for multiple years into the future.

We do not currently plan to hedge Berry's natural gas production as there is a natural hedge in Berry's consumption of natural gas at a steam flood in California. We continue to anticipate a very active year for acquisitions during 2013 and we are very enthusiastic about both asset and acquisition opportunities.
Linn Energy expects the deal to close by midyear, at which point we expect the MLP to announce that it has hedged most of Berry Petroleum's anticipated hydrocarbon production over the next 3 to 5 years.
In addition to the immediate production boost, this blockbuster acquisition also offers significant opportunities for organic growth, especially in California.
According to Berry Petroleum's February 2013 corporate update, the company's assets in the state contain 127 million barrels of oil equivalent reserves. Prior to the takeover agreement, management had allocated about half its $500 million to $600 million in planned capital expenditures to this acreage and one-third to the Diatomite play, a low-permeability formation consisting of countless silica skeletons of microscopic aquatic plants.
The supply-demand balance in California makes the state an attractive market for oil producers. Although California produces more than 500,000 barrels of crude oil per day, the state's residences and businesses consume more than 1.8 million barrels per day - almost 10 percent of total US demand. This imbalance forces California to draw significant volumes of oil from other markets, though insufficient pipeline capacity limits the state's ability to take advantage of rising domestic production and favorable price differentials. (See Refiners: Profiting from America's Oil Boom.)
Because of the California's reliance on international imports, oil prices in the state tend to track Brent crude oil and other seaborne benchmarks. Midway-Sunset crude oil, for example, historically has fetched a premium to West Texas Intermediate crude oil.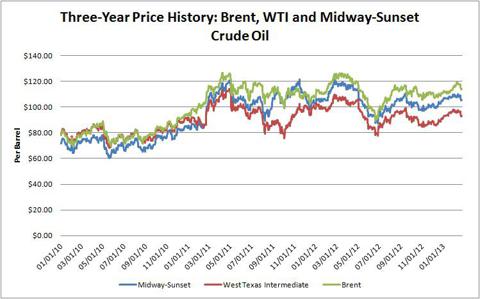 (Click to enlarge) Source: Bloomberg
Although elevated oil prices are a headwind for California's refineries, producers in the state earn much higher prices for their output than operators in the Permian Basin and Bakken Shale that deliver their volumes to inland trading hubs.
Not only does Berry Petroleum's extensive acreage position in California offer exposure to these favorable pricing trends, but the company has also successfully grown its annual oil output to take advantage of these differentials.
In the southern portion of the Midway-Sunset field, Berry Petroleum extracts heavy crude oil by injecting hot steam into the well to stimulate the viscous hydrocarbon's flow through the reservoir. The company currently produces about 13,000 barrels of oil per day from this mature play, which exhibits a shallow decline rate of just 5 percent to 8 percent per annum; with modest maintenance spending, this asset should produce at economic rates for many years into the future. For example, Berry Petroleum estimates that its southern Midway-Sunset field in 2013 will generate about $250 million in free cash flow.
In the northern part of the Midway-Sunset field, Berry Petroleum owns 540 acres in the exciting Diatomite play. The company's wells in this region average only 800 feet in depth, while tight spacing (five-eighths of an acre) put the firm's drilling inventory at 1,000 sites. By injecting steam into the play, Berry Petroleum increased production from this asset to 3,855 barrels of oil equivalent per day in the fourth quarter of 2012 - up 10 percent sequentially. The firm expects output from the Diatomite play to climb to between 5,000 and 5,500 barrels of oil equivalent per day in 2013 and more than 10,000 barrels of oil equivalent per day by the mid-decade.
Berry Petroleum and other operators in the field have encountered problems with oil seeps and eruptions that have attracted the scrutiny of California regulators. However, the company has eliminated these problems by adjusting its development plan to focus on lower-volume, shorter-duration steam injections.
Linn Energy's acquisition of Berry Petroleum was a masterstroke. In the short-term, the deal is immediately accretive to distributable cash flow and will enable the MLP to boost its quarterly payout from to $0.77 per unit from $0.725 per unit. Over the long term, Berry Petroleum's asset base offers ample opportunity for organic growth.
The Verdict
Linn Energy's agreement to acquire Berry Petroleum is a groundbreaking transaction. By using shares of the newly listed LinnCo as currency to fund the acquisition, Linn Energy LLC was able to buy Berry Petroleum without incurring any immediate tax liability. As we explained in Lessons from the Linn Energy - LinnCo Decoupling, the latter security gives institutions exposure to Linn Energy's growth story without the tax headaches and other restrictions on MLP ownership.
In a conference call to discuss the LLC's fourth quarter results, management indicated that the pipeline of potential deals remains strong and stated that the partnership could announce additional purchases before the acquisition of Berry Petroleum closes.
In fact, this blockbuster acquisition may make it easier for Linn Energy to pursue other deals; the all-stock purchase of Berry Petroleum improves the partnership's ratio of debt-to-earnings before interest, taxes, depreciation and amortization (EBITDA) - one of the metrics that determines a firm's credit risk. In fact, Standard & Poor's on Feb. 22 put Linn Energy on "CreditWatch Positive," while Moody's revised the firm's credit outlook to "developing" from "negative." Don't be surprised if both agencies raise the MLP's credit rating later this year.
Linn Energy also disclosed plans to transition to a monthly distribution schedule, a move that should prove popular with income investors. In light of its recently announced agreement to acquire Berry Petroleum and outlook for distribution growth, Linn Energy LLC rates a strong buy.
Disclosure: I am long LINE. I wrote this article myself, and it expresses my own opinions. I am not receiving compensation for it (other than from Seeking Alpha). I have no business relationship with any company whose stock is mentioned in this article.