WhiteWave Foods (NYSE:WWAV) was spun-off from Dean Foods (NYSE:DF) in mid-2012. DF gave up huge assets in this spin-off to create value upon looking into WWAV. The spin-off will be tax-free in regards to US Federal taxes, and DF is retaining its 19.9% stake (34.4M shares) for eventual distribution to shareholders after the lockup expires on April 23.
WWAV has 5 main brands (Source: WWAV Q4 Presentation):

Some of these brands have a strong image and strong market shares, most notably Silk, International Delight, and Land O Lakes. Management has noted the correlation to coffee consumption with its products. Below is the worldwide coffee consumption from 1852 to 2010 (in million bags of 60 kgs):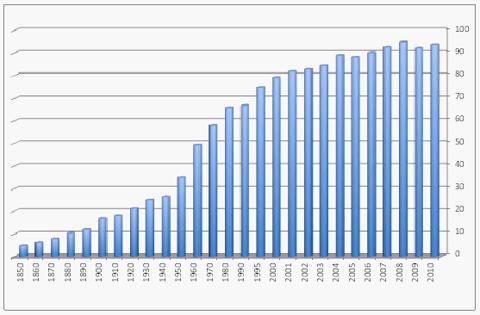 Coffee has become a part of most Americans, as younger generations are consuming more coffee. Coffee has perceived health benefits, including the perception of increasing metabolism. There is a way to play this social trend that has had a lot of momentum since 1852 besides buying coffee commodities or the coffee houses like Starbucks (NASDAQ:SBUX), McDonald's (NYSE:MCD), Tim Horton's (THI), or Dunkin Donuts (DNKN). These corporations only capture the retail coffee sales instead of the at-home consumption out of typical drip-coffee makers, SBUX's Verissimo, or Green Mountain Coffee's (NASDAQ:GMCR) K-Cup. WWAV provides that exposure despite not being a pure-coffee play. WWAV's management team believes:
"Additionally, during the first two months of 2012, only 22% of coffee-drinking consumers drank their coffee without sweetening or creaming, while 48% of coffee-drinking consumers both sweetened and creamed their coffee, which we believe suggests a continued opportunity to convert consumers to a flavorful, creamed cup of coffee" (Source: WWAV 10-K, FY12).
Many investors may be skeptical to jump on the 'White Wave' because it is a recent spin-off. However, its FY12 results and Q4 results were an exception. Q4 net sales were up 12% and FY12 sales were up 13% Y/Y. EPS growth was up an astounding 34% in Q4! Management also reports results on a brand-by-brand basis, but does not break out individual segment revenues.
Silk
Silk is a huge brand to own for WWAV. It is the sole brand in the North America Plant-Based Foods and Beverages. It includes soy, almond, coconut, hazelnut, rice, and out-based offerings. Each of these offerings includes a variety of flavors and different nutritional aspects for consumer preference. In 2012, Silk held a 57% share of the $1.1B category for plant-based foods and beverages in the US (Source: WWAV 10-K, FY12). Silk's category growth in FY12 grew 20%, with US household penetration up 3% (or roughly in the mid-20% range). This has left it room to expand. With its top position in its category, President McPeak highlighted that, "the different segments of soy where we command a very, very strong 75 plus market share and the almond segment where we have about a 52". With a strong category growth rate in the mid-20s and that high of a market share, Silk will clearly be a great brand to own down the road.
Alpro
Alpro is the driver of the European Plant-Based Foods and Beverages segment. It too offers the same type of offerings as Silk, with flavor offerings as well. It also offers desserts, cream, margarine, and tofu. Alpro held a 38% share for plant-based foods and beverages in Europe through the first 9 months of 2012. Alpro also had mid-single digit volume growth in Q4, despite the difficult year in Spain and Portugal. These markets experienced double-digit declines in volume, but were offset by double-digit increases in the UK, Belgium, the Netherlands, and Germany. The reason it had such high-growth was because of the almond and hazelnut beverage lines, combined with the soy yogurt line.
Horizon Dairy
Horizon Dairy's product portfolio consists of organic milk, yogurt, and cheese. It is known for its organic line which is a current social trend in the US and developed nations as consumers are becoming more health-conscious on what they eat. It's a strong brand that had a 43% share of the $1.3B organic fluid dairy milk subcategory in the US (Source: WWAV 10-K, FY12). 50% of its net sales totaled about $300M in sales in the US and grew at a three-year CAGR of 23%! Its category grew 8% in Q4, and Horizon's Q4 was driven by value offerings like single-serve and Omega-3.
International Delight and Land O Lakes
International Delight (NYSE:ID) and Land O Lakes (NYSE:LL) are leading coffee creamers, margarine, and iced coffee product. These brands are well-known throughout the world, especially in the US. These brands have the licenses to include the popular brands of Almond Joy, Cinnabon, Cold Stone, Hershey's, and York (Source: WWAV 10-K). ID had a 30% share of the $1.7B subcategory of flavored creamers in the US, showing its market strength. LL had a 22% share of the half & half $809M subcategory in the US. These brands compete mainly against private-label but also against Nestlé's (OTCPK:NSRGY) Coffee Mate line. The category had 12% growth in 2012 and is heavily correlated to the coffee trend. The iced coffee market has been a revival for coffee as a whole and will continue to boost sales as younger teens get hooked on these flavorful drinks.
Business as a Whole
The growth of the business is not based on solely acquisitions or new products. In fact, WWAV did not acquire a brand in FY12. Its growth stems 60% from organic growth and 40% from new products. This led to operating income growth of 16% in 2012. CEO Engles highlighted that this growth is not going to end soon as there are "opportunities to expand our presence in channels like away from home, convenience, drug and dollar stores, and the food service channel". A key concern for a company like WWAV is commodity costs, especially with milk, almond, soy, hazelnut, and various other inputs. When SunTrust analyst, Bill Chappel, asked in the conference call about rising almond costs, CFO Haecker told him the company "locked in almonds for a substantial part of the year already". This could show the strength of the management team by taking advantage of lower commodity costs to guarantee certain margins. Also, almonds only represented 4% of WWAV's commodity costs in 2012. As another counter to the rising cost challenge, CEO Engles stated, "almonds are trending up. But we've got other stuff that's trending down. Sugar noticeable has been on a pretty significant downtrend over the last several quarters". Engles is quite right as sugar has seen over a 30% drop since last year's high and milk is forecasted to decline, despite the recent rise (Source: Bloomberg):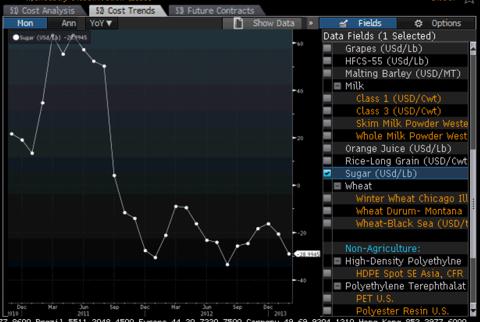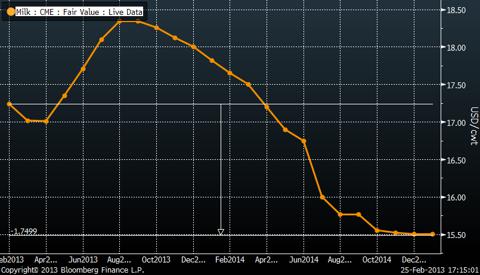 WWAV seems to understand the volatile nature of its inputs. According to the 10-K, about 93% of the raw organic milk for dairy products come from its network of 600 family farmers in the US and 7% are sourced from WWAV owned dairy farms. By having backwards integration, it strengthens the supply chain and makes costs less volatile and more known. 67% of North America's product volume is manufactured internally, with five different plants. It has four plants in Europe which achieve 97% of Europe's production volumes (co-packers produce remaining 3%). With Sam's Club accounting for 18% of sales in 2012, and customers like Chipotle Mexican Grill (NYSE:CMG), Domino's Pizza (NYSE:DPZ), Jason's Deli, Corner Bakery, and Einstein Noah (NASDAQ:BAGL), supply chain efficiency is important. WWAV competes against Dannon, General Mills (NYSE:GIS), Kraft Foods (KRFT), NSRGY.PK, Hain Celestial (NASDAQ:HAIN), Annie's (NYSE:BNNY), and Organic Valley.
Guidance for 2013
For 2013, management forecasted sales growth in the high-single digits driven primarily by volume. They do expect higher distribution costs due to capacity constraints. In other words, WWAV is experiencing such a high demand of products. They lack the warehousing necessary to store and build up inventory. Finished Goods as a percentage of sales are on the rise but just above 3%. With less places to store it and the distribution range becoming far apart, corporate distribution costs are higher than normal by about 1% to 2% (Source: Capital IQ):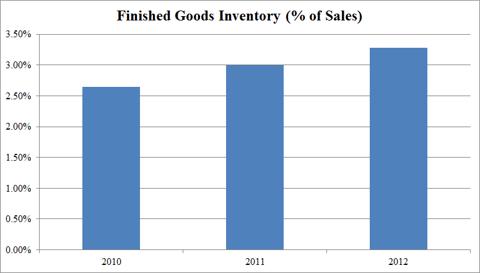 Corporate costs are estimated at $55M, with $16M to $17M in Q1 alone. 2012 included the divestiture of its former joint-venture with Hero. The JV produced super premium juice products that started in 2008. This was poor timing as the Great Recession hit. WWAV's team is targeting capex of $150M to $160M and making this the new norm. It plans on investing in the manufacturing and distribution for future growth to expand capacity for WWAV. By expanding capacity, WWAV can drive supply and meet the growing demand. The additional capacity should be available in the second half of 2013, with additions to the Dallas, West, and East Coast Plants. Depreciation and amortization is estimated at $75M to $80M moving forward, with interest expenses also being in the $20M to $22M range. Operating Income growth is expected to continue in the mid-teens. With a tax rate of 33% in 2013, management has forecasted EPS of 13% to 20%.
Ownership of WWAV
DF still owns 20% of WWAV's Class A common shares but also owns 100% of the Class B common shares, which have superior voting rights. The 100% ownership of Class B shares gives DF an economic interest of 86.7% and 98.5% of the voting power. In other words, Class B shares have 10:1 super-voting rights. WWAV is also allowed to issue what they call 'Phantom' shares based on the stock performance of DF. These shares are similar to RSU. Out of curiosity, DF is 90% controlled by institutions, namely Vanguard and Fidelity (Source: Capital IQ).
Valuation
WWAV has strong growth prospects ahead and with many of its commodity costs accounted for in 2013, should have superb bottom-line growth as a result. Revenue growth has been relatively consistent and strong over the last few years. In fact, its growth has a 99.63% correlation (Source: Capital IQ):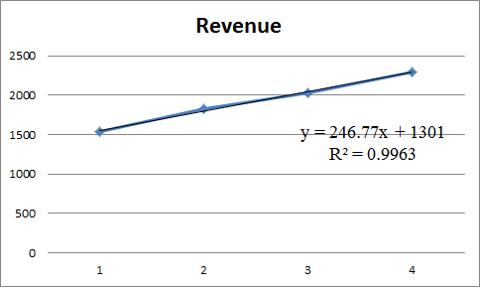 With demand expected to be similar compared to past years, this trend should continue and a regression analysis will be more than efficient for estimated growth: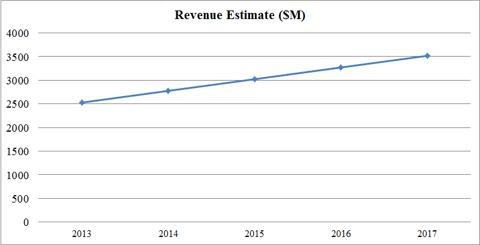 A WACC of 10% was used to value this company by using a 20% premium to the S&P risk (beta) given the uncertainty of this company's risk. This provides a margin of safety for investors. A COE of 12.2% was obtained and a 5.5% COD was also used. There were three methods used: DCF, EV/EBITDA, EV/Revenue, and Sum-of-the-Parts. Scenario testing was done using a Bear, Base, and Bull case scenario. The difference in revenue between cases assumes +/-$200M in revenue each way on a parallel shift. Each scenario had different shifts in costs, interest expense, and capital expenditures. The model was a five year model. Currently, the enterprise value is $3.34B for WWAV. The Bear, Base, and Bull terminal values are $4.846B, $5.5B, and $6.89B, respectively. This is relatively conservative for a small company as it only represents 7.7%, 10.5%, and 15.6% compounded growth for a terminal value. The EV multiples are conservative as well. By just looking at the EV/Revenue multiples, one can see that WWAV could be undervalued to peers at just 1.5x. The mean of the industry is 2.4x, to which the Bull case uses instead of the 3.46x +1 standard deviation (Source: Capital IQ):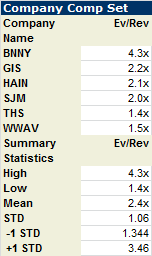 Perhaps the coolest valuation is breaking out the brands on a sales basis. The industry's P/S range, assuming 1 standard deviation, is 1.05x through 1.68x. The average is 1.36x sales. Because of WWAV's consistent sales record, this is a great way to value it. Despite management not breaking out each segment's specific revenue, it can easily be obtained by looking at the chart from the 10-K below:

This leads to the breakout of sales shown in the chart below. Plant-Based products (i.e. Silk and Alpro) grew at an 8% CAGR in the US and Europe from 2009 to 2012 (Source: 10-K). Premium Dairy products (i.e. Horizon Dairy) grew at a 10% CAGR from 2009 to 2012 (Source: 10-K). Coffee creamers and beverages (i.e. ID and LL) grew at a 9% CAGR from 2009 to 2012, and flavors within this segment grew at a 14% CAGR. The results are shown below: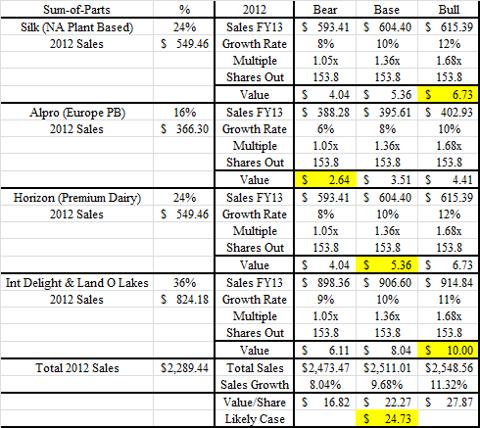 Clearly, based on brand value alone, even on a Bear case, WWAV is undervalued at current prices. The 'Likely' Brand case is based on what I believe the correct multiple should be for each brand based on the industry's P/S range.
By combining the results from each valuation method, the following price targets are obtained:

There is quite a range as the Bull case is double that the Bear case. However, the price-targets under the Bear scenario have a low standard deviation of $1.37. The other case scenarios are influenced by the higher EV multiples. The EV multiples of the Bull case are the industry averages for each. If WWAV's value to the market could trend toward peers like it should, a $30 price target is not unreasonable. The reasons that it should trend toward peer valuation are the value of its brands, strong growth, exposure and correlation to the exponentially growing coffee market, and efficient management team. This will lead to multiple expansion and value returned to shareholders.
Disclosure: I have no positions in any stocks mentioned, but may initiate a long position in WWAV over the next 72 hours. I wrote this article myself, and it expresses my own opinions. I am not receiving compensation for it (other than from Seeking Alpha). I have no business relationship with any company whose stock is mentioned in this article.