The fundamentals for gold (NYSEARCA:GLD) got even more bullish over the last few days. Specifically, on Feb. 18th the federal funds futures were predicting that the Fed will hike the interest rates to 50 basis points in May of 2015, which as we explained was bullish for gold.
Now, as of Feb. 26th, the federal funds futures are predicting the hike to 50 basis points in September of 2015! (see Figure 1) That's more than two and a half years from now. In other words, the federal funds futures are indicating that there is no real "light at the end of the tunnel" for this crisis. Accommodative monetary policy is here to stay, which can only be bullish for gold.
Thus, fundamentally speaking, gold is a buy at these levels. However, we would like to reiterate to pay attention to the long-term technical support level at 1525, which at this point has not been tested yet, but if broken could produce a much deeper correction.
The apparent re-pricing of the Fed rate also coincided with the correction in the stock market and crude oil, which is consistent with our risk-on thesis.
Figure 1. Federal funds futures - September 2015 contract. Implied interest rate is equal to a 100 minus the price, or 0.495 as of Feb. 26th. (source CME Group)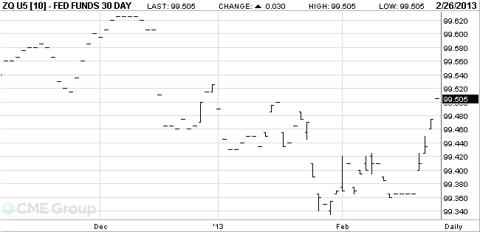 Click to enlarge
(Click to enlarge)
Disclosure: I have no positions in any stocks mentioned, and no plans to initiate any positions within the next 72 hours. I wrote this article myself, and it expresses my own opinions. I am not receiving compensation for it (other than from Seeking Alpha). I have no business relationship with any company whose stock is mentioned in this article.