In this article we cover OCZ Technology (NASDAQ:OCZ) and its recent product developments. OCZ has flip-flopped the company strategy of abandoning the sub $100 SSD market and are now embracing it. We will show how this affects OCZ going forward and what the ultimate strategy for OCZ is - if successful.
Flip-Flopping
In an interview with Reuters OCZ, CEO Mr. Schmitt talked about the low end SSD market:
"I cannot think we can compete on price," he said. "The flash guys - the Micron's, the Intel's, the Samsung's --really are the guys that will take that market," he said. "They can have it as far as I am concerned, as there is no profit to be made there for us."
Thus OCZ focused on its high-end Vector line of SSDs. Vector brought OCZ's own controller chip Barefoot 3 into play and with it higher margins. OCZ abandoned the low-end market by axing its Agility line of SSDs (along with several older lines of products). At least that is what we were told.
OCZ Enters the Lower-End "Mainstream" Market
It appears that OCZ is, in fact, going to try to keep fighting it out in the lower end where tight margins are the norm. OCZ announced it has updated its 2-year-old product line "Vertex 3" to use the smaller and cheaper 20nm NAND as opposed to .25nm. With this comes cost savings for OCZ, allowing them to catch up to the big boys in the low-end market, and (hopefully) allows OCZ to hit lower price points to spur sales.
While at first glance updating a 2-year-old product sounds like a bad idea, one must keep in mind that OCZ is struggling - by reentering the lower price points they can gain needed revenues and (perhaps with a sprinkle of fairy dust) some profits-per-product sold along the way. Is OCZ is going to make an amazing comeback on the back of vertex 3.20? In a nutshell, no they will not, but it will help the bottom line.
Market Reaction
The market was less than thrilled with OCZ updating a 2-year-old product. We see that shortly after the announcement (represented as the red dot in the 5 day chart) OCZ took a hammering.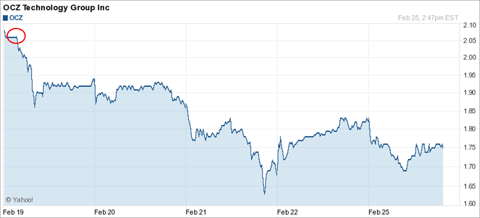 Some might argue that the drop was due to OCZ's external auditors still working on figuring out the convoluted mess that is OCZ's delayed past earnings (or lack of). OCZ was granted by NASDAQ yet another extension to April 8th to figure out its restatement of earnings. If the auditors do not sign off on the numbers on or before then, delistment will occur. Many of us thought that by now surely OCZ would be able to figure out its books - since this debacle began 6 months ago. The drop was most likely a combination of both news events.
Comparison
Looking at the Vertex 3 and Vertex 3.20 we see some minor changes, but the most notable is the 33% reduction in random write 4k IOPS for the 120gb version. This will not really affect the average user in the value segment. Vertex 3.20 (they should have picked a better name) comes with additional small power savings as well.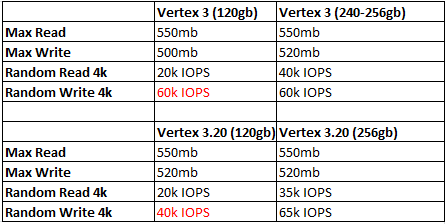 Price Checks
We can see from the price checks that OCZ needs a product priced under 100 dollars to tap the low-end market. It is also interesting to note that the superior Vertex 4 is $15 cheaper than the Vertex 3.
(Prices in red represent a rise in prices during the last 10 days, while green represents lower prices.)

Under Pressure
OCZ is under pressure on all fronts in the consumer realm. Frankly, it is a lost cause in the long term and OCZ is fighting a delaying action. If they can keep revenue flowing into enterprise R&D, hopefully enterprise will start to bear more fruit and allow OCZ to fully exit consumer in 2 or so product generations. OCZ has started the consumer exiting process as evidenced by its R&D shift from 70% consumer and 30% enterprise to the very opposite -- 70% enterprise and 30% consumer.
The shift in R&D is a logical move. As we have stated before and we will state again, OCZ will never be able to fight and win against the NAND manufactures in the consumer SSD sector in the long run. These include such giants as Micron (NASDAQ:MU) and Samsung that make the NAND that goes into SSD's. NAND is the single most expensive part that comprises a SSD.
Enterprise Bearing A Little Fruit
Enterprise is starting to bear a little fruit via the recent announcement that new enterprise solutions will be shown at CeBit 2013.
The CeBit announcement is a positive first step in the right direction but it will be a while before we see the final product hit the shelves as OCZ is looking for beta testers for its enterprise products. Even after it is released, it will be interesting to compare how the new enterprise solutions fair vs. the competition on price, performance and power use.
Conclusions and Bad Pun Jokes
Overall, the developments are minor but positive for OCZ. However, given the cash situation of only $9 million (among other problems which we covered in our last article) we would not put any stock into it.
Disclosure: I have no positions in any stocks mentioned, and no plans to initiate any positions within the next 72 hours. I wrote this article myself, and it expresses my own opinions. I am not receiving compensation for it (other than from Seeking Alpha). I have no business relationship with any company whose stock is mentioned in this article.