My favorite corporate train wreck, the ethically-challenged money losing corporate crybaby Overstock.com (NASDAQ:OSTK), received some well-deserved derision last summer when word emerged that its dipsy-doodle CEO, Patrick Byrne, had listed himself as the company's No. 1 risk factor.

Beginning with the second quarter financial statement, Overstock disclosed as follows:
Additionally, Dr. Patrick Byrne and the company have fostered and supported a national debate concerning illegal trading practices called "naked short selling" and have advocated regulatory changes and enforcement action designed to end these practices. The profile of the company and Dr. Byrne, and their positions on issues associated with the debate, may make the company and Dr. Byrne the target of criticism and derision in the financial markets and associated media, and this may prove to have an adverse effect on the company's stock price.
Actually the disclosure was neither true nor complete, because Byrne's jihad is against his critics and not on the subject of naked shorting on the merits, since he has never addressed, in substance, any of the points raised by people who think his stock market conspiracy theories are full of beans. In fact, his smear campaign against critics, being issuer retaliation (something the SEC supposedly is interested in), is in itself a bona fide risk factor Byrne has never disclosed.

Word of the disclosure, in which Byrne essentially conceded that his company had become a laughingstock, resulted in wry commentary at Footnoted.org and Floyd Norris's New York Times blog. Floyd said that it "is the first time I have ever noticed a company listing the possibility of 'criticism and derision' in the media as a risk factor." Byrne, never to take accurate coverage lying down, responded that he was not a laughingstock, and added Floyd to his ever-lengthening enemies list.

Well, you'll be pleased to know that Overstock.com is no longer a laughingstock. The language, which was repeated in the third quarter report released in November, was edited out of the 10-K that was released on Monday.

Here's the 10-Q from last November (deleted sentences highlighted in red; click to enlarge):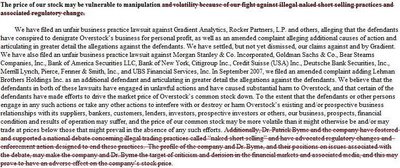 And here's the 10-K that was released on Monday:





Seems to pose a bit of a disclosure issue for Overstock, because the company is clearly as much of an object of derision today as it was in November. But I guess the embarrassment of having to disclose that proved too much for the man who has come to be known as "Wacky Patty" because of his kooky behavior. So I guess ego, as usual, trumps common sense. I wonder if Overstock's crackerjack legal eagle, ex-SEC lawyer Brent Baker, decided that his ex-colleagues didn't need to know about this anymore.

Mind you, this is just from a casual reading of the 10-K. When Overstock has to disclose stuff there is usually a veritable fun-house of hidden sewage beneath the pavement. Stay tuned.