Every Friday the U.S. government's watchdog, the Commodity Futures Trading Commission (CFTC), releases the composition of futures markets, in a report known as the "Commitment of Traders", or COT to use trader's abbreviated vernacular. The data represents positions as of the previous Tuesday.
Last Friday's release showed that Gold (NYSEARCA:GLD) producers/merchants had the smallest net short position since November 17, 2008. Money Managers even had a smaller net long position then they did in GLD's major bottom in October of 2008! If an investor believes in contrary investing then now is the time to look for long entries in the gold market for at least a short term up move.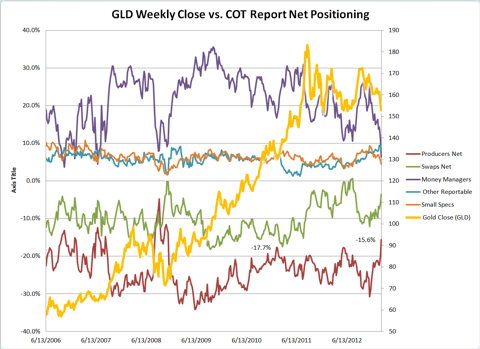 Click to enlarge
(Click to enlarge)
The CFTC reports how much in each category is long, short or spreading in the futures market. For my analysis I took the net percentage reported. I find this more meaningful than saying, "X is net long 10,000 contracts," since the open interest of futures contracts changes over time. As an example, if money managers were 25% long and 10% short, then I would report the net being at + 15%. "Small specs" is my term for the CFTC's category of non-reported positions.
I also made a table of this data since June of 2006.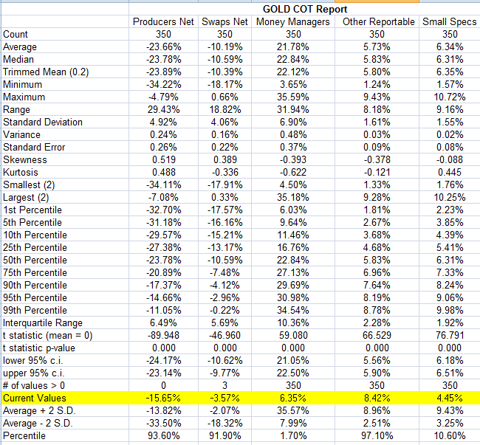 Click to enlarge
(Click to enlarge)
One can see that since 2006 only 1.7% of the time have "Money Managers" been more bearish. Small specs have only been more bearish 10.6% of the time. Producers, Swap Dealers, and Other Reportables all have positions over the 90th percentile -- these entities are finding perceiving value at current prices.
Having followed the COT reports for years, I can not say that this evidence means a "bottom" has to form. It usually means at least a short term rally that could turn into a major bottom, but that is still very much unknown. I would have to see a close above $165 in GLD to confirm.
That said it would appear there should be an upside bias for a bit, as the strong hands are not very bearish and the weak hands are. The situation with the Italian elections started a movement up in Gold on Monday, February 25th. Also, a French ministers' call to debase the euro should be supportive longer term to the gold market.
The FED Chairman even helped give gold a boost Tuesday, the 26th, as QE expectations were changed as stated in the following report:
Bernanke told a U.S. Senate committee that the benefits of a very accommodative monetary policy outweigh the potential risks of such, helping assuage fears the U.S. central bank could end its quantitative easing of monetary policy sooner rather than later.
Gold Bulls be on a lookout for a rally; the Gold Bears will most likely have the courage of their convictions tested soon.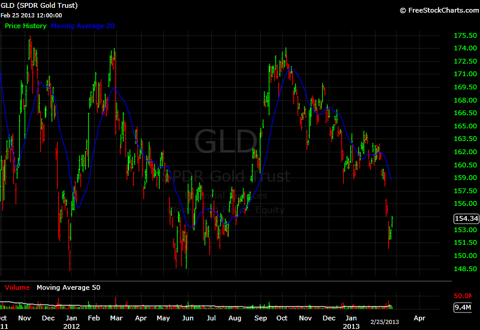 Click to enlarge
(Click to enlarge)
Source: freestockcharts.com
Disclosure: I have no positions in any stocks mentioned, and no plans to initiate any positions within the next 72 hours. I wrote this article myself, and it expresses my own opinions. I am not receiving compensation for it (other than from Seeking Alpha). I have no business relationship with any company whose stock is mentioned in this article. I am long gold