Over the past couple of years, the right mREITs have been phenomenal investments. Between high dividend payments and capital appreciation with stock price, investors have seen (almost) unthinkable returns. For example, in 2012 American Capital Mortgage (NASDAQ:MTGE) had an annual economic return of 41% for investors [1] and Two Harbors Investment Corp (NYSE:TWO) delivered total annual shareholder return of 40% [2].
There were some cases where economic returns were still good but pressure on the portfolio was clearly evident. Annaly Capital Management (NYSE:NLY) saw book value per share decline from $16.06 at the end of 2011 to $15.85 at the end of 2012. During this period, the company paid out $2.05 in dividends, although the payment dropped from $0.55 in the first quarter to $0.45 in the fourth. Despite this, Annaly still had annual shareholder returns of 11.5% [3].
Some investors may be comfortable with the risks associated with the mREIT industry but like the aspect of predictable, steady cash flow. Mortgage REIT preferreds offer this - there is not going to be a lot of price appreciation but provided dividend payments are being made, you know exactly what you will get quarterly. Since REITs have to pay out 90% of their earnings in order to maintain REIT status, dividends will continue to be paid on preferred shares unless losses start to pile up.
There are five mREIT preferreds that I think are worth considering and I will outline them over the next couple of days.
Apollo Residential Mortgage (AMTG) 8.00% Series A Fixed Rate Cumulative Perpetual Preferred Stock
Apollo issued its only preferred in September 2012 - the 8.00% fixed rate cumulative Series A (ticker: AMTG-A). AMTG-A paid its first dividend at the end of January and closed on Monday at 25.18, meaning any premium paid will be recaptured in the next dividend payment at the end of April.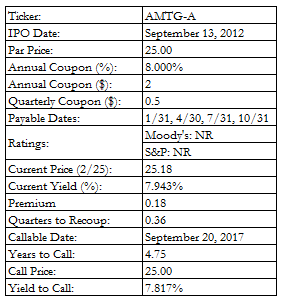 Ratings
Like many of the preferred stocks issued by the mREIT industry, AMTG-A is not rated by either Moody's or S&P.
Closing Price and Current Yield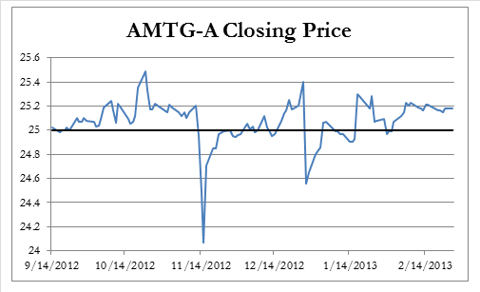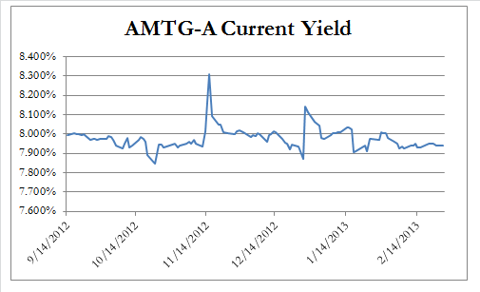 Since being issued in mid-September, AMTG-A has traded around par.
Current Yield and Yield to Call
As of Monday's close, AMTG-A is trading with a current yield of 7.943% and a yield to call of 7.817%.
Apollo Residential
Apollo Residential, which began in mid-2011, invests in both Agency and non-Agency RMBS. It should be noted that management has a call scheduled on March 7 to discuss fourth quarter earnings, so the most recent data available is Q3 2012.
Portfolio Breakdown
As of the third quarter 2012, Apollo Residential's portfolio was comprised of 63% Agency RMBS, 22% Non-Agency RMBS, and 15% Cash.
Leverage
The entire mREIT industry uses leverage to generate returns. The use of leverage varies by product type, with less risky investments (Agency RMBS) utilizing more leverage than the riskier investments (Non-Agency RMBS). As of the third quarter 2012, AMTG was levered 6.5x in their Agency portfolio and 2.2x in their non-Agency portfolio, generating blended leverage of 5.4x.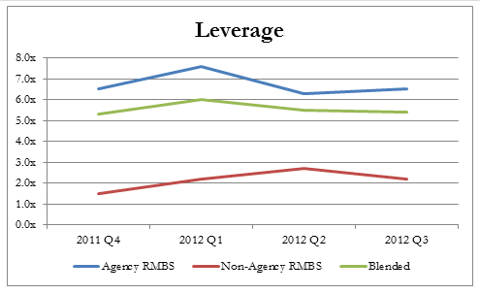 This blended leverage ratio compares well to Apollo Residential's peers. Three other mREITs that are able to invest in both Agency and non-Agency RMBS are American Capital Mortgage, AG Mortgage Investment Trust (NYSE:MITT) and Dynex Capital (NYSE:DX). Both Apollo and AG Mortgage release their fourth quarter earnings in the coming weeks while American Capital and Dynex Capital have already released theirs.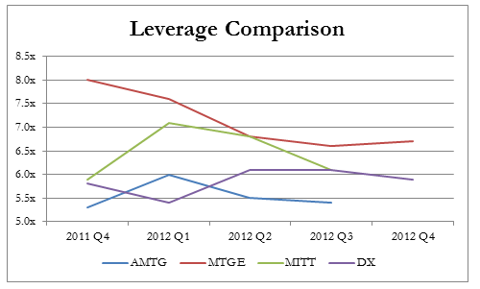 Asset Yield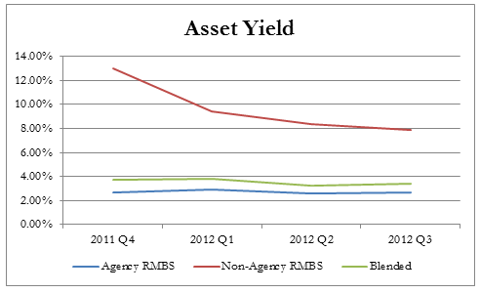 It's no secret that yields on RMBS assets have continued to tighten over the past year. This is especially evident in Apollo Residential's Non-Agency RMBS portfolio, which declined from yielding 13.0% in Q4 2011 to 7.9% in Q3 2012. When compared to peers, it is evident that Apollo Residential has a solid blended yield on its portfolio.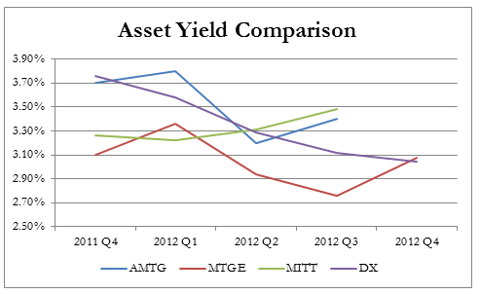 Net Interest Margin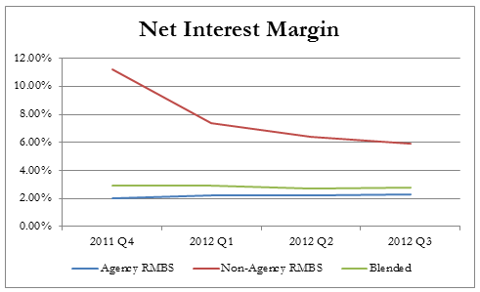 While the asset yield is important to look at, it's also crucial to analyze the Net Interest Margin that the mREIT is able to achieve. This takes into consideration the spread that is lost due to the cost of leverage. As can be seen below, Apollo Residential holds up well against its peers in this regard.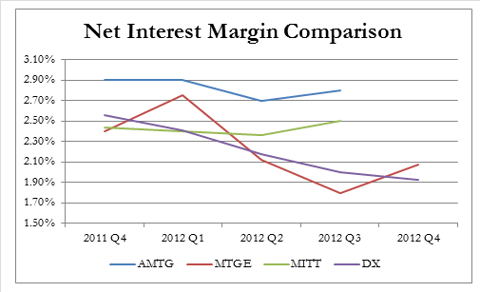 Net Book Value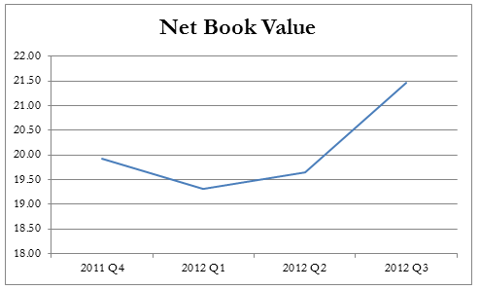 Apollo Residential has continued to grow net book value. The fourth quarter proved to be a tough quarter for both American Capital and Dynex and there's no reason to expect that it won't also prove to have been tough for Apollo and AG Mortgage.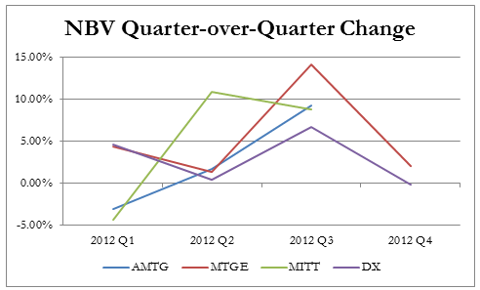 Final Thoughts
Apollo Residential is an mREIT that compares very well to its peers. If you are comfortable with the risks associated with the mREIT industry and like the idea of stable dividend payments, AMTG-A is definitely a preferred stock that you should consider. Preferred stock will not have the capital appreciation from stock price increases that the industry's common stock has, but it does offer stable cash flow in an environment of ever-tightening yields.
Ticker Reference Table: To help find preferred stocks on your trading platform, please see our Preferred Reference Table.
[1] MTGE Q4 2012 Shareholder Presentation, located here
[2] TWO Fourth Quarter 2012 Investor Presentation, located here
[3] NLY 4Q 2012 Stockholder Supplement, located at here
Disclosure: I am long AMTG, DX, MITT, MTGE, NLY, TWO. I wrote this article myself, and it expresses my own opinions. I am not receiving compensation for it (other than from Seeking Alpha). I have no business relationship with any company whose stock is mentioned in this article.
Additional disclosure: This article is for informational purposes only, it is not a recommendation to buy or sell any security and is strictly the opinion of the author. Investors are strongly encouraged to do their own research and discuss potential investments with an investment professional.