With the country's publicly traded banks set to undergo further examination in the weeks ahead, it provides investors with the opportunity to examine how the market is valuing the publicly traded TARP banks and what future returns investors can expect.
The simplest way to do this is to compare each of the banks' market caps with their respective TARP investments. The higher the percentage of TARP funds to the company's market cap, the more leveraged the company's stock price is to the government's investment. Conversely, the lower the percentage, the lower the bank's leverage to the government's TARP investment.
In between these two wide ranges exists a group of banks with substantial leverage to TARP but with enough financial flexibility to take advantage of all the immense benefits that TARP leverage can provide to the right financial institutions. Below I have compiled a listing of the strongest, weakest and likely the most attractive bank investments for those interested in exploring an investment in a bank that is fairly leveraged to the government's TARP investment.
Banks most leveraged to TARP investments (The Weakest TARP Banks):
Click to enlarge
Ticker - Company - TARP - Market Cap - TARP as a % of Market Cap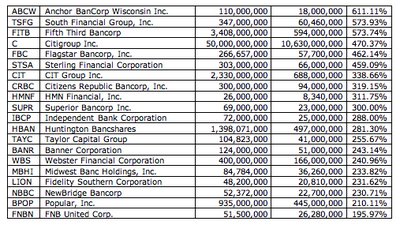 Banks with the least amount of TARP leverage (The Strongest TARP Banks):
Ticker - Company - TARP - Market Cap - TARP as a % of Market Cap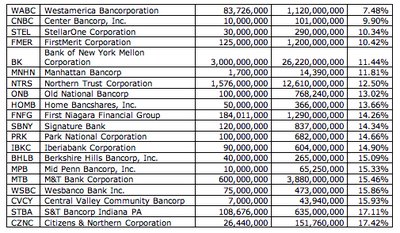 TARP banks with the best risk / reward profiles (The Most Attractive from an Investment Perspective) :
Ticker - Company - TARP - Market Cap - TARP as a % of Market Cap

Disclosure: No positions