As the GeoTeam® continues to adapt its research methodologies to the ever-changing market landscape our ultimate goal is to discover equities that can prosper through this unprecedented period.
In an environment where it seems like every company succumbs to the ebb and flow of the short term market performance, we have come across companies that may be able to buck the trend.
The Battleground at Wallstreet
Cpi Aerostructures Inc. (NYSEMKT:CVU)
If wallstreet was a battleground in the truest sense of the word, we might have called upon Cpi Aerostructures (Cpi) to stand behind the scenes while the military exercised martial law on an out-of-control trading floor and unruly politicians.
While the above scenario is highly unlikely, it is still a good bet that Cpi will continue its contractual obligations to the U.S. Air Force and other branches of the U.S. armed forces.
Competitive Advantage
Although it may seem unwise to consider a company in the defense sector in the face of an Obama administration, the GeoTeam® believes there are reasons to take a closer look at Cpi. His administration may even pose opportunities to the company as they could potentially opt to use the majority of its defense budget on repair and maintenance rather than on new equipment purchases. Because a good deal of Cpi's business addresses repair and maintenance, they will have a de facto advantage over companies whose business plans fall short of offering this service. Other advantages are:
Cpi qualifies as a ''small business'' in connection with U.S. government contract awards, allowing them to compete for military awards set aside for companies with this small business status.

Cpi also can pursue smaller contracts that larger firms tend to ignore.
CPI Revenue Opportunities: Prime Contractor vs. Subcontractor
As a prime contractor the company bids directly on projects. When acting as a prime contractor the company's exposure to larger projects is limited because of its size and the fact that it may have to compete against larger firms.
As a subcontractor CPI receives orders from larger prime contractors such as Northrop Grumman Corporation and Lockheed Martin Corporation. By acting as a subcontractor the company can gain access to parts of larger projects that it would not be able to obtain as a prime contractor.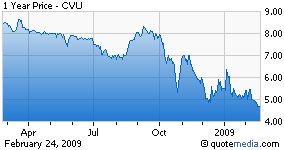 Cpi has been increasing its efforts to grow its subcontractor business which is becoming a significant piece of its growth picture. As of the end of 2007, government subcontracted business comprised 30% of Cpi's revenue, leaving more room for growth.
Cpi has also been increasing its penetration into the commercial market, typically a very small portion of their business. Even with a slowing economy these efforts can pay off as they have little to lose and much to gain.
What Does It All Mean?
Cpi comments, "By increasing our customer base, we have positioned our company to take advantage of additional market opportunities and reduce the impact of the slowdown in government contract awards and releases."
Notable bullish company commentary from the Third Quarter Press Release and SEC Filings:
"We are on track to achieve the best revenue year in our history of approximately $35 million, a 25% increase over 2007, and net income of approximately $2.6 million, a year-over-year increase of 37%."
As of October 31, 2008, total year-to-date awards amounted to $51.5 million, compared to $18.9 million for the same period last year, a 172% increase.
Year-to-date contract awards have already surpassed 2007 total awards of $37.7 million.
Growth at a Glimpse:
Third quarter EPS grew 55% to $0.14.

The company issued 2009 guidance. The midpoint net income guidance for 2009 is $4.1 million, which implies EPS of $0 .68.

The company states that it is on track to achieve a three year annual EPS compounded growth rate of 50% to 60%.

The stock is selling at a P/E of only 16 on trailing EPS and an 8 P/E on the implied 2009 EPS guidance.
The GeoTeam has established a long position

Sources:
Business Wire (November 10, 2008)
Sec Form 10Q ( September 2008)
Sec Form 10K (December 2007)
Data Inputs: (As of February 12, 2009)
| | |
| --- | --- |
| Price | $4.96 |
| Trailing EPS | $0.36 |
| Forward EPS | $0.68 |
| Future EPS growth (2009 guidance) | 57.69% |
| Trailing P/E Ratio | 13.88 |
| PEG Ratio | 0.24 |
Short Term Scenarios
| | |
| --- | --- |
| Price Based on P/E of 25 on four quarters trailing EPS | $9.00 |
| Price Based onP/E of 20 on four quarters trailing EPS | $7.20 |
| Price Based on P/E of 15 on 2009 EPS guidance | $10.2 |
Long Term (12 Months Forward) Scenario
| | |
| --- | --- |
| Price Based onP/E of 25 on 2009 EPS guidance | $17.00 |
| Price Based on P/E of 20 on 2009 EPS guidance | $13.6 |
Peg Ratio Analysis (Aggressive): Common rule of thumb that the P/E should equal the future EPS growth rate:
| | |
| --- | --- |
| PEG Ratio less than 1? | Yes |
| Price Based on Current Price/PEG | $19.88 |
These scenarios are not intended to be investment advice, but are scenarios based on some commonly used investment guidelines. They are provided to aid investors in making their own investment decisions.
Disclosure: The GeoTeam is long in CVU and does not have any partnership or financial obligations the company.