Last week Barron's analyst Tiernan Ray took a very critical look at the valuations some data center stocks have achieved on Wall Street:
Adjusted for Reality, Neither Rackspace nor Equinix Shine

As I said, the market last week punished Rackspace (NYSE:RAX) for failing to live up to the loftiest expectations [the stock fell 20% post-earnings], largely because the nature of a REIT is to keep demonstrating Ebitda growth that will some day support massive borrowing, and fat dividends.

It's the same thing that has pushed down Digital Realty (NYSE:DLR) and Dupont Fabros (NYSE:DFT) shares of late.
The article ended with an Equinix (NASDAQ:EQIX) related prediction:
In the meantime, given that this is all fantasy profit, Equinix shares will continue to trade based on whether they can deliver upside each quarter, however slight. If not, the pricey stock may face a bit of a Rackspace reaction.
We disagree with several conclusions in the article, but as we also believe that data center multiples deserve to be investigated and better explained to investors, we'll use Barron's analysis as a starting point to add our two cents.
Not all data center stocks are created equal - but they are often believed to be so on Wall Street
For lack of a better terminology, we've also used throughout these years the "data center related" umbrella to indicate several companies whose business model is actually very different.
To make things more complicated, as Ray noticed, "data center names that are not REITs" are often analyzed as if they were so on Wall Street - making the whole sector even harder to decipher.
Strong run up in 2011 and 2012
Data center stocks enjoyed a strong run up in 2011 and 2012: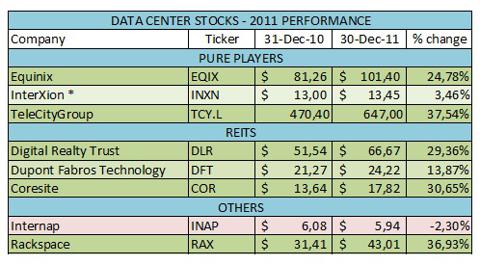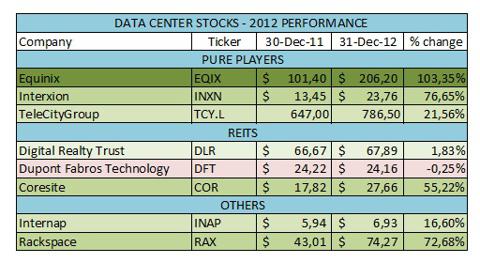 In all honesty, choosing the right company or the best business model didn't really seem to matter in the last two years, as most data center stocks exceeded market benchmarks, and three of them delivered triple-digit returns: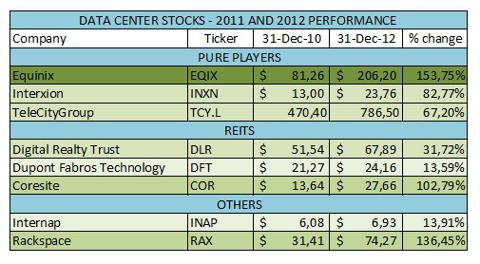 Understanding how these individual companies differ in their business model (as shown by our effort to segment them into sub-sectors) may be critical to properly understand sector related news and how these companies should be evaluated.
Rackspace lowers pricing - Equinix enjoys strong pricing
On Friday, Rackspace announced that it was lowering the price for cloud bandwidth and content delivery network (CDN) services by 33%. The stock opened the trading session quite lower, and lost about 1.3% at closing.
Here is a quick chart showing how Equinix and Rackspace stocks behaved last Friday: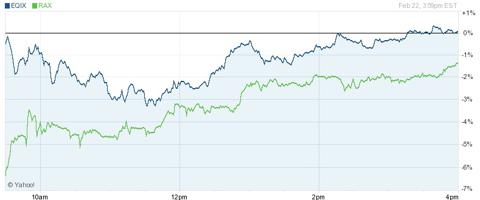 Chart from Yahoo Finance
Some other data center stocks were negatively impacted, in sympathy to Rackspace, by the news, including CDN players.
At a closer look, however, Rackspace and Equinix are very different animals, as shown in this chart resuming Equinix's monthly recurring revenue per cabinet equivalent in North America: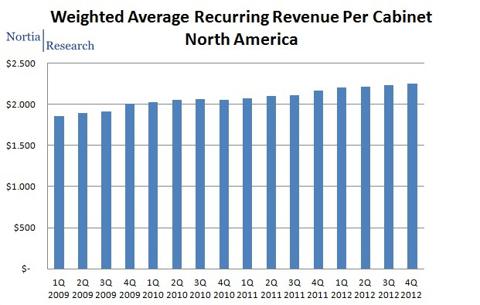 As you may notice, Equinix has been enjoying a steady increase in its unit pricing, exactly the opposite of what is happening to Rackspace, which is forced to decrease unit prices to remain competitive.
The hope that demand grows much faster than unit price declines has been behind the failure of many Telecom stock prices in the last few years. Equinix's business model, however, based on acting as a pure network-neutral data center player selling data center space and related services in key interconnection hubs does not seem to suffer from the pricing problems that may affect a "hosting and cloud computing company" like Rackspace, that is operating in a completely different business environment.
A reduction in selling prices made by a computer retailer would hardly translate into immediate worries for investors who own the REITs that lease some properties to it. These investors would probably be more concerned about general market conditions for real estate, rather than such an unrelated event.
In the data center world, Rackspace's new pricing strategy may be perceived as a negative for the whole sector, while the news may actually represent a positive for a company like Equinix.
As a result of increased traffic caused by lower prices, Rackspace may be forced to take additional space at Equinix for its peering needs. In our example, it's as if the computer retailer realizes it needs more floors to accommodate added consumer traffic. The best part of the story is that Equinix has an almost endless possibility to build additional floors for the customer in the same property (or a close by connected one).
Multi tenant business model vs wholesale
Back to Barron's analysis:
But of late, investors have cooled a bit on some of the best-known data-center REITs, such as Digital Realty Trust and Dupont Fabros Technology. Their stocks are down 6% and 4%, respectively, this year, on results that failed to sustain the magic.
At the beginning of 2011 data center wholesalers like DLR and DFT were supposed to be the main winners in the sector, as several analysts were pessimistic on prospects for retail colocation. Larger clients were supposed to be moving to a wholesale or lease model mainly, and data center wholesalers started offering relatively smaller deals, which were expected to take business off the Equinix like players.
The headline among several analysts was:
Wholesale and leasing are hot. Retail colo is not.
Fast forward to 2012, data center wholesalers are now suffering from pricing pressure, as the business model is relatively easier to duplicate, compared to a multi tenant market leader like Equinix, which is mainly in the business of selling customers expensive cabinets required for their interconnection needs in hard to duplicate key hubs throughout the world:
Shares of data center developer DuPont Fabros Technology declined today as Wall Street analysts scrutinized lease extensions signed with three of the company's largest customers.

Instead of taking comfort in the longer revenue commitments from key customers, securities analysts expressed concern about the pricing on the lease extensions. Fateh (DFT's CEO) said the lease rates were consistent with terms of super-wholesale leases, typically large deals with marginally lower returns than smaller leases. Although the rates were lower, he said, the company's profit margins were effectively the same because the deals involved no brokerage fees or additional capital costs.

But analysts wondered whether the lower rents would set a precedent for other leases and renewals, or perhaps reflected a lack of faith in future pricing trends.
As we underlined, Equinix's MRR has been nicely growing throughout these years, and the company is not experiencing pricing, so far, any pressure for its mission critical services.
Historical earnings behavior
A quick look at recent earnings performance for Rackspace and Equinix:

As you may notice, Equinix has been able to deliver results that have been positively received by the street over the last eight quarters - a mix of strong management execution, great financial and non-financial metrics showing good demand for its services, and probably thanks to a more predictable business model that leaves relatively less room for wrong expectations by analysts and investors.
On the other hand, Rackspace has a more mixed history, where the recent -20% stands out as a peak but within numbers that show several other two digit/high single digit movements.
Capex old data centers
Barron's analysis of Equinix's CapEx also deserves some further commentary:
The company trades at 62 times reported earnings, based on this year's projected GAAP profits of $3.62 per share. But, in fact, it has yet to be profitable on a cash basis, given that capital spending of $765 million last year wiped out its $632 million in total operating cash flow.

In its press release issued Wednesday, however, Equinix pointed out that those capital expenditures included only $157 million of ongoing capital expenditures, money that must be spent just to support existing operations for existing clients.
Equinix's ongoing CapEx included success-based installations, maintenance and value-enhancing initiatives such as IBX optimization efforts and its recent global IT initiative.
Success based installations are related to the company's strong growth rate rates, and should not be confused with support of existing operations. In 2012 Equinix invested into several IT initiatives that should probably be treated as onetime events, and IBX optimization (moving customers into the best location) are also actions that are targeted at maximizing returns for the company but are not strictly supportive of existing operations.
A much better idea of the relatively low maintenance CapEx needed by Equinix to support existing operations can be achieved by looking at the percentage and absolute numbers of ongoing Capex needed to support those data centers that have been open for more than one year: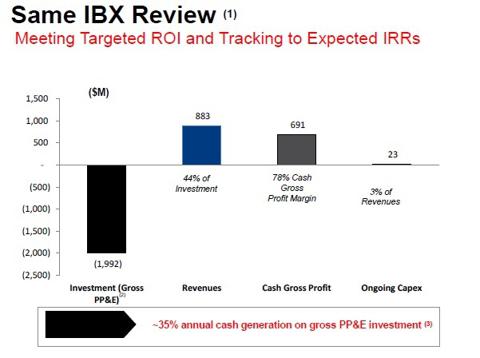 These numbers, taken from Equinix's recent conference call, are related to its U.S.- based IBXs that were open prior to Q4 2011. These data centers represent about 47% of Equinix's 2012 revenues, and show a need of $23 million of ongoing CapEx only.
Conclusion
Analyzing the distinction between "data center companies" is essential to fully understand why distinct metrics should apply to Rackspace, a wholesale data center REIT and Equinix, for example.
While Barron's may be correct in its assumption that Equinix is probably priced to perfection today, and may see a correction due to market conditions or if it disappoints investors' expectations, Tiernan Ray's analysis doesn't seem to fully consider several implications built into Equinix's unique business model and leadership in the network-neutral data center space.
Disclosure: I am long EQIX. I wrote this article myself, and it expresses my own opinions. I am not receiving compensation for it (other than from Seeking Alpha). I have no business relationship with any company whose stock is mentioned in this article.