Alpha Natural Resources (ANR) is the largest met coal producer of the U.S and third largest in the world. The company is expected to deliver healthy financial performance in the future as coal markets will improve due to rising natural gas prices and better coal inventory management. Also, the company is aggressively working on improving its cost structure, which helped ANR in posting an earnings beat in 4Q'12.
Coal Industry Overview
ANR's stock is down almost 58% in the last twelve months. Also, Peabody Energy Corporation (BTU) and coal ETF (NYSEARCA:KOL) were down 20% and 22% respectively in 2012. This significant drop in ANR market capitalization has been the result of lower natural gas prices, rising regulatory concerns and excessive coal supply. However, factors including recovery in natural gas prices, coal supply control and higher coal demand by electricity producers are expected to bode well for the U.S. coal industry in the future.
Energy Information Administration (EIA) is anticipating coal consumption to increase in the coming years. According to EIA forecasts, electric power sector coal consumption in the U.S. is likely to be 859 MMst in 2013 and 870 MMst in 2014 as the proportion of coal fired electricity production will increase. The following chart shows the expected rise in coal fired electricity for the next two years as compared to recent years.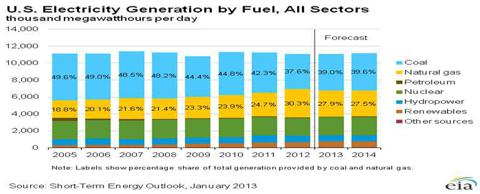 Source: eia.gov
Financial Performance
ANR reported better-than-expected financial results for 4Q'12. ANR registered a fourth-quarter loss of ($0.19), ahead of analysts' consensus of ($0.55) loss. The earnings beat was mainly driven by lower-than-expected costs in the East. Eastern operation costs for the recent fourth quarter came out to be $68.50 per ton, as compared with 3Q'12 costs of almost $76 per ton. Management cost-control initiatives and restructuring efforts also positively affected the bottom line of the recent quarter.
Reported total revenues for 4Q'12 stood at $1.56 billion, down almost 25% on a year-on-year basis. The company was able to sell 25.9 million tons of coal in 4Q'12, down 17%. Weighted average price per ton was also down almost 10% year on year to $52.28 per ton in the recent fourth quarter.
Adjusted EBITDA of $217.2 million for 4Q'12, up 22% quarter on quarter, was positively affected by cost-control efforts of the management. Also, adjusted weighted average coal margin per ton was up 2.2% to $10.14 per ton.
Outlook
The company is anticipating to ship 81-92 million tons of coal in 2013. It is also expecting the cost of coal sales to be in the range of $71-$75 per ton in the East and $10-$11 per ton in the West. Moreover, as the company is aggressively working toward cost-control efforts, it is expected to lower its selling, general and administration expenses to $140-$160 million in 2013 as compared with $209.8 million in 2012.
Furthermore, ANR remains focused on its earlier announced plan to work toward higher-grade thermal coal, strengthening its met coal business and expanding into the international thermal coal markets.
Analysts are expecting a five-year growth rate of 5% per annum. Following are the analysts' EPS consensus for next four years.
| | |
| --- | --- |
| Years | EPS Forecast ($) |
| 2013 | (2.2) |
| 2014 | (1.4) |
| 2015 | (1.09) |
| 2016 | 0.5 |
Conclusion
Currently ANR is trading at depressed valuations; it has price-to-book value (P/B) of 0.4x and price to sales (P/S) of 0.3x compared with its own five-year historical average P/B of 1.75x and P/S of more than 1x. I believe as EIA is forecasting that the coal consumption and prices will improve in coming years and this will likely have a positive impact on the company's stock price and investors' returns.
Disclosure: I have no positions in any stocks mentioned, and no plans to initiate any positions within the next 72 hours. I wrote this article myself, and it expresses my own opinions. I am not receiving compensation for it (other than from Seeking Alpha). I have no business relationship with any company whose stock is mentioned in this article.