FirstEnergy (NYSE:FE) is one of the largest investor-owned utilities in the U.S. with 10 distribution utilities serving 6 million customers in six Mid-Atlantic states. Two thirds of its customers are in Ohio and Pennsylvania. FirstEnergy also owns and operates one of the nation's largest transmission systems with more than 20,000 miles of lines. At FirstEnergy Solutions, it owns and operates more than 20,000 MW of electric generation, including nuclear, coal, gas, hydro, and wind, and has one of the largest retail supply businesses in the U.S.
With the acquisition of Allegheny Energy in 2011, FE's power plant facilities had a total generating capacity of 22,810 megawatts (MW) at the end of 2011, with coal plants accounting for 65.2% of the total; nuclear 17.5%; hydroelectric and pumped-storage 8.0%; oil and natural gas peaking units 7.7%; and wind 1.6%. A pictorial of these fuel sources by plant is below: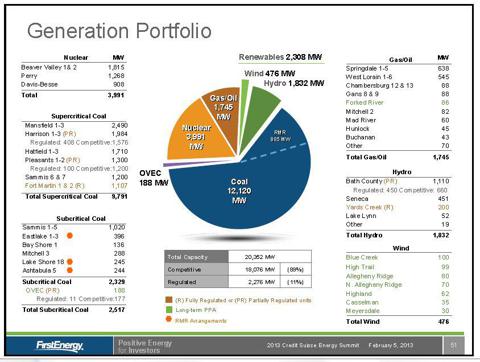 Click to enlarge
FE operates the following subsidiaries: Ohio Edison Company, The Cleveland Electric Illuminating Company, The Toledo Edison Company, Pennsylvania Power Company, American Transmission Systems Incorporated, Jersey Central Power & Light Company, Metropolitan Edison Company, Pennsylvania Electric Company. FirstEnergy reports results in three segments: Regulated Distribution, Regulated Independent Transmission, and Competitive Energy Services.
Regulated businesses account for 64% of revenues and unregulated business account for 36% of revenues. It is the unregulated businesses, mainly merchant power, which is creating operating issues. Much like Exelon (NYSE:EXC) and other merchant power producers, FE is having a difficult time with low market prices for power. As with most merchant power producers, the market is not expected to improve until 2015 or so.
The company recently announced year-end 2012 earnings and provided guidance for 2013. FE earned $1.82 a share in 2013, but EPS were severely reduced by an outsized pension contribution and other charges of $0.91 per share. Without the charges, operating earnings would have been $3.33. Management expects to earn $2.85 to $3.15 a share this year.
FE pays a nice dividend of $2.20, but it has not been raised since 2008. At the current price of $39, this generates a 5.5% yield, and a whopping 34% above the average of regulated electric utilities. However, with a 2013 payout ratio of around 73% and in an environment of declining earnings, a dividend increase this year is only a remote possibility.
The Street is not pleased with continued poor operating results. Fitch this week lowered FE credit ratings to BBB- and offered the following review:
KEY RATING DRIVERS:

--The extended downturn in U.S. power prices and its adverse effect on operating profits at consolidated FE, FES and Supply;

--Significant capex and rising operating costs due to environmental compliance standards, which further pressure margins and cash flows at FES and Supply;

--FE's planned asset restructuring and debt reduction at FES and Supply;

--Relatively high debt leverage;

--Relatively stable electric utility operations and cash flows, but weakening credit metrics at JCP&L;

--Significant improvement in FE's PJM reliability pricing model capacity auction for the 2015/2016 year;

--Solid liquidity position
Investors should review Fitch's complete press release here. While Fitch believes FE has substantial liquidity of $3.8 billion available under various credit facilities, current debt levels are manageable, and the business is "stable," there are risks to further downgrades. These include:
What Could Trigger a Downgrade?

--The inability to execute FE's planned restructuring of debt and asset sales;

--Lower-than-expected margins and volumes at the FES and Supply;

-Continued deterioration at JCP&L;

--An unexpected adverse operating event at one of FE's nuclear or large coal-fired generating units.

What Could Trigger an Upgrade?

--An upgrade at this juncture appears unlikely.
Mainly due to the poor merchant power market, FE has generated below industry average return on invested capital of 3.7% for trailing 12 months and an industry average ROIC for the past 5-years of 5.1%. Again, based on 34% of revenues being generated from merchant power assets, a return to "normal" PJM auction pricing will greatly improve ROIC.
More information can be found in the recent conference call here and in the latest investor presentations dated Feb 5 here. Before jumping in, it is strongly suggested to review the full Fitch PR, the recent conference call and the latest investor presentation (as boring as some investors may believe, it is crucial to having a better understanding of your investment).
FE has not performed as well as other utility selections over the past 5 years, mainly due to its merchant power exposure. Similar to AES Corp (NYSE:AES) and EXC, share prices have reflected poorer earnings profile. Below is a 5-year price chart comparing FE (black line), S&P Utility ETF (NYSEARCA:XLU) (red line), AES (blue line) and EXC (gold line):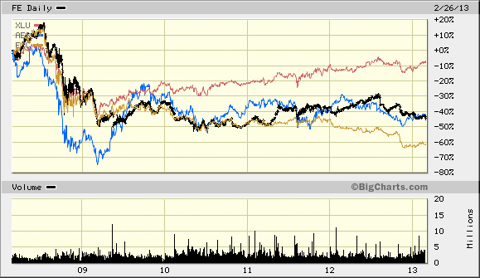 Click to enlarge
1-year Price Chart for FE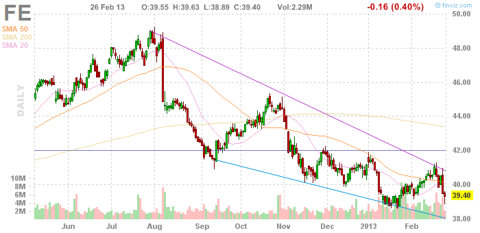 Click to enlarge
If FE stock price falls below $38, a trip to $35 may be in order. At $35, the yield should be 6.3%, providing a solid support for share prices and would make a much more compelling story for a turnaround in the 2015 timeframe. Below is a chart of dividend yield going back to 2006, and it seems the highest yield has been about 5.9%: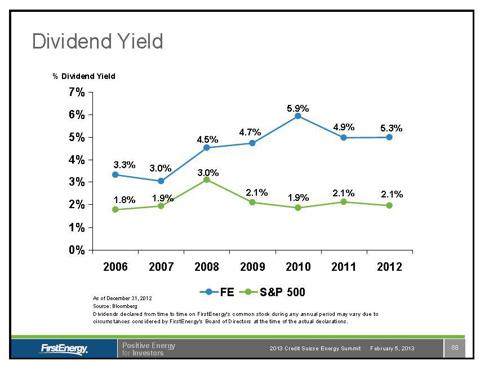 Click to enlarge
While a dividend cut like EXC is not in the cards and, as shown, management is willing to take a hit on lower credit ratings, there is nothing much exciting about FE at this point in time. However, a reversal in merchant power prices would certainly help investors.
Author's note: See important disclaimer in Mr. Parepoynt's profile.
Disclosure: I am long EXC. I wrote this article myself, and it expresses my own opinions. I am not receiving compensation for it (other than from Seeking Alpha). I have no business relationship with any company whose stock is mentioned in this article.