Kraft Foods Group, Inc. (KRFT) reported its 4Q'12 earnings on Feb. 15, 2013. I am neutral on KRFT because I believe it has restricted growth opportunities because the business is concentrated in North America and Canada. These markets are already saturated and very competitive with limited upside potential. However, the company has an attractive dividend yield of .20% in the current low-yield environment, which gives it an edge over its competitors.
KFRT is the leading manufacturer of the branded packaged food and beverages with annual sales of around $19 billion. There are 10 brands with more than $500 million sales and some of the most famous KRFT brands in different categories are Maxwell House, Oscar Meyer, Kraft Mac and Cheese. Share of each category and net revenue for the years 2011 and 2012 are given below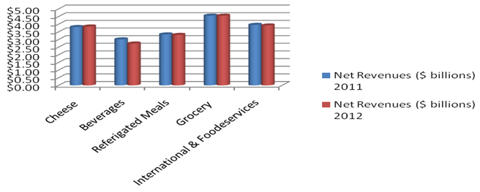 Financial Performance
The company failed to meet analysts' expectations because revenues fell short by 3.47%. KRFT reported earnings of $0.15 per share, which were also lower than the consensus estimate of $0.18. The company experienced a decline of 10.7% YoY in its 4Q'12 revenues along with the decline of 7.2% YoY in organic revenues as well. This dismal performance of the top line was driven by product pruning and massive reductions in trade inventories. Operating income also fell by 48.8% to $260 million in 4Q'12, which includes negative market based impact of post employment benefit, restructuring costs and unrealized losses from hedging activities.
As you can see from the table below, the company was not able to deliver positive growth in any single category. Another disturbing sign is the significant decrease in the volume mix in all the categories, which paints a discouraging outlook for KRFT.
| | | | |
| --- | --- | --- | --- |
| Categories | Pricing | Volume Mix | Total Organic Revenues |
| Beverages | (0.6) | (17.1) | (17.7) |
| Cheese | (1.2) | (1.4) | (2.6) |
| Refrigerated Meals | (0.5) | (6.7) | (7.2) |
| Grocery | 1.1 | (8.5) | (7.4) |
| International & Foodservice | 4.2 | (9.2) | (5.0) |
Source: Company Data
However, the company has managed to cut down its overhead expenses. KRFT overheads as a percentage of net revenues were reduced to 8.7% in 2012 which were at 12.3% in 2010. It has also made significant strides in the productivity levels as net productivity as a percentage of COGS reached to 2.8% and were at 1.5% in 2011. In 2012, KRFT's brands like Macaronis and Cheese along with Velveeta experienced double-digit growth. Furthermore, newly launched Mio brand grew by a massive 67% in the last year. KRFT is also making efforts to cut down its inefficient trade spending, which hampered 4Q'12 results. Lastly, the company was able to generate decent free cash flows, which could help it maintain its healthy dividend yield.
Future Outlook
The company is primarily focusing on advertising and innovation. In 2012 its advertising expenses rose by 20% where as in 4Q'12 the rise was even more than 20%. In 2013, KRFT is expecting a rise of 13% in its net revenues from new products and the management believes that innovation will be giving it a comparative advantage among its peers. KRFT is also planning to direct its free cash flows this year to share repurchases, reinvestment in the business and acquisitions.
KRFT is also targeting the same organic revenue growth as that of the industry and its EPS guidance has slightly improved to $2.75 per share, which is mainly because of change in post employment benefit accounting along with cost restructuring. It is also anticipating free cash flows of $1 billion in 2013 with annual dividends of $2 per share.
After the spinoff KRFT can now truly focus on investing in its core businesses and brands, managing expenditures, and increasing sales through efficient distribution channels. Moreover, the company has managed to shift its focus on core brands, which have produced excellent results in the past in the shape of making $100 million brands like Mio, Oscar Mayer and Velveeta and it will continue to do so in the future as well.
Risks
The company has a limited upside potential as it is completely relying on North American and Canadian markets and they cannot do much if the U.S. food and grocery industry continues to be sluggish. Moreover, KRFT also faces risk of rise in commodity prices, which could weaken its cost-cutting strategy. Furthermore, the rise in cost cannot be easily transferred to the consumers as the industry is very competitive. Moreover, small companies with private labels are also threatening with their brands as they are collectively shaping up to be a major risk element.
Conclusion
| | | | |
| --- | --- | --- | --- |
| Companies | Dividend Yield | P/E Multiple | PEG (5yr expected) |
| KRFT | 4.20% | 17.04x | 5.26 |
| Kellogg Company (NYSE:K) | 2.90% | 22.35x | 2.18 |
| General Mills, Inc. (NYSE:GIS) | 3.00% | 16.73x | 2.14 |
| The Hershey Company (NYSE:HSY) | 2.10% | 27.79x | 2.35 |
KRFT offers an attractive dividend yield, which is higher than those of its competitors. It also has a lower P/E multiple but both of these advantages are offset by a higher PEG. I believe KRFT has little chance of price appreciation and limited growth opportunities as the competition in the food and grocery business is heating up not only because of competing large brands but also due to the advent of private labels.
Disclosure: I have no positions in any stocks mentioned, and no plans to initiate any positions within the next 72 hours. I wrote this article myself, and it expresses my own opinions. I am not receiving compensation for it (other than from Seeking Alpha). I have no business relationship with any company whose stock is mentioned in this article.