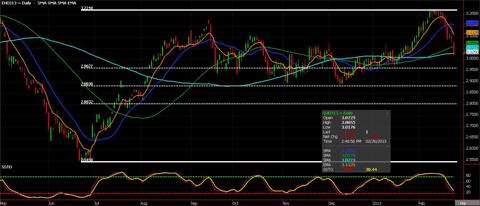 In the last 2 weeks, heating oil prices have collapsed, falling by 20 cents a gallon. As you can see on the chart above, as of this post, futures are challenging their 100 day MA -- identified by the light blue line. Prices have been above that pivot point for 5 weeks… the last time, April futures were under $3.00. There appears to be more downside, and I've suggested that clients tracking energies use the Fibonacci levels as their objective on any bearish trade. I think it is possible to see a trade 10-15 cents lower, but I do not think prices will stay at those levels for any extended period, if we even get that low.
I have advised larger, more aggressive clients to be looking for bullish trade entries if we see further 3-5% deprecation from current levels. There are several different strategies that one can trade heating oil from -- an outright long/short via futures or options, or one of my favorites, as most readers know, is trading your bias in the futures and then selling calls/puts against the futures 1:1. There are relationships that you can trade as well -- trading Crude oil and RBOB against heating oil.
In a normal trading week, inventory reports come out on Wednesday, so expect fireworks tomorrow that could dictate the immediate direction. Before putting on any size on bullish trade, please do yourself a favor and look at a weekly chart, as this is the third consecutive week prices have been in the red. For the last 10 months, we've been unable to get above the same levels we topped out 2/3 weeks ago. I'm not trying to talk you out of the trade, but the message is just trade comfortable size.
Risk Disclaimer: The opinions contained herein are for general information only and not tailored to any specific investor's needs or investment goals. Any opinions expressed in this article are as of the date indicated. Trading futures, options, and Forex involves substantial risk of loss and is not suitable for all investors. Past performance is not necessarily indicative of future results.
Disclosure: I have no positions in any stocks mentioned, and no plans to initiate any positions within the next 72 hours. I wrote this article myself, and it expresses my own opinions. I am not receiving compensation for it. I have no business relationship with any company whose stock is mentioned in this article.