Last quarter's results show that the department store retailers are still earning profits. Nordstrom's (NYSE:JWN) profit dropped, which comes as no surprise given the economic situation and retailers will likely continue to be affected by the drop in consumer confidence until the average American feels that things have turned around.
The firm, however, and along with its competitor Macy's (NYSE:M) beat analysts' predictions despite decreases in sales, as the firms' financials that were recently discussed in the articles "Nordstrom beats by penny, relief sends shares north" and "Macy's quarterly profit tops view; keeps outlook" show.
MSSI spending data from this far in 2009 show that so far these trends are continuing, with the average spending at Nordstrom locations continuing to fall from a high November figure of $210.69, which should be attributed to early holiday shopping. Comparing January '09 to January '08 reveals an almost 18% decline at Nordstrom's and an almost 20% dip at Macy's. Even more telling is the fact that at Nordstrom's 8 of the last 12 months and 7 out of the last 12 at Macy's have had spending declines relative to the month before.
click to enlarge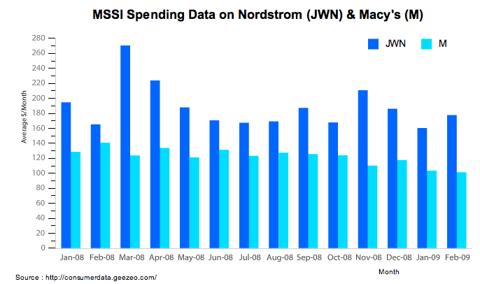 Click to enlarge
The data from the MSSI also highlights an interesting trend; the average Geezeo consumer's spending per visit to Nordstrom's hasn't really dropped too much, just the frequency of visits. The last two months have seen declines, a trend which February is on track to continue. Overall, the average Geezeo user that goes to Nordstrom once in a month, averaged only 1.48 visits total in January, down almost 10% compared with 2008. Macy's visits in January were actually up 3.3% compared with a year ago. Results for 2009 will most likely depend on how successful retailers can be at attracting more market share.
This data was compiled by the Geezeo Main Street Spending Index (MSSI).