Crest Financial, which owns 8 percent of Clearwire's (CLWR) Class A shares, has continued its opposition to the announced acquisition of the company by Sprint (NYSE:S). On February 25, Crest filed a reply (pdf) in support of its petition to deny the application by Sprint for consent to transfer control of licenses, authorizations, and spectrum leases. Crest included in its reply a study that it commissioned from Information Age Economics, which it submitted as evidence that Sprint's $2.97 per share offer undervalues Clearwire's assets.
Crest is adamantly opposed to this merger, at least at this price, arguing that the merger contradicts the FCC's objective to maximize spectrum availability for public use. Crest also argues that, by past example, it believes Sprint's management is not a proper custodian of the spectrum in keeping with the goal to serve the best interests of the United States and its wireless consumers, as well as the interests of Clearwire shareholders. The market's recent valuation of Clearwire has kept the price of the company above Sprint's offer price, indicating the market broadly agrees with Crest that Sprint's $2.97 bid is insufficient. See a recent performance chart for CLWR: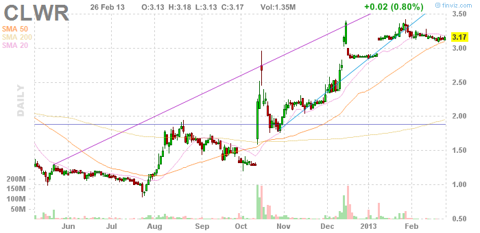 Crest is not the only entity against Sprint's planned takeover of Clearwire. Last month, Dish Network Corp. (NASDAQ:DISH), a satellite television company, made an unsolicited bid for approximately one-quarter of Clearwire's spectrum for about $2.2 billion, which it claims values the total company at $3.30 per share, or 11% more than Sprint's offer. Of course, not all spectrum is of equal value, making it difficult to gauge a true valuation of the three-quarters that would remain after such an acquisition. Nonetheless, the existence of the offer supports Crest's claim that Sprint is undervaluing the assets.
Sprint is also in the process of being majority-acquired by Softbank (OTCPK:SFTBY), the third-largest mobile services provider in Japan. In October, Softbank and Sprint came to an agreement where Softbank would acquire 70% of Sprint for about $20.1 billion. Softbank also apparently limited Sprint's budget for acquiring Clearwire to its current $2.97 per share bid.
Crest Financial announced that it would ask the U.S. Federal Communications Commission ("FCC") to block Sprint's takeover of Clearwire prior to Dish making its bid for a portion of the company's spectrum. Crest had then already initiated a shareholder lawsuit seeking to stop Softbank's deal to acquire 70% of Sprint.
If allowed to wholly acquire Clearwire, Sprint would become the nation's largest holder of spectrum. This would also mean that if Softbank's deal for Sprint went though, that the nation's largest holder of spectrum would be controlled by a foreign entity. Softbank would then control the third-largest mobile providers in both Japan and the United States and some of the most important mobile spectrum. The spectrum is likely necessary for its plan to compete against the dominant U.S. mobile carriers, Verizon (NYSE:VZ) and AT&T (NYSE:T). Like Sprint within the United States, Softbank has gained market share from its larger competitors in Japan by providing more data options, including unlimited data plans.
Softbank has been Japan's leading seller of smartphones since 2007. Softbank took much of its Japanese market share by having an exclusivity contract with Apple (NASDAQ:AAPL) for the iPhone for its first few years, much like how AT&T had iPhone exclusivity in the United States. Additionally, Softbank had great success in luring customers by offering more data options for smartphones, tablets, laptops and vehicles. Similarly, Sprint has pushed its unlimited data plan options within the United States, while both Verizon and AT&T have moved to discontinue unlimited data plans.
Softbank has been a consistent strategic telecom deal-maker. The company entered the mobile service carrier business in 2006, when it acquired Vodafone Japan from Vodafone (NASDAQ:VOD). One year later, it inked an exclusivity deal with Apple for the iPhone. In 2012, before making its bid for a majority stake in Sprint, Softbank also announced the acquisition of eAccess Ltd, a mobile WiFi router and LTE network services company, for about $1.84 billion. The apparent spending cap on Clearwire may indicate that Softbank is done acquiring telecom assets, at least in the near term.
Also last year, Sprint and Dish discussed the possibility of Sprint hosting Dish's wireless spectrum on Sprint's mobile towers, but the deal subsequently fell apart. Dish then made a failed attempt to acquire MetroPCS Communications (PCS) for about $4 billion. These deals indicate Dish is serious about acquiring a mobile data provider, and that Dish and Sprint are already familiar with each other.
Before all of these recent mergers and acquisitions, Sprint and Clearwire were running a joint venture to build and update their nationwide wireless network. The endeavor proved costly, and the due had tremendous difficulty in keeping up with the deeper pockets of its larger competitors. This makes Softbank's capital essential to Sprint's ability to continue competing with AT&T and Verizon as network technologies advance and require further updating.
The FCC is still reviewing Softbank's proposed majority purchase of Sprint, with its focus on the effect the deal may have on the U.S. telecommunications market. Last year, the Department of Justice prevented AT&T from acquiring T-mobile due to concerns the deal could be anti-competitive. Nonetheless, regulators look likely to deem the deal necessary in order to keep Sprint competitive with its two larger peers.
Crest's continued claim that the acquisition of Clearwire undervalues its assets appears unlikely to obstruct the deal unless alternative offers emerge that support the claim. Thus far, the only such alternative bid is by Dish, and it is not for the entire company, but instead attempting to cherry-pick some of Clearwire's more desirable assets. Nonetheless, Crest's reply does acknowledge that the company feels Dish's proposed transaction is an appropriate valuation of Clearwire spectrum.
Yet another possibility is that Dish ends up consolidating with Sprint and Softbank and/or entering a joint venture where they mutually own the Clearwire spectrum. If Dish is looking to own a wireless company, obtaining an interest in Sprint and Softbank may be a better option than Dish's attempting to develop a new competitor on its own. Shares of Clearwire have traded above Sprint's offer price for most of 2013, indicating the market anticipates some modification to the deal should soon emerge, and that modification could certainly include Dish.
Disclosure: I have no positions in any stocks mentioned, and no plans to initiate any positions within the next 72 hours. I wrote this article myself, and it expresses my own opinions. I am not receiving compensation for it (other than from Seeking Alpha). I have no business relationship with any company whose stock is mentioned in this article.
Additional disclosure: Family members own shares in S & T.