EVENT DELL Scheduled To Report FQ4 Revs Thurs 2.26.09; Does Not Provide Guidance
CAUSE Supply Chain Analysis Suggests Results $1.5B+ Below Street Estimates
IMPACT Negative For DELL, PC Supply Chain
ACTION Continue To Avoid DELL, HPQ, AAPL, PC Supply Chain, Enterprise Hardware
click to enlarge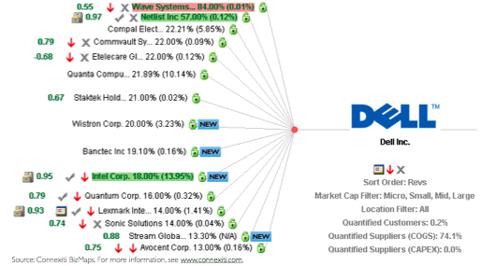 SUPPLY CHAIN EVENT TRACKER
1.15.09 Supplier INTC provides "internal" Q1 rev target -3.8% below Street expectations
1.20.09 Competitor IBM declines to provide Q1 rev guidance
1.21.09 Supplier STX guides Q1 revs -17.7% below Street expectations
1.22.09 Supplier AMD guides Q1 revs "down" without further quantification
1.22.09 Supplier MSFT declines to provide FQ3 gudiance due to economic conditions
1.27.09 Supplier EMC declines to provide Q1 guidance
1.27.09 Supplier ELX guides Q1 revs -21.1% below Street expectations
1.28.09 Supplier WDC guides FQ3 revs -7.1% below Street expectations
1.28.09 Supplier AVCT guides Q1 revs -10.9% below Street expectations
1.29.09 Supplier QTM guides FQ4 revs -7.3% below Street expectations
1.29.09 Supplier BRCM guides Q1 revs -12.1% below Street expectations
2.10.09 Supplier NVDA guides FQ1 revs -10.0% below Street expectations
2.11.09 Supplier NTAP declines to provide Q1 guidance due to economic conditions
2.18.09 Competitor HPQ misses FQ1 revs by $2B+; guides FQ2 revs -11.0% below Street expectations
EVENT: EXPECT RESULTS $1.5B+ BELOW STREET. DELL is scheduled to report FQ4 (Jan) revs Thurs 2.26.09 after the close. The Street currently expects FQ4 revs of $14.375B (-5.2% Q/Q; no mgmt guidance). The implied decline is below a consistent 7-yr avg of +6.0% Q/Q (σ=3.51). The Street expects FQ1 revs of $13.801B (-4.0% Q/Q, only slightly below a consistent 7-yr avg of -17%; σ=3.16).
CAUSE: NEGATIVE SUPPLY CHAIN DATA. Commentary from virtually every PC supply chain or enterprise hardware company has indicated continuing deterioration in business fundamentals, or else no guidance at all as a result of the poor macroeconomic conditions. As the table below shows, the avg Q/Q rev decline for the Mar/Apr Q for companies in DELL's supply chain (including competitors and select enterprise hardware names) is -14.6%—yet the Street is assuming just a small Q/Q rev decline at DELL (-4.0%), only slightly below seasonality (-1.7% Q/Q).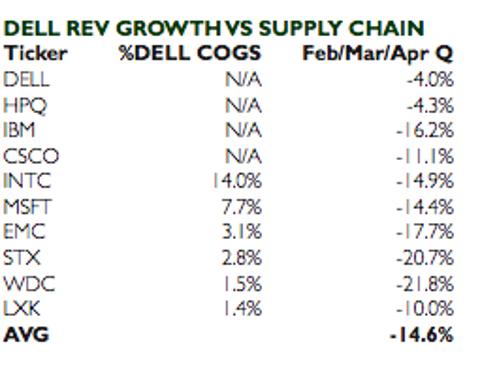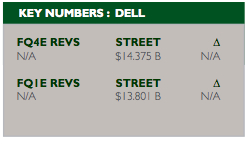 IMPACT/ACTION: CONTINUE TO AVOID DELL + SUPPLY CHAIN. HPQ just reported Jan-Q revs down -14.3% Q/Q, and it had the benefit of services and software to mitigate the decline—something DELL does not have. The Street is expecting a Q/Q decline of just -5.2% Q/Q for DELL's FQ4 (Jan). Based on the data, we believe a decline of 15.0-17.5% Q/Q or more is in order, which would yield revs of $12.509-12.887B (Street $14.375B). DELL doesn't give guidance, but FQ1 (Apr) revs also appear much too high on both an actual and growth basis: as the table below shows, a sample of major comps and suppliers on avg expect a Q/Q Mar/Apr rev decline of -14.6% vs -4.0% for DELL.

For more information, see our BizMaps.