I am bullish on Lorillard (NYSE:LO) due to its attractive valuations (forward P/E of 12.1x and PEG of 1.5), high dividend yield of 5.3% and healthy financial performance over the years. Also, the company was able to beat earnings and revenue consensus for 4Q'12. Moreover, analysts are anticipating an impressive next five-year growth rate of 9%.
LO has been operating in an industry characterized by declining volumes with the passage of time and intense competition. To achieve top and bottom line growth tobacco companies are only left with few options, which include charging customers higher prices and improving on cost structures. LO also has been following tobacco industry footprints of charging higher price and achieving efficient costs structure. LO was able to increase its net prices by 3.7% in 4Q'12 and by 4.2% in full-year 2012.
LO has delivered healthy financial performance in the recent past. Sales and earnings per share for the company have grown at impressive rates of 8% and 13.5% respectively in the last three years. Also, despite intense competition, LO has been able to maintain its margins over the years.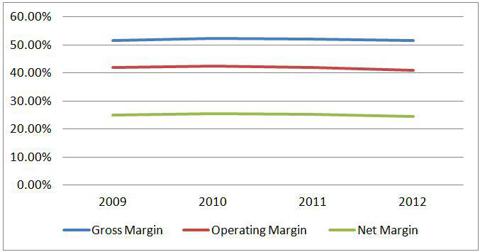 Source: Ycharts.com and Financial Reports
In 4Q'12, LO posted better-than-expected results, with an earnings beat of 3.9% and revenues of $1.70 billion coming ahead of analysts' consensus of $1.16 billion. Net revenue for the quarter was up 5.3% year on year. Adjusted earnings per share for 4Q'12 came out to be 79 cents, up 8.2% year on year. Earnings per share for the most recent quarter were positively affected by a better-than-expected sales figure, share buyback program and favorable tax rate, which had a positive 1 cent impact on the company's EPS for the last quarter.
Net revenues for full-year 2012 increased by 2.4% year on year and reached a record level on $6.623 billion. On the other side adjusted earnings per share also reached a record figure of $2.82, up 7.2% year on year.
The LO retail market share stood at 14.4% by the end of 2012, up 0.3%, registering a 10th consecutive year of market share gain. The following table shows market share for LO and its different brands.



Source: earnings release
The company has been working aggressively toward electronic cigarettes. The electronic cigarette segment contributed $39 million to the company's total sales in the recent fourth quarter. LO currently has more than 30% of electronic retail market share and it increased 'blu eCigs' distribution to more than 50,000 stores in the recent quarter.
Dividend and Share buyback
LO has been sharing its successes with its shareholders in the form of share repurchases and dividend payments. LO offers investors an attractive dividend yield of 5.3%. Recently the company increased the quarterly dividend by 6.5% to a new quarterly dividend rate of 55 cents per share. This dividend increase was the fifth one since 2008.
Other than offering its shareholders a high dividend yield of 5.3%, LO also repurchased $304 million worth of common stocks in 4Q'12 under its ongoing share buyback program of $500 million. LO also repurchased $1.58 billion and $475 million worth of common shares in 2011 and 2012 respectively.
Conclusion
Analysts are expecting high next five-year growth rate of 9% per year. Following are the analysts' EPS forecast for LO, from 2013 through 2015.
| | | | |
| --- | --- | --- | --- |
| | 2013 | 2014 | 2015 |
| EPS forecast | $3.08 | $3.38 | $3.76 |
Source: Nasdaq.com
LO is attractively valued at cheap forward P/E of 12.1x as compared with its peers' average of 13.4x. Also, LO has a lower PEG of 1.5 in contrast to its peers' average, reflecting that it offers cheaper growth comparatively, which coupled with a high dividend yield of 5.3% makes me bullish on the stock.
| | | | |
| --- | --- | --- | --- |
| | Dividend Yield | Forward P/E | PEG |
| LO | 5.3% | 12.1x | 1.5 |
| Reynolds American Inc. (NYSE:RAI) | 5.4% | 13.2x | 1.9 |
| Altria Group Inc. (NYSE:MO) | 5.1% | 13.7x | 2.0 |
| Philip Morris International, Inc. (NYSE:PM) | 3.8% | 14.5x | 1.4 |
| Average | 4.9% | 13.4x | 1.7 |
Source: Yahoo Finance
Disclosure: I have no positions in any stocks mentioned, and no plans to initiate any positions within the next 72 hours. I wrote this article myself, and it expresses my own opinions. I am not receiving compensation for it (other than from Seeking Alpha). I have no business relationship with any company whose stock is mentioned in this article.