A recent Forrester research report on tablets caught our interest, as it pertains to show how the tablet market could explode for Microsoft (NASDAQ:MSFT). The actual article remains limited to paid subscribers. The summary is in the public domain; the data in the report is detailed and large enough to produce a good revenue model. To my surprise, it was not the mobile phone market, but rather, it was demand for Window's tablets that appears to be the biggest market for Microsoft. We decided to check our portfolio, and update clients on how they can invest to benefit from this trend. In this article, we look into the possible revenue implications of the Forrester research. This provides a follow-up to the previous article we wrote dealing with the mobile OS market and Google (NASDAQ:GOOG) in particular.
The Forrester research indicates 34% of all corporate workers worldwide want a Windows-based tablet for work-related activity. Only 2 percent of Forrester respondents reported that Windows was the current OS running on their work tablet. Putting two and two together, it meant:
"...a whopping 32 percent want Windows as their next work tablet OS. On the smartphone side, only 3 percent use Windows Phone as their current work device, but 10 percent want Windows Phone as their next work smartphone. Not as big a jump as the tablet side, but it's still triple. And this is not just a few hundred workers, folks; this almost 10,000 information workers worldwide." (Analysis of Forrester research)
If you know anything about statistics, a survey of 10,000 people is extremely significant. It is not a sample of 1000, and so this is a very detailed amount of research. Forrester claims the 10K surveyed represent a total of 600+million workers -- this implies up to 200 million information workers would want a Windows tablet for work. From our own experience of meeting with clients and taking requirements on the Surface, each and every one of them has been impressed. For example, "For a first try at tablets, this is impressive. Still, if it was not for the large app library we have with Apple iPads, we would switch as well... Office is still the best productivity software, even in the Mac world." A. Merali, CEO, Enterprise Web Design Software, MDInfoTech.
As early adopters, the research also ties in with how we use our Surface (to be fair, it does not matter if it is an x86 Surface Pro or an ARM one). The primary use of a Windows tablet is for mobile productivity, and not running actual compute-intensive work, so performance does not matter that much. We use it to draw up client requirements and to remote desktop onto our servers. No coding or simulation is accomplished on the Surface itself, except for occasionally editing presentations. The experience with real remote desktop beats anything I have tried on the iPad.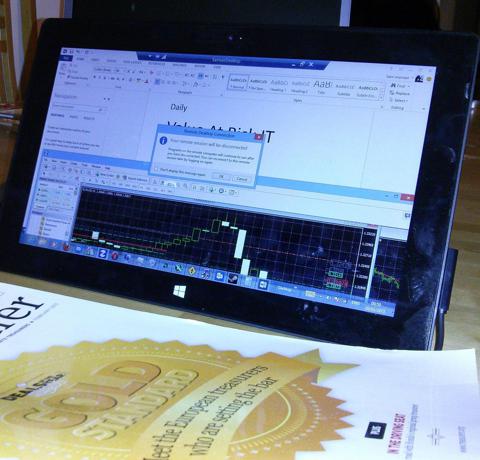 Click to enlarge
What Does This Mean?
Regardless of whether Nvidia (NASDAQ:NVDA) continues to provide the chips for the cheaper Windows RT tablets (like our Surface), or AMD (NYSE:AMD) Temash x86 chips power them in the future, Microsoft has a large untapped market, and analysts are too early to write off Windows RT, Surface and Windows in tablets. How do you quantify this? In our simplistic summary of a model for this market, we take the 200 million number from Forrester, and produce 100 million information workers whose workplace could afford at least $300-$700 to spend on a tablet. Using a tablet to check work items, say, on a train or when taking a lunch break or company trip can result in productivity gains of 1hr+ per worker (see study on physicians). Therefore, the outlay would easily pay for itself by productivity gains. From these tablets, we estimate that there will be an average profit margin of $50 for Microsoft given the additional sale of a Windows tablet license, Office 2013 license and/or the hardware (margins on the Surface are good). A mix of higher end Windows RT/Windows 8 tablets could also result in a $100+ margin for Microsoft. That conservative estimate could mean $5 billion dollars in additional free cash flow, which for the first few generations, might need upgrading every 2 years. This provides for a concrete growth scenario for Microsoft outside of its recent history.
With a current quarterly revenue growth of 2.7%, the full year 2013/2014 tablet growth represents an opportunity of a further 6.9% growth in free cash flow. If all else holds in place, we are looking at a year on year growth of nearly 10% in revenue on the back of tablets.
Current Microsoft Stats
| | |
| --- | --- |
| Forward P/E (fye Jun 30, 2014)1: | 8.69 |
| Qtrly Revenue Growth (yoy): | 2.70% |
Current revenue growth rate

Click to enlarge
(Source)
We projected 2014 revenue growth based on Windows tablet market of at most 200 million workers. Forrester (ref 2) says the market is 200 million, but we half that to rely primarily on the developed markets that could afford to layout $300-700 for a tablet that increases remote work productivity. This projection relies on constant revenue in the other segments (which is conservative as Xbox 720 rolls out and Bing gains market share).
| | |
| --- | --- |
| Windows Tablet market of 100 million @ $50 margin | 9.6% |
| Windows Tablet (inc Office) sales of 50 million @ $100 | 9.6% |
| Windows Tablet sales of 25 million per annum @ $50 | 6.5% |
Any of these scenarios, on a current revenue of >$72 billion, is significantly above the revenue growth Microsoft has achieved in the last year and thus, it is not yet priced into the shares. Those who discount Microsoft and are short better hope Forrester and our very conservative growth figures turn out to be way wrong. For everyone else, Microsoft remains a low-risk investment with good return potential.
Disclaimer: Unless stated otherwise, these views are not the opinion of any of my present or past employers. In addition, we take no responsibility for your gains or losses if you follow our advice. Please speak to a financial advisor if you are unaware of the risks inherent in algorithmically traded markets.
Our contracting company as a separate business is now providing quantitative modeling and risk management reports. Please contact reports@technoorconsulting.co.uk for details of in-depth risk models and pricing if you are interested in a more quantitative angle to your investments.
Disclosure: I am long MSFT, AMD. I wrote this article myself, and it expresses my own opinions. I am not receiving compensation for it (other than from Seeking Alpha). I have no business relationship with any company whose stock is mentioned in this article.