American Tower Corporation (NYSE:AMT) reported earnings on Tuesday, February 26th, of 34 cents per share, down from 52 cents a year ago and below analyst estimates for 42 cents per share. However the 4th quarter of last year had benefited from a $121 million tax credit. Revenue for the quarter increased 18% to $768.4 million, well ahead of estimates for sale of $742.5 million. For the full year operating income increased 21.7% to $1,119.7 million and in the 4th quarter operating income increased 12.7% to $279.2 million. American Tower began operating under a more tax efficient REIT structure last year. Adjusted funds from operations increased 5% in the quarter to $0.72 per share.
The company gave guidance for 2013 for net income to be between $765 to $840 million, revenue to fall in a range of $3,160 to $3,210 million and adjusted funds from operations of about $1,360 to $1,410 million. Analysts had been looking for revenue of $3,190 million in 2013. At the mid point of the net income range EPS would be about $2 per share compared with analyst estimates for 2013 EPS of $1.68. The company has set a goal to double its number of sites within the next 5 years. In 2007 the company set the same goal and has more than achieved it. In the past 5 years revenue, EBITDA and adjusted funds from operations have more all than doubled. While dividend decisions are made by the board, American Tower is also targeting 20% dividend growth over the next 5 years. The company plans to build 2,000 to 3,000 sites per year and continue to make acquisitions that meet its investment criteria. The company expects its number of sites to increase over 6% in 2013.
American Tower believes they are well positioned to capitalize on the estimate from Cisco Systems, Inc. (NASDAQ:CSCO) for wireless data demand to increase 10 fold from 2012 to 2017. This growth will be supported by increasing penetration of LTE as less than 10% of wireless customers in the US today are experiencing LTE technology. Management indicated that customers with LTE enabled phones use 5 times as much data as customers with 3G phones. In the last two years smart phone penetration has increased from 20% to 60%, driving a 5 fold increase in mobile data demand.
International growth has been a real driver for American Tower's results. In 2012 international revenue increased 34.4% driven by 13.6% core organic growth. The company has added about 18,000 international sites since the beginning of 2011. In South Africa, Mexico, Brazil and Colombia, 3G is still in the process of being deployed and 4G is in the planning or very early initiation phase. In 2012 spending on acquisitions was focused on the international segment with over 65% of acquisition spending targeting international opportunities. In 2013 the company expects international revenue growth of about 28%, with organic international growth of about 10%.

When you look at American Tower's valuation at first it appears to be a fully valued company but compared to some of its peers it has the lowest multiples. Crown Castle Internation Corp. (NYSE:CCI) has a higher forward P/E, 35.36 versus 66.41. Crown Castle also has a PEG ratio that is almost double that of American Tower, 4.06 versus 2.05. When you look at American Tower and Crown Castle compared to SBA Communications Corp. (NASDAQ:SBAC) you can see SBA has a higher EV/EBITDA and EV/Revenue ratio despite having a lower operating margin.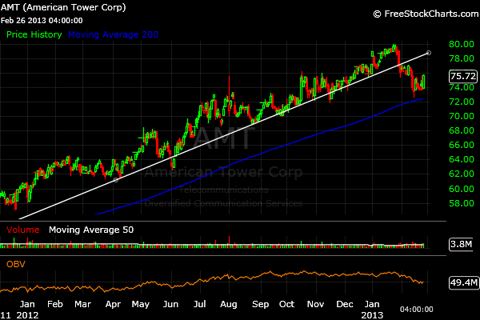 When you look at the chart of American Tower you can see the stock has broken below the uptrend that has been in place for some time. The 200 DMA appears to be holding as an area of support for the stock and I would continue to watch that level. This stock has the potential for strong returns over the next five years and a pull back at this time could provide an attractive entry point. I would look for the 200 day to hold and than buy as close to that level as you can. One way to improve the yield on the stock would be to write covered calls, I believe resistance could be strong around the $80 level for at least a few months.
Data sourced from: Company filings, and Yahoo!Finance. Chart from: Freestockcharts.com.
Disclosure: I have no positions in any stocks mentioned, and no plans to initiate any positions within the next 72 hours. I wrote this article myself, and it expresses my own opinions. I am not receiving compensation for it (other than from Seeking Alpha). I have no business relationship with any company whose stock is mentioned in this article.