The days leading up to Valentine's Day are some of the busiest for online floral retailers (only Mother's Day is busier). Big money is required to remain competitive in this market. Both 1800-Flowers.com (NASDAQ:FLWS) and ProFlowers.com appeared on the homepage of Yahoo! (NASDAQ:YHOO) the week prior to Valentine's Day and Teleflora.com aired a TV spot during the Super Bowl. In the weeks leading up to Valentine's Day, each of the top four online floral retailers (1800-Flowers.com, FTD.com, ProFlowers.com, and Teleflora.com) saw a major increase in traffic. ProFlowers.com claimed the biggest spike in weekly visitors, increasing 423% in the first two weeks of February.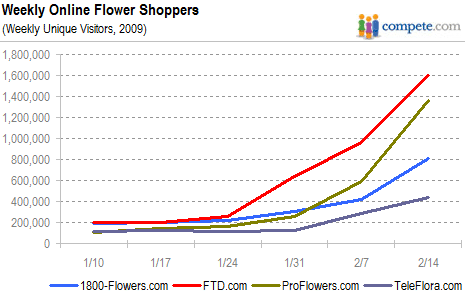 When looking at Share of Voice (the percent of visits within the competitive set) over the first two weeks of February, FTD.com and ProFlowers.com stand tall with 40% and 30% of visits, respectively. However, when also considering the Share of Wallet (the percent of purchases made within the competitive set) over the same timeframe, ProFlowers.com clearly separates itself. They accounted for 54% of all the purchases made at one of these four retailers.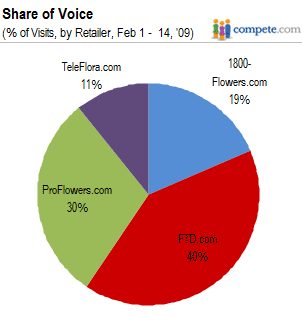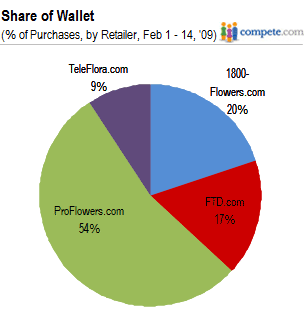 In fact, ProFlowers.com led the field in two key metrics: bounce rate and conversion rate. The lowest bounce rate (percentage of visits that result in the visitor immediately leaving the site) and the highest conversion rate both belonged to ProFlowers.com by a comfortable margin. It appears that ProFlowers.com was much more effective at driving quality traffic to their site, as their shoppers were engaged and more likely to make a purchase.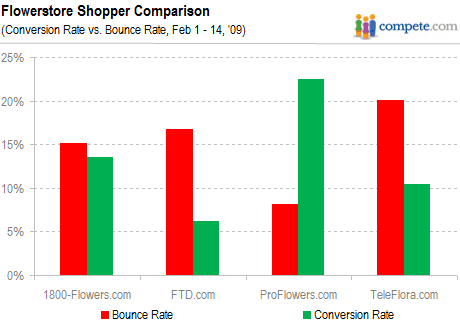 Today's economic climate is certainly not news to anyone. As consumers tightened their sweetheart budgets, the leading online florists pulled out all stops to gain market share (one going so far as advertising during the Super Bowl). In 2009, ProFlowers.com clearly outperformed its top rivals by having more online transactions than their top three competitors combined. For rival florists, understanding what tactics have helped ProFlowers.com succeed online will be critical to their efforts to regain lost market share as they gear up for another battle come Mother's Day.