Cancer is one of the leading causes of death in the US. Companies that focus on discovering drugs to help cure or elevate this disease can see large profits upon success. However, for every success there are many failures and bumps in the road. Oncothyreon Inc (ONTY), is one such cancer biotech with a very nice cancer pipeline that hit a major stumbling block on one if its drug trials in December. Fortunately for investors that news has created what appears to be a very undervalued cancer biotech right now, a biotech that could reap some very nice rewards in the coming months.
Oncothyreon Inc focuses on the development of therapeutic products for the treatment of cancer. Its primary product candidate, Stimuvax has two phase III clinical trials for the treatment of non-small cell lung cancer. The START trial of Stimuvax failed to meet its primary endpoint in news released in December by Merck KGaA who is running and funding the drug trials. This news sent shares down 60%. The company is also developing PX-866, a small molecule that is in phase II trials for various cancer indications. In addition, it engages in the preclinical development of ONT-10, a cancer vaccine; and ONT-701, a pan-inhibitor of the B-cell lymphoma-2 family of anti-apoptotic proteins.
ONTY as of the last earnings report had $91.7m in cash. The average cash burn has been approximately $7m per quarter, increasing slightly each quarter as the company's pipeline progresses. Unlike many other biotech stocks that have had bad trial data news such as Celsion (NASDAQ:CLSN) recently, there is no need for dilutive financing in the next two years. ONTY has a Phase 3 drug, four drugs in Phase 2 trials and one Phase 1 and preclinical candidate. This is a solid pipeline for a company with a large cash position and small market cap. At $32m net of cash ONTY appears to be extremely undervalued at current prices. If we compare ONTY to Galena Biopharma, Inc (NASDAQ:GALE), another biotech focused in cancer research, we get an idea of how undervalued ONTY is. Currently Galena is trading at a market cap of $109m net of cash with a similar pipeline, albeit in different indications. Galena's cash balance of $15m pales in comparison to the $91m ONTY has. Galena is currently progressing on one Phase 3 trial, and two Phase 2 trials and Phase 1 trials. Galena is focused on breast cancer with its drug candidate NueVax. NeuVax consists of the E75 peptide derived from HER2 combined with the immune adjuvant granulocyte macrophage colony stimulating factor (GM-CSF). Treatment with NeuVax stimulates cytotoxic (CD8+) T cells in a highly specific manner to target cells expressing any level of HER2. NeuVax is given as an intradermal injection once a month for six months, followed by a booster injection once every six months. Based on a successful Phase II trial, which achieved its primary endpoint of disease free survival (DFS), the Food and Drug Administration (FDA) granted NeuVax a Special Protocol Assessment (SPA) for a Phase III clinical trial in adjuvant therapy of women with low-to-intermediate (also known as HER2-Negative, not eligible for Herceptin) status. The company has not been without its detractors or cheerleaders. Cancer research is a very lucrative segment of the market and stocks that trade in this area can be afforded larger than expected market caps giving the potential if the drugs are approved.
So where does the hope come that Stimuvax is not a total loss for ONTY? We simple refer to the Merck press release. "Notable treatment effects were seen for L-BLP25 in certain subgroups." Bob Kirkman, CEO of Oncothyreon, was unable to elaborate, as Merck had yet to share more information, but Dr. Frances Shepherd, Coordinating Investigator of the START trial, stated, "Notable treatment effects were observed in certain subgroups of patients and warrant further investigation of L-BLP25." Merck continues: "Further analyses are planned in the coming weeks to explore the potential benefit-risk profile of L-BLP25 in certain populations. This data will be discussed with external experts and regulatory authorities over the coming months. The START study results will be submitted for publication in a peer-reviewed journal and presented at a future international scientific meeting." Now it can be argued, and many times successfully argued, that such hope is unwarranted. However, the fact that there was "notable" treatment effects, as well as no major safety concerns, leads us to believe this hope is very much warranted and not reflected in the stock price currently. In May we have the American Society of Clinical Oncology (ASCO) conference where updated analysis is likely to be presented. ONTY reports its earnings on March 5th, and we could see updated news on this analysis then as well. Any positive information regarding the Stimuvax subgroup analysis could send shares sharply higher.
A look at the ONTY chart shows a tight, two month consolidation between $1.90 and $2. A break above the 20-day exponential moving average would lead to a move to the $2.34 and $2.55 area on the chart. Positive news on the subgroup analysis could send shares up 50% to the $3 level. Even at that price the stock could be considered undervalued compared to its peers.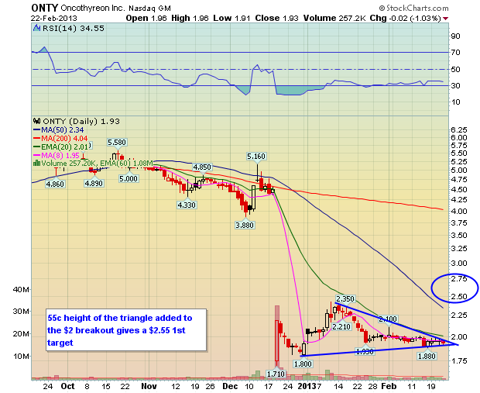 The premise on this articles has been mostly on the large cash balance and the possibility of some good news being gleamed from subgroup analysis of Stimuvax. Let us now look at the other drugs in the ONTY pipeline, specifically PX-866. PX-866 is a small molecule drug that irreversibly inhibits phosphatidylinositol-3-kinase (PI-3K), a family of intracellular signaling molecules that play essential roles in multiple cellular functions. In normal cells the PI-3K pathway is tightly controlled, whereas the inappropriate activation of PI-3K is important in the pathogenesis of multiple human cancers, making it a rational and attractive target for drug development. Oncothyreon is currently evaluating PX-866 in Phase 1 / 2 and Phase 2 clinical studies in solid tumor diseases. Preclinical studies have shown the drug effective for numerous human cancers. Per the last earnings conference call the company stated, "We currently have 4 open label Phase II clinical trials and one Phase I/II trial of PX-866 underway. Together, these trials are evaluating PX-866 in 6 different cancer indications. For 4 of these indications, we currently expect to have data before the middle of next year." The company went on to state, "We expect data for PX-866 in non-small cell lung cancer, colorectal cancer, glioblastoma and possibly prostate cancer in the first half of next year." Data on these four indications could come in the next three months and any positive trial data on PX-866 could lead to some nice upside potential. If you read through the conference call notes here you can see there was much optimism from the company on PX-866. The market is currently focused only on the Stimuvax bad trial news from last December and totally ignoring the large potential in their in-house drug program.
We are not saying Galena is overpriced by any means. In fact Galena could be trading at a substantial discount as well to its potential, especially if its cancer drugs receive FDA approval. We used Galena to highlight what appears to be an extreme value for investors based on its current market cap. Even with its recent set-back, with its current pipeline and large cash balance, ONTY should be trading at a much higher valuation. The bad drug trial data that caused ONTY to shed 60% of its value last quarter was not a total failure as discussed previously. The drug worked notably in subgroups and this analysis, if positive, could lead to sharp increase in price for ONTY. We also have a very promising in-house pipeline with PX-866, with updates on four cancers in the next three months or less. Investors may be able to count themselves as fortunate to have an opportunity to invest in what appears to be a very undervalued cancer biotech right now, a biotech that could reap some very nice rewards in the coming months.
Disclosure: I am long ONTY. I wrote this article myself, and it expresses my own opinions. I am not receiving compensation for it (other than from Seeking Alpha). I have no business relationship with any company whose stock is mentioned in this article.