For many long-term oriented investors, Nike Inc. (NYSE:NKE) has been the definition of growth for decades. From its humble beginnings as a distributor for a Japanese shoemaker, nearly forty years ago, to its current global dominance in athletic footwear and apparel, the company has used ingenuity and innovation to fend off a seemingly endless wave of competitors to remain atop the industry.
Investors along for the ride have profited immensely as the stock has skyrocketed thousands of percentage points since the company's IPO in December of 1980. In the last decade alone, Nike's stock has provided investors with a total return of over 450% (includes dividends reinvested), which is equal to an average annual stock return of 18.3%, impressive for a relatively mature company and especially impressive when compared to the S&P 500's meager average annual return of 4.9% over the same time period.
It is this last aspect that is key to investors in the here and now. Nike is a more mature company whose revenue and earnings per share growth has understandably slowed since its early days of expansion. However, this is by no means the end of the road for the great American company and its stock, in fact it is the start of a whole new chapter, one that I call a "best of both worlds" scenario for investors.
The more mature Nike now offers investors both solid revenue and earnings per share growth as well as consistent and robust dividend-growth. This unique combination is a rare find for the long-term investor because it can provide consistent market-beating returns as well as offer a steadily increasing stream of income to provide shelter from some of the market's volatility.
In this article, I will analyze Nike from a growth perspective and a dividend-growth perspective. As a growth stock, I will analyze Nike based on four main criteria: chart, revenue/earnings per share growth, business fundamentals and valuation. As a dividend-growth stock, I will analyze the company based on both the number of dividend increases over the last decade and the rate at which the company has been growing those dividends.
Chart:
For any growth investor, the chart is an extremely important indicator. Quite simply, a consistently upward trending chart indicates a viable growth story; anything else is cause for concern on the growth front. Let's first take a look at Nike's five-year chart to ensure it is acting like a proper growth stock should (included are 50-day, 100-day, 200-day moving averages):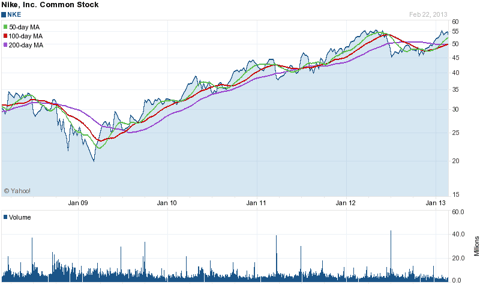 Click to enlarge
(Chart courtesy of Yahoo Finance)
Total Return (all with dividends reinvested, numbers from YCharts.com):
NKE: 91.01%
S&P: 23.54%
The five-year chart of Nike is quite strong. After recovering from its lows made in 2009 during the financial crisis, NKE has been trending upwards very consistently. In addition, the stock has obeyed its major moving averages rather well, significantly breaching its 200-day MA only once since early 2009.
Let's take a look at NKE's one-year chart to see more recent developments and patterns in the stock's trading. The following is a one-year chart of NKE (included are 50-day, 100-day, 200-day moving averages as well as MACD and slow stochastic indicators):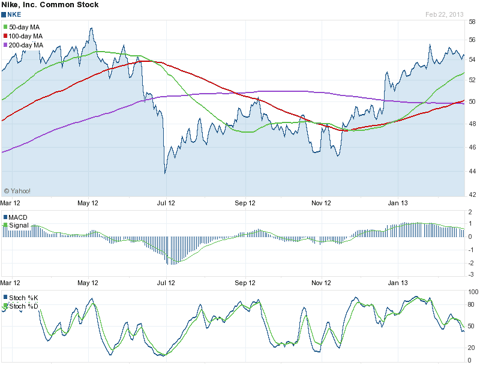 Click to enlarge
(Chart courtesy of Yahoo Finance)
Total Return (all with dividends reinvested, numbers from YCharts.com):
NKE: 3.93%
S&P: 13.72%
The first thing to notice from NKE's one-year chart is the high volatility, beginning with the massive selloff, as indicated by the MACD, in late June 2012. The stock subsequently lost all moving average support and did not regain its 200-day MA until mid-December. Even though NKE managed to provide investors with a positive return of 3.93%, the stock failed to beat the general indices, which is worrisome from a growth perspective especially considering the large disparity.
More recently, NKE has been trending upwards, currently above all listed moving averages, and just 7.21% below its recently split-adjusted all time high share price of $57.40 set in May 2012.
Growth:
To best illustrate Nike's revenue and earnings per share growth, I have chosen to compare the company to competitors that operate in similar segments: Under Armour Inc. (NYSE:UA) and VF Corporation (NYSE:VFC). While Under Armour, a much smaller company driven primarily by aggressive domestic growth and with very little international exposure, and VF Corporation, a much older and more global company fueled primarily by acquisition, are at vastly different stages of growth, I chose these two companies for comparison to Nike precisely because they provide both ends of the spectrum, new growth and old growth. I believe this will provide investors with a clearer picture of the type of growth Nike is currently achieving.
| | | | |
| --- | --- | --- | --- |
| Company | NKE | UA | VFC |
| Revenue Growth (2012) | 15.68% | 24.49% | 15.01% |
| Revenue Growth (2013) | 4.8% | 21.4% | 6.5% |
| Revenue Growth (2014) | 7.6% | 19.6% | 7.6% |
| Revenue Growth (3-yr. Avg.) | 9.36% | 21.83% | 9.7% |
| EPS Growth (2012) | 7.73% | 31.52% | 21.55% |
| EPS Growth (2013) | 11.4% | 19.8% | 12% |
| EPS Growth (2014) | 14% | 25.5% | 12.2% |
| EPS Growth (3-yr. Avg.) | 11.04% | 25.6% | 15.25% |
(Numbers from Yahoo Finance, MSN Money as of February 14, 2013)
* Indicates at least some numbers derived from projected analyst estimates in listed fiscal year.
The first thing that should immediately jump out at investors is that Under Armour clearly offers the best growth in terms of both revenue and earnings per share. There is not a single growth category, in any listed year, in which UA does not lead its competitors. This is to be expected, as UA is the youngest company out of the three and, relative to the other companies, is still in its early stages of growth.
Putting Under Armour aside, the comparison is much closer between Nike and VF Corporation. However, VFC is projected for slightly better revenue growth than NKE going forward, with projections calling for 6.5% sales growth in 2013 for VFC compared to only 4.8% for NKE. Projected 2014 sales growth is 7.6% for both VFC and NKE.
With regards to EPS growth, the story is similar although once again VFC manages to edge out NKE. Although the large difference in 3-year averages between the two is mostly attributable to VFC's stellar 2012 EPS growth and NKE's lackluster EPS growth in the same year, the fact remains that NKE is the worst out of all listed companies in terms of EPS growth/projected growth. It should be noted that NKE is projected to see impressive EPS growth in 2014, at 14%, which compares favorably to VFC's 12.2% growth rate.
Worth noting is that Nike's fiscal year ends in May, which means fiscal 2013 for Nike ends in approximately three months. This is significant because it means Nike's fiscal 2014 will begin relatively soon and the company is projected to see considerable improvements in both revenue and EPS growth rates for that year.
As an additional note on future EPS growth, analyst estimates for the next five years call for 10.37% growth per annum for NKE and 11.67% growth per annum for VFC (click on corresponding ticker to view more information: NKE, VFC).
Fundamentals:
| | | | |
| --- | --- | --- | --- |
| Company | NKE | UA | VFC |
| Market Cap | 48.79B | 4.95B | 17.47B |
| Total Debt | 328M | 61.89M | 1.84B |
| Total Cash | 3.52B | 341.84M | 597.46M |
| 2013 Projected Revenue* | 25.28B | 2.23B | 11.59B |
| ROIC | 19.8% | 15.7% | 14% |
| ROIC (5-yr. Avg. | 18.9% | 14.4% | 11.9% |
| P/E (NYSE:TTM) | 24.58 | 39.05 | 16.34 |
| P/E (forward) | 18.10 | 25.96 | 13.09 |
| Net Profit Margin | 8.2% | 7.02% | 9.98% |
| Dividend/Yield | 0.84/1.5% | NA/NA | 3.48/2.2% |
(Numbers from Yahoo Finance, MSN Money as of 2/23/2013)
* Some numbers derived from average analyst estimate in listed fiscal year
The first thing to take away from the information in the table above is that Nike is by far the largest company, as judged by market capitalization. At a $48.79 billion market cap, Nike is more than double the size of VF Corporation and almost ten times the size of Under Armour. Nike also has the least amount of debt relative to market capitalization, as the company's total debt of $334 million is equal to only 0.684% of its current market cap. Additionally, Nike has the largest stockpile of cash by far, in both absolute terms and in relation to market cap, as NKE's $3.52 billion in cash is equal to 7.21% of the company's total market cap.
A look at the all-important return on invested capital metric reveals that Nike is the most efficient at generating returns off of capital investments. The company's 5-year average return on capital of 18.9% indicates that above average ROIC is the norm for Nike. What is even more impressive is that ROIC has been increasing as of late, currently at 19.8%. This indicates that management at Nike has remained committed to efficiently using the money invested in the company's operations.
A look at the valuations of all listed companies reveals that Under Armour is by far the most expensive stock, which is to be expected as it offers far superior growth than either Nike or VF Corporation. However, NKE is significantly more expensive than VFC on both a trailing twelve-month basis and forward basis, with P/E ratios of 24.58 and 18.10, respectively, compared to VFC's trailing P/E of 16.34 and its forward P/E of 13.09. When we consider that most of the growth rates are equal or slightly better for VFC going forward, NKE seems quite expensive in comparison. When viewed historically, NKE also appears to be expensive as the company's 5-year average P/E of 17.86 is significantly lower that the stock's current P/E of 24.58 and even slightly lower than the stock's forward P/E of 18.10.
Nike's net profit margin of 8.2% is slightly better than Under Armour's 7.02% but lags behind VF Corporation's impressive net margin of 9.98%. Additionally, Nike's dividend of 0.84, which equates to a yield of 1.5%, also lags significantly behind VF Corporation's dividend of 3.48, a yield of 2.2%. Under Armour does not offer a dividend at this time.
Dividend Growth:
| | | |
| --- | --- | --- |
| Company | NKE | VFC |
| Price Per Share | 54.47 | 158.54 |
| Dividend | .84 | 3.48 |
| Yield | 1.5% | 2.2% |
| Payout Ratio | 32% | 31% |
| Dividend Increases In Last 10 Years | 10 | 10 |
| % Increase In 10 Years | 320% | 234% |
| Annual Dividend Growth (10-yr.) | 19.9% | 13.6% |
| Annual Dividend Growth (5-yr.) | 13.9% | 6.4% |
| Annual Dividend Growth (3-yr.) | 13.8% | 8.7% |
| Most Recent Dividend Raise | 12/6/12 | 12/6/12 |
| Most Recent Dividend Increase (%) | 16.66% | 20.83% |
(Numbers from Yahoo Finance, Dividend-Stocks.com as of February 25, 2013)
The dividend-growth comparison between NKE and VFC is interesting and much closer than I was initially expecting. From the outset we can conclude that both companies have managed to grow dividends at very impressive rates over the years. NKE's total dividend-growth over the last decade is an impressive 320%, which compares favorably to VFC's 234%, besting the latter by nearly 100% over the last ten years.
Both companies have been very consistent with regards to raising dividends every year and perhaps more importantly is that neither company has once lowered their dividend payment (click on corresponding ticker to view dividend history: NKE, VFC). The payout ratios of the two are almost identical, with NKE paying 1% more of its earnings back to shareholders via dividends than VFC. Similarly, both companies have raised their respective dividends on December 6 of last year, although VFC provided a larger increase of almost 21% compared to NKE's 16.6% increase.
Although the rate at which dividends have been increasing at both companies has gone down in the last decade, from an annual ten-year average of 19.9% and 13.6% for NKE and VFC respectively to a five-year average of 13.9% and 6.4%, the most recent increases at the two companies suggest dividend-growth may be starting to accelerate once again. Both companies' most recent dividend increases are well above both their respective 5-year and 3-year average annual growth rates, an encouraging sign.
While management at both companies have done exceedingly well for shareholders on the dividend-growth front, having provided investors with a dividend increase every year for the last decade, the edge goes to Nike as the company has managed more robust dividend-growth over the last ten years. With Nike management having remained dedicated to raising dividends each year, I believe investors can continue to expect consistent dividend-growth from Nike well into the future.
Growth Catalysts:
Nike's President and CEO Mark Parker believes that the key to the company's continued growth in 2013 and beyond is momentum, the kind of momentum that will allow the company to grow despite what the CEO called an "increasingly complex and volatile" global economy. The company has done well growing revenue and EPS in the first half of its fiscal 2013; revenues for the second quarter were up 7% (10% before currency adjustments) and diluted earnings per share were up 11%. The highest quality aspect of Nike's latest Q2 earnings was that the growth was driven not by a single area but instead "was well balanced across all brands, key NIKE brand categories and nearly all geographies," according to Parker.
Going more in depth, Nike saw impressive revenue growth across its North American market, up 17% in the second quarter, driven primarily by double-digit growth in popular categories like Running, Basketball and Men's Training. Total footwear revenues increased 13% and apparel grew an impressive 19%. The only NA categories for Nike that did not grow in the second quarter were Women's Training and Action Sports, both of which declined single digit percentages.
While this recent success in North America may come as a surprise to some investors, as the U.S. is usually thought of a saturated market for Nike, management explained that the company's recent deal with the NFL is playing a major role in terms of North American growth. What's more is management believes some of the success driven by the NFL can be transitioned to the company's more general Men's Training category. Nike Brand President Charles Denson explained, "There's a lot more to come on that front" and Nike has "every intention of maintaining (its) leadership position" in North America.
Moving on to emerging markets, Nike is performing very well as total revenue from those business was up 18% in the second quarter, which marks 13 consecutive quarters of double-digit revenue growth. The growth was broad based for Nike, occurring across multiple product categories and driven by standout markets like Argentina, Brazil and Mexico. Q2 2013 was the first time ever Nike managed to break $1 billion in sales in its emerging markets business, which is an indication of just how well those markets are performing.
Also experiencing massive momentum is the company's e-commerce business, which saw robust growth in the second quarter, up an impressive 39%. The company has been successful at capturing consumers through what management refers to as "two-way dialogue," the ability to digitally interact with consumers and cater products to specific demands. Through its various online product websites, Nike offers consumers the ability to design and customize products themselves and these products command higher prices, which makes this specialized digital platform of Nike's so intriguing. Check out all of the unique and customizable footwear options available to consumers at NikeiD.
Along similar lines with regards to successful consumer interaction is the success of Nike+, which has reached an impressive 10 million users (as of late 2012) around the globe since its inception in 2006. Nike+ is the company's innovative solution to helping people become better and more knowledgeable athletes. Through the program, Nike offers devices that sync with Apple Inc.'s (NASDAQ:AAPL) iPods in addition to Nike wristwatches and Fuelbands that monitor and record useful information for athletes like distance traveled, speed and even GPS. Management feels that the more interaction the company has with its consumers, through intuitive programs like Nike+, the better the company can foster future digital business interactions.
Management believes that this momentum will continue into the second half of the year, led by continued broad based growth across multiple product categories and multiple markets. Expectations are for third quarter revenue to increase at a low double-digit rate on a constant currency basis, while quarter four is expected to see only mid-single-digit growth. Fiscal 2013, which ends in May 2013 for Nike, is expected to see low double-digit revenue growth on a constant currency basis, which should translate into total reported revenue growth of mid to high single-digits.
Also worth noting is that Nike is divesting itself of two brands, Umbro (acquired in 2008) and Cole Haan (acquired in 1998). Nike most recently closed a deal with Apax Partners to sell Cole Haan for $570 million, which comes after the company's 2012 agreement to sell Umbro to Iconix Brand Group for $225 million. Together, management believes these sales will benefit Nike long-term as the proceeds can be put to better use invested in the growth of the company's more popular brands. This is most likely a positive going forward as management expects to be able to "sharpen its focus on driving growth in the NIKE, Jordan, Converse and Hurley brands," where brand strength and demand is stronger and growth likely more robust.
Also, back in September Nike announced plans to initiate an $8 billion stock buyback program, which is equal to 16.39% of the company's current total market capitalization. The new four-year repurchase program was to begin in effect after the company's previous $5 billion buyback program had ended in Q2 2013. Nike has a nice history of stock buybacks, returning approximately $10 billion in the last decade to shareholders via buybacks.
Risks:
As management explained in Nike's latest earnings call, global economic uncertainty is a risk going forward, not just for Nike but all retailers in general. Any serious downturn in consumer spending could create significant hurdles for Nike to overcome in terms of growth. This is the major risk with Nike that investors have to consider.
Another cause for concern is Nike's continuing struggles in its China market. As management explains, hurdles include "an evolving economy, an increasingly sophisticated consumer and a marketplace still challenged with some high inventory levels at retail." These problems led to an 11% decline in total sales from China (12% currency adjusted) in the second quarter. Nike generated revenue of $577 million in Q2 2013 compared to Q2 2012's revenue of $650 million. The large decline was due to a 16% drop in Apparel sales and an 8% drop in Footwear sales, while Equipment sales managed to remain flat. Even though management is confident that it can meet and overcome the challenges it faces in China through its proposed three-tiered approach focusing on improving "product, brand and distribution," the company's relative lack of success with regard to growth in the China market recently is another risk for investors to consider going forward.
As was mentioned prior, Nike's Women's Training category has been declining recently and this is in part due to competition from competitors like Under Armour, which has made very concerted efforts at targeting female athletes in recent years. The company has most recently opened a test store in Baltimore to try different marketing tactics geared specifically toward female athletes. This strategy follows on the heels of Under Armour's female-inspired "What's Beautiful" advertising campaign. Although, female apparel sales only accounted for $400 million for Under Armour in 2012 versus double that for male apparel sales, if the company's past success is any indication Under Armour looks set to dominate the female athletic apparel market. This is a concern for Nike's Women's Training category going forward, as I believe UA will take market share from Nike in this regard.
Conclusion:
Nike is a great and iconic American company that has done very well for investors over the years, on basically any metric one can judge the company's stock by. However, with maturity inevitably comes a slowdown in growth and this is where Nike now finds itself, in the mid-single-digit to low-double-digit revenue/earnings per share growth area. This would be perfectly fine for investors as long as the P/E ratios accurately reflected the growth hurdles the company faces, which they simply do not right now. From a growth perspective, Nike appears slightly expensive as it is currently trading above its historical average P/E ratio on both a current and forward-looking basis. What's more is that Nike is significantly more expensive than VF Corporation, which is currently projected to offer slightly better growth.
Luckily for investors, management at Nike has seen fit to counter the company's slowing revenue/EPS growth trends with accelerated dividend growth and it is in this aspect that Nike has been excelling as of late. The company has an excellent track record of consistent and robust dividend increases, better than even VF Corporation, and Nike looks set to continue that trend for years to come.
Considering Nike's far superior balance sheet and fundamentals, its more organic nature of growth compared to VF Corporation and the company's quality brand-name recognition around the world as the undisputed king of footwear, a premium on Nike is warranted over its competitors, in my opinion. Judging exactly how much of a premium to allow the stock is difficult, but I would advise waiting until NKE reaches a forward P/E ratio that is a bit below the stock's more recent historical average. As such, I recommend buying Nike on weakness for solid, although not robust, future revenue/EPS growth and for its increasingly bright dividend-growth. The company's ability to offer investors both qualities is a rare trait and it might just win the long-term marathon for investors.
Disclosure: I am long UA. I wrote this article myself, and it expresses my own opinions. I am not receiving compensation for it (other than from Seeking Alpha). I have no business relationship with any company whose stock is mentioned in this article.