Obsession: a persistent disturbing preoccupation with an often unreasonable idea or feeling; broadly: compelling motivation
For many, obsession is a word that seems to adequately describe the unhealthy relationship that followers (both bullish and bearish) of Amarin's (NASDAQ:AMRN) stock have with the company. And unfortunately, it is that obsession which prevents AMRN investors from developing an objective and unbiased opinion about the company's potential.
I have been familiar with Amarin for a couple years now, but never really "followed" the company/stock until early in 2012 when I started to become more familiar with trading biotech stocks (as opposed to investing in them). Like most traders/investors do I started doing some research of the company, a lot of which consisted of reading numerous articles online touting AMRN as the greatest thing since sliced bread. With my "blinders on", I was a big time bull and bought an overweight amount of AMRN shares and call options. As time progressed, I found myself regularly on stocktwits discussing (and I'll shamelessly admit that might have included borderline pumping) the potential for the stock/company. But as summer started rolling around, I began to take notice of several red flags similar to some of the points made by Adam Feuerstein. But an even bigger red flag to me was the excessive amount of optimism being shown by individuals who seemed to have very little knowledge of the company, industry, and stock market in general.
Fast forward to late summer and AMR-101 (Vascepa) gets FDA approval, yet the stock price isn't in the low $20s like all of the mouthbreathers on stocktwits, twitter, etc. had suggested. In fact, there was a major sell off that seemed unjustified and caused many to be dumbfounded. Needless to say, my "obsession" only grew and this spurred my desire to conduct even more due diligence, except this time the "blinders were off." It was soon after when I finally started to realize that "the greatest thing since sliced bread" was more like "the greatest thing since sliced brussel sprouts."
By now everyone has heard the bull and bear arguments for Amarin. So rather than provide a detailed explanation on each point, I am just going to out what I consider to be the "red flags" that led to my 180 degree change of heart.
Red Flags (in no particular order):
2012 GlaxoSmithKline's (NYSE:GSK) Lovaza sales were down ~4% from same period in 2011
sNDA for Anchor pushed back to Feb. (for now)
Only approved at 4g daily not 2g (this could present issues in the Anchor indication given the frequency in which statins are taken)
No marketing partner or strategic partner
Debt financing at relatively high rate compared to recent biotech offerings
Analysts have been lowering their price targets
Insurance coverage being restricted by Humana (NYSE:HUM) (the 4th largest insurance company in the US)
Insider selling post-approval
No NCE decision trumps the fact that they have some patent protection.
The Fish Oil fad has reached its peak and its benefits are starting to come into question (Matthew Herper elaborates on this point in a Forbes article)
The patent protection that they do have has its flaws (don't be fooled by the idea that quantity is a substitute for quality in patent defense).
Some perspective on Amarin's patent strength was provided by Intellectual Property Attorneys in an informative article by The Financial Times Group's Anusha Kambhampaty:
The '598 application protects against a true generic formulation, but competitors can build around the claims by using a different form of EPA (eicosapentaenoic acid), said George Xixis, partner at Nutter McClennen & Fish. He explained '598 covers the formulation of E­EPA (ethyl icosapentate) specifically, therefore a competitor can design aformulation with a different EPA form or with a slightly different mix of impurities. A competitor could also conceivably design a very similar drug with 0.5% DHA (docosahexaenoic acid), for example, as the application cover an E­EPA only agent, said Robert Gould, partner at Husch Blackwell.
But...but...but...patents always hold up in court right?
Actually, historical data shows the opposite to be true. According to a 2012 publication by PricewaterhouseCoopers, in study of over 1,700 patent litigation cases from 1995-2011,the overall success rate in patent defense was only 31% (trial and summary judgment combined) and ~35% in the Biotech Industry.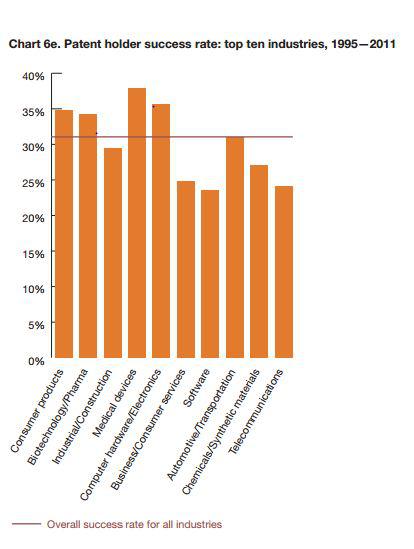 Competition isn't just limited to Lovaza, this could be a very crowded market within a few years.
Amarin leadership acknowledged this in their last 10Q:
We may not be able to compete effectively against our competitors' pharmaceutical products.

We expect Apotex to compete against us as well. Other companies are also seeking to introduce generic versions of Lovaza. These competitors have greater resources than we do, including financial, product development, marketing, personnel and other resources. In addition, we are aware of other pharmaceutical companies that are developing products that, if approved, would compete with Vascepa. These include a free fatty acid form of omega-3 (comprised of 55% EPA and 20% DHA) which is being developed by OmtheraPharmaceuticals, which announced initial top-line data from its first Phase 3 clinical trial in April 2012 and its second in November 2012, and Trygg Pharma... In addition, Acasti Pharma, a subsidiary of Neptune Technologies & Bioresources Inc., announced in late 2011 the enrollment of its Phase 2 clinical trial to assess the safety and efficacy of its omega-3 prescription drug candidate for the treatment of hypertriglceridemia. We believe Resolvyx Pharmaceuticals and Catabasis Pharmaceuticals are also developing potential treatments for hypertriglceridemia based on omega-3 fatty acids...In addition, we are aware that Essentials, Inc is developing a controlled release diazoxide product for the treatment of hypertriglyceridemia.

Vascepa will also face competition from dietary supplement companies marketing naturally occurring omega-3 fatty acids as nutritional supplements. Vascepa is a prescription-only omega-3 fatty acid. Omega-3 fatty acids are also marketed by other companies as non-prescription dietary supplements. As a result, Vascepa would be subject to non-prescription competition and consumer substitution.
I realize that they have to say that in order to cover all their bases in SEC filings. But when you look at the effectiveness of the products they are competing against, it would be a stretch to say Vascepa is clearly superior.
SeekingAlpha contributor Brian Wilson provides a great overview of how Vascepa stacks up against Omthera's Epanova in an article from December 2012. In the article, Brian references an enlightening interview that he conducted with Omthera's CEO Jerry Wisler.
There are many noteworthy points addressed in the interview, however the key takeaway for me was the fact that the results of Amarin's clinical trials weren't as positive as they were portrayed to be by Amarin. In fact, I would even say that the results of the Anchor trail released by Amarin were extremely misleading. Amarin boasts that Vascepa results in a "statistically significant decrease in LDL-C." However if you dig a little (actually a lot) deeper, the whole truth is revealed.
As seen below, Vascepa actually increased LDL-C at both the 4g and 2g levels. Meanwhile, the placebo resulted in a ~9% increase in LDL-C. The image below was captured from the US Patent website (this particular page just so happened to be the only page that had to be rotated in order to view it)

The puzzling difference in LDL-C change is definitely a red flag and reflects poorly on the integrity of Amarin's management team. Several questions immediately come to mind when learning more about the details of the trial, questions such as:
Why did Amarin choose to use mineral oil instead of corn or olive oil (which have been the standard placebo choice in the vast majority of similar trials)?
Why wasn't Amarin fully transparent about the trial results?
How do the baseline % changes in Vascepa compare to similar drugs?
I have a theory about the answer to the first two questions, but it isn't supported by any concrete facts at this point in time. However, there is an answer to the third question.
Epanova proved to be very similar when compared to Vascepa in terms of primary and secondary endpoints. However, Epanova achieved these results when comparing the 2g dose to Vascepa at the 4g dose. While one could try to make the argument that Vascepa is superior to Epanova and vice versa, the trial data does not point to either being that much better than the other.
However, there is a much bigger competitive threat that will likely be facing Amarin in a few years. That threat is krill oil.
The benefits of krill oil are significant, and while the general population is just now starting to become aware, it is increasingly thought of as a superior natural source of EPA and DHA omega 3s.
As an FYI to investors looking for a chance at solid near-term gains, results from Acasti Pharma (NASDAQ:ACST), which is a subsidiary of Neptune (NASDAQ:NEPT), is currently in the clinical trials for its prescription krill oil CaPre. While clinical trial results are never a certainty, the general consensus seems to be that the Phase II trial results of CaPre will be far superior to results seen in any fish oil trials.
A lot of the positive sentiment towards krill oil is based on a study published in 2004.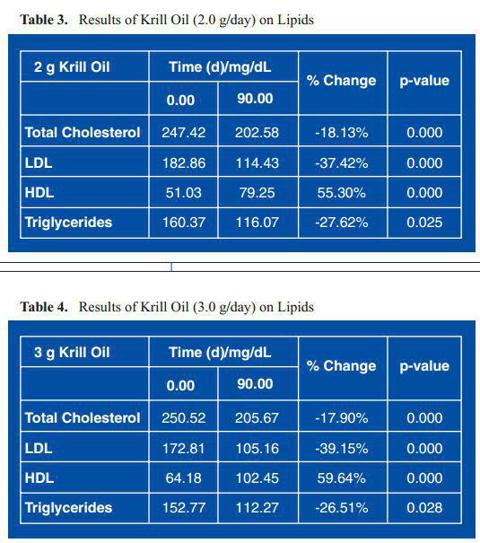 If Acasti can replicate the results seen above, Amarin's long term prospects will take a significant hit.
As a side note, Acasti currently trades around $2.30 with a market cap of ~$170 M. This suggests to me that the stock price could easily pop over 50% on positive results, which are expected by the end of Q1.
There is a major lack of transparency from management and being incorporated in Ireland doesn't help.
While it is safe to say that bulls and bears disagree on almost everything related to Amarin, one thing they should easily agree on is the complete lack of shareholder transparency provided by management. Amarin's "headquarters" are in Dublin, Ireland. Being incorporated in Ireland offers significant tax advantages over being incorporated in the US. However, I use the term "headquarters" loosely because of the fact that their "headquarters" consists of a 320 sq. foot room.
This doesn't seem like a big deal on the surface, as it is common for companies to seek the tax advantages provided by Ireland law. However, this directly relates to the notion that Amarin management is not transparent (some believe that this is being done on purpose).
Another interesting dynamic regarding management and their Irish Incorporation revolves around Irish Takeover Law.
According to the Irish Public Takeover Regime:
Prior to an approach being made by a buyer, the responsibility for making an announcement regarding an offer or a contemplated offer lies with the buyer. However, following an approach by the buyer to the target, even an informal verbal approach, the primary responsibility for making an announcement moves to the target, which is obliged to monitor the market for any anomalous movement in its share price and/or for rumour and speculation. If there is rumour and speculation, or if there is an anomalous movement in the target's share price, the target must immediately make an announcement.
I find it very ironic that there have been buyout rumors swirling since Day 1, yet there has never been an official announcement.
One of the most commonly referenced "buyout offers" supposedly occurred in April 2011. Around this time the internet was constantly being flooded/pumped with buyout speculation via any outlet possible and "unconfirmed sources" were at an all time high. The stock price shot up towards all time highs during this time and coincidentally, it was at this same exact time that the Phase III results from the Anchor study were released.
It is an amazing coincidence that these two things happened at the same time. Since the positive trial data was released concurrently with the supposed "real buyout offer," no official announcement of the offer was required by Amarin. The "anomalous movement" in the stock price was actually caused by the trial results, not the internet rumour and speculation.
More noteworthy quotes can be seen directly in the latest 10K:
The rights of our shareholders may differ from the rights typically offered to shareholders of a U.S. corporation.

U.S. shareholders may not be able to enforce civil liabilities against us.
Once again, not a huge deal here, but when you start connecting the dots and add all of the red flags together, something seems a little fishy (pun intended).
One of the final red flags seems to bring everything full circle: The constant internet pumping from amateur retail investors
In 2011, Bloomberg published an article about the (lack of) correlation between takeover speculation and the number of actual takeovers.
From Bloomberg:
The surest way to profit from takeover speculation in the stock market is to bet it's wrong.

Electronic news services, brokerages and newspapers reported at least 1,875 rumors about potential buyouts of 717 companies between 2005 and 2010, according to data compiled by Bloomberg. Less than 15% were actually acquired.
The article also goes on to reference the fact that shorting a stock following takeover speculation is a proven, successful strategy. Sounds pretty similar to the situation seen in Amarin. If I was a conspiracy theorist, I would say that the rumors were created with the full intention of shorting the stock afterwards because they knew no company would want to acquire Amarin for any sort of major premium.
Fortunately, it seems that the investment community finally read "The Boy Who Cried Wolf." The standard weekly Amarin buyout article doesn't have much of an effect anymore. But that doesn't stop people from trying, take this article for instance:
One day after Amarin had to raise $100 M through debt financing and also announced that they hadn't formed a marketing partnership, the author claims that the "buyout price" was actually increasing.
The same author went on to comment on the article and say:
So if you have not seen the full 8K on the $100 million financing…the terms have near term BO written all over it. The reason the 8K was even required was b/c there are terms in it that were not disclosed on the official CC and PR.
This is just one of countless instances where the author misleads readers by talking about something that he actually has little to no clue about.
This just further illustrates the notion that these "buyout rumors" are being spread by individuals with little to no knowledge of the stock market. What might be even more shocking is the fact that there are many individuals who make investment decisions based on articles like that. They in turn follow suit, thus creating even more and more of an unhealthy obsession that prevents one from having an objective view.
I'm no conspiracy theorist, and this isn't quite the grassy knoll, but there sure seem to be numerous convenient coincidences that seem to overshadow the many red flags at just the right time.
Conclusion
Having said all of this, I believe that the ultimate fate of Amarin truly resides with the results of the REDUCE-IT trial. Although it is still a few years out, positive results could be a game changer that would make Joe Z look like Steve Jobs, and would provide a handsome and gratifying reward to investors who stuck with the stock through the rough patches.
One should sit back and try to look at things through an objective lens to develop their own opinion on Amarin. At current levels, shorting the stock doesn't offer the great risk/reward like it did post FDA approval. At the same time, a long position has major risks as well (especially if NCE status is denied).
If you have the patience and are confident in the long term potential, you should just make this a "sock drawer stock" and not even look at the price until several years from now when the REDUCE-IT results are due. But don't get your hopes up too high, because to quote from the latest Amarin 10Q:
The REDUCE-IT cardiovascular outcomes trial may fail to achieve its clinical endpoints, and the long-term clinical results of Vascepa may not be consistent with the clinical results we observed in our Phase 3 pivotal trials.For example, in September 2012, researchers published in the Journal of the American Medical Association, or JAMA, the results of a retrospective meta-analysis of twenty previously conducted studies regarding the use of omega-3 supplements across various patient populations, which meta-analysis suggested that the use of such supplements was not associated with a lower risk of all-cause death, cardiac death, sudden death, heart attack, or stroke.
The moral of the story here: develop your own opinion about a stock. Do you own due diligence, approach everything with an objective lens, and don't be easily persuaded by others, even if they assure you that a buyout is "just around the corner."
Disclosure: I have no positions in any stocks mentioned, but may initiate a long position in ACST over the next 72 hours. I wrote this article myself, and it expresses my own opinions. I am not receiving compensation for it (other than from Seeking Alpha). I have no business relationship with any company whose stock is mentioned in this article.