Prospect Capital (NASDAQ:PSEC) is a business development company ("BDC") that offers private debt and equity capital to middle market companies. The stock offers a tempting monthly dividend of about $0.11 per share. At current prices, the stock yields about 12%.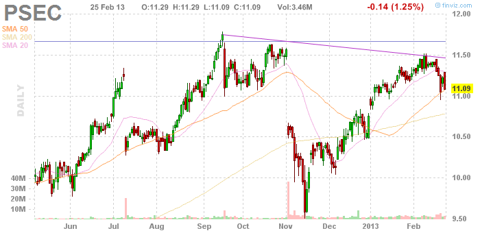 Along with its fiscal Q2 earnings report, Prospect Capital announced its upcoming monthly dividends:
$0.110050 per share for February 2013 (record date of February 28, 2013 and payment date of March 21, 2013)
$0.110075 per share for March 2013 (record date of March 29, 2013 and payment date of April 18, 2013)
$0.110100 per share for April 2013 (record date of April 30, 2013 and payment date of May 23, 2013)
Prospect Capital's debt offerings include liens, senior loans, and mezzanine debt. Unlike mREITs, Prospect Capital is able to achieve its high yield with relatively little leverage, with a debt to equity ratio of only 29.2% after subtracting cash and cash equivalents. In order to fund future investments, Prospect Capital frequently issues stock at prices above its net asset value ("NAV"). Since June 30, 2012, Prospect Capital has had five equity issuances at prices above its NAV. Prospect Capital's most recent equity issuance on February 5, 2013 was for 10.2M shares and raised $115.3M. As of December 31, 2012, Prospect Capital had over $740M of new investment capacity and $400M of advanced potential investment opportunities in its pipeline.
As of December 31, 2012, Prospect Capital had over $430M in money market funds and $3.117B in total investments. The follow is a breakdown of the total investments:
$1.574B, or 50.0%, in Senior Secured Debt
$801.7M, or 25.7%, in Subordinated Secured Debt
$405.3M, or 13.0%, in CLO Residual Interest
$173.2M, or 5.6%, in Subordinated Unsecured Debt
$127.3M, or 4.1%, in Equity
$27.4M, or 0.9%, in CLO Debt
$7.2M, or 0.2%, in Revolving Line of Credit


Since December 31, 2012 Prospect Capital has completed six new investments for $142.5 million, which are listed below:
On January 11, 2013, we provided $27.1 million of debt financing to CHC Companies, Inc., a national provider of correctional medical and behavioral healthcare solutions.

On January 17, 2013, we made a $30.3 million follow-on investment in APH, to acquire 5100 Live Oaks Blvd, LLC, a multi-family residential property located in Tampa, Florida. We invested $2.7 million of equity and $27.6 million of debt in APH.

On January 24, 2013, we made an investment of $24.3 million to purchase subordinated notes in Cent 17 CLO Limited.

On January 24, 2013, we made an investment of $25.7 million to purchase subordinated notes in Octagon Investment Partners XV, Ltd.

On January 29, 2013, we provided $8.0 million of secured second lien financing to TGG Medical Transitory, Inc., a developer of technologies for extracorporeal photopheresis treatments.

On January 31, 2013, we funded the acquisition of the subsidiaries of Nationwide Acceptance Corporation, an auto finance business, with $25.2 million of combined debt and equity financing.

On February 5, 2013, we made a secured debt investment of $2.0 million in Healogics, Inc., a provider of outpatient wound care management services located in Jacksonville, Florida. On the same day we fully exited the deal and realized a gain of approximately $0.1 million on this investment.
As of December 31, 2012, Prospect Capital's net asset value per share stood at $10.81 per share, an increase of $0.12 per share from December 31, 2011. Prospect Capital's net investment income was $99.2 million or $0.51 per shares for the December 2012 quarter. As of December 31, 2012, Prospect Capital's LTM payout ratio stood at 73%. Prospect Capital estimates that their net investment income for the current March 2013 quarter will be $0.27 to $0.31 per share.
Conclusion
In my opinion, for those who like to take on some risk, Prospect Capital is a great choice, since it offers a large source of monthly income. The primary risks involved with Prospect Capital are that loans will become delinquent. However, as of December 31 2012, less than 1.5% of the total investments have defaulted. In terms of reward, Prospect Capital's main reward will be its income, as the company will issue shares if the stock rises above its NAV. The March 2013 quarter is expected to be a lean one for Prospect Capital's net investment income, as it has yet to redeploy the large amount of capital it has recently raised. Indeed, the payout ratio for the current quarter might be above 100%. Please note that the company very frequently issues shares, especially when shares are trading above NAV. I suggest that those who are looking to start a position should wait until the stock trades below its NAV of $10.81.
Disclosure: I have no positions in any stocks mentioned, but may initiate a long position in PSEC over the next 72 hours. I wrote this article myself, and it expresses my own opinions. I am not receiving compensation for it (other than from Seeking Alpha). I have no business relationship with any company whose stock is mentioned in this article.