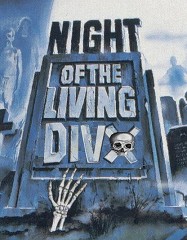 The last couple of years may have felt like a bad dream to most investors, but for DivX (DIVX) shareholders it's been nothing short of a nightmare. They don't hand out Oscars for businesses, but if they did, DivX would have won, hands-down, for best horror flick.
When the company first went public, expectations were high. YouTube had just been sold for $1.6 billion, DivX was demonstrating 75% gains in their high margin core licensing business, and their unique business model looked like it offered a very strong moat from competitors like Apple (NASDAQ:AAPL) and Microsoft (NASDAQ:MSFT).
At one point, DivX's market cap exceeded $750 million; Wednesday it barely closed above $150 million. Over $600 million dollars in capitalization wiped out by one misstep after another. Admittedly, the tough economic environment can be partially blamed for DivX's collapse, but the sad truth is that much of the value destruction could have been avoided.
Suicide Kings
Shortly after DivX went public, Jeran Wittenstein wrote, "DivX was founded just before the dot com bust in February 2000 after Greenhall managed to convince Jerome Rota — a French software engineer who created DivX's founding technology — to join him in building a company. Including Greenhall and Rota, eventually there would be five co-founders, all of whom are younger than Greenhall and still with the company." (Note: bold print added by me)
They may have been able to survive the dot com collapse, but DivX's founders weren't able to survive the success of going public. In December 2007, Jordan Greenhall, Darius Thompson, & Tay Nguyen all left the company after DivX's board of Directors made the inexplicable decision to cancel their spinoff of Stage6. Joe Bezdek officially left the company 10 months later and now I hear that Jerome Rota, DivX's original creator, resigned from the company on February 6th of this year.
While Rota remains on the DivX board of Directors, the loss of his day-to-day influence can't be understated. I only had the opportunity to meet him once, but was impressed by his remarkable vision. These five individuals may not have had the spit and polish that Wall St. expects from traditional executives, but they weren't afraid to take risks and knew how to motivate the troops beneath them. The impact from the loss of these employees goes well beyond their individual contributions, and investors have already seen shockwaves from these losses ripple through DivX's employee base.
Two and a half years later, investors have voted with their feet, all five of the founders have now left the company, cracks are beginning to form in their moat and their franchise is very much in danger. The company has gone from being an innovative risk-taker to a zombie of its former self. DivX now stands at a crucial crossroads. Are they willing to risk potential annihilation to save consumers from their zombie masters or do investors have Dawn of the DivX in store for a sequel?
Affliction comes to us all, not to make us sad, but sober; not to make us sorry, but to make us wise; not to make us despondent, but by its darkness to refresh us as the night refreshes the day; not to impoverish, but to enrich us.- Henry Ward Beecher
There are many instances where management has stumbled, but the end result all comes down to a loss of confidence. They've lost the confidence of their shareholders, the analysts, their employees and most importantly, the consumers who drive demand for their products.
Without a dramatic turnaround, I fear that this lack of confidence will spread to their manufacturing partners and we'll see DivX lose their digital video franchise. While there is still plenty of cash flow left to milk from the DVD market, without aggressively expanding their market position, DivX's influence will be over before they have a chance to finish the revolution they started.
Barbarians at the gate
When DivX went public, investors were willing to pay a premium to get exposure to the stock. At one point investors were paying more than 10 times sales, a P/E over 30 and over five times DivX's book value. Based on the midpoint of DivX's 2008 guidance, DivX is now valued at 1.15 times book, 1.66 times sales and a P/E ratio of 9.5. When you consider that DivX is holding $120 million in cash and short term investments, investors are pricing them more like a blank check IPO than a strong growing company. You can argue that this is a result of the poor financial markets, but I think it speaks volumes about the lack of confidence that shareholders seem to have in management.
DivX's response to their problems has been to try and slash and burn their way out of it. When they closed Stage6, they also laid off approximately 10% of their staff. After Yahoo! (NASDAQ:YHOO) backed out of their toolbar arrangement, DivX fired another 10% of their staff. If DivX was struggling to get by, I could accept these types of sacrifices, but the reality is that these cuts are only designed to boost earnings for the company.
I believe that DivX's management is under the impression that if they can increase earnings enough, investors will reward them by returning to their stock. The problem with this strategy is that it may be easy for DivX to position themselves to feed off of years of hard work, but without continuing to invest in the business, they have little chance of realizing meaningful growth. When DivX presents their 2008 earnings in early March, I believe that their focus will be on strong earnings results. This may look impressive from a distance, but don't be distracted unless it's accompanied by strong revenue growth. Earnings are certainly nice for investors, but if DivX has stopped growing, investors won't pay a very high multiple.
When DivX presented at the Thomas Weisel technology conference earlier this month, they used the following graph to illustrate their past growth. On the surface, it's hard to criticize the progress they've made.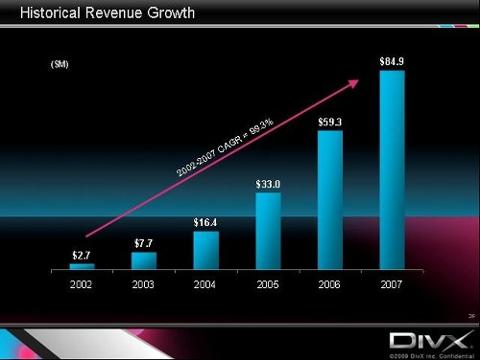 While there's no doubt that DivX has accomplished a lot in a very short time, where they are going is more important then where they've been. Sadly, over the last year they've seen their progress come to a screeching halt. Another way to illustrate the same information that DivX used in their Thomas Weisel presentation is to graph the percentage that revenue has grown each year. Even if we exclude things like the Yahoo! toolbar fiasco, the trend for DivX's core business doesn't offer a lot to get excited by.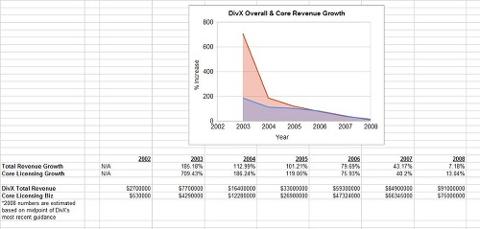 In 2003, DivX grew their core licensing business over 700%, in '04 they saw 184% growth, in '05 they saw 84% gains, in '06 they almost experienced a 76% increase in growth. In '07 signs of danger started to appear, but they still realized 40% growth from their core business. If we use the midpoint of their guidance for '08 revenue, DivX should see a 13% increase in core revenue for '08.
As DivX's business has grown, there is an expectation that the law of large numbers will start to kick in, but if current trends continue, it would appear that DivX's core licensing revenue will hit near term maturation sometime this year.
Jordan Greenhall said that 2007 would be a building year for DivX; Kevin Hell said the same thing about '08. With the company in self destruct mode, how optimistic should investors be for 2009?
Trouble In Never Never Land
Some investors may cheer the savings in earnings, but make no mistake, it has had a tremendous cost. The coup to get rid of Greenhall, the divisive nature of current management and the layoffs have all had a tremendous impact on employee morale. DivX may claim that their employee relations are normal in their SEC filings, but there is too much evidence to suggest that DivX now suffers from Yahooitis! These creative individuals are the soul of the company. If DivX continues in their zombie state, more and more employees will leave, feelings will become even more bitter and the company's progress will be stalled.
If you want to see proof of how bad employee relations have become, take a look at DivX's reviews on Glassdoor.com. Kevin Hell's current approval rating is 15%. That's worse than G.W.'s numbers, when he left office. To put this into perspective, Hell's ranking gives him the dubious distinction of being the 18th worst CEO of the 7,185 companies that Glassdoor is tracking.
If you read the comments on the site, it's very revealing about what's going on behind the glass curtain:
"It's party time…if you are a VP or above…"
Pros
It's a fun atmosphere and very social if you are of the right mindset. Lot's of cool people and talent…
Cons
Watch your back…I didn't trust any of the management at all after seeing my boss' team cut without her knowing beforehand. Very closed, "open environment"… If you are looking to complete a project to add to your portfolio…think again…my projects changed scope every 3 weeks. The strategic direction changes everytime the wind blows.
Advice to Senior Management
Hire new management that cares more about the company's success than their cushy compensation packages… Layoffs in 2008 were taking place while senior management was cashing in on millions of $$ in stock…even at very low strike prices….Something very fishy is happening here…"
or this one from a current employee who goes by the name 'anonymous':
Anonymous in San Diego, CA: (Current Employee)
"Great company, TERRIBLE management."
Pros
You get a chance to work with a lot of cool, talented people.
Cons
All the cool, talented people are getting laid off/fired/quitting.
Advice to Senior Management
DivX had so much energy and drive but the management seems to have succeeded in beating that out of the company almost completely.
Here's one that calls out DivX CFO Dan Halvorson:
Developer in San Diego, CA: (Past Employee - 2008)
"DivX was a fun place to work…. at one time"
Pros
DivX has a wonderful group of bright engineers. The camaraderie in my team was superb and we made the best of the otherwise dismal situation. The HR department is better than most in that they truly seem to care about the needs of the employees. There is an opportunity to do something big, and that can be exciting as well.
Cons
I'm not sure where to start! The CFO Dan Halvorson has a reputation for layoffs and cash-outs. He was rumored to have said, "I love it when people quit". It's gotten to the point where Halvorson avoids the office and never sticks around at company events. I suppose he knows he isn't welcome. The constant layoffs and lack of openness to employees gives people an sense of uneasiness and all you can really do is speculate what they're up to. At least with Jordan, he would be straight with you. The Hell regime seems pretty secretive and sometimes dishonest most times. The Stage 6 debacle was a train wreck. So much of the company's resources were thrown at this pig and look what came of it? Nothing. A number of long time employees left around this time. Coincidence? Maybe, but not likely. I am guessing the founders got tired of the games and politics.
Advice to Senior Management
Get rid of Halvorson, he is dragging morale down all on his own. No one likes him or wants him there. Be more honest and forthcoming with employees.

The most accurate of them all, though, is the bittersweet summary of DivX's short history:
Anonymous in San Diego, CA: (Past Employee - 2007)
"Good While It Lasted"
Pros
The culture, when it first started was remarkable. There was a great vibe in the office and you constantly felt that you were being challenged and motivated.
Cons
After they went public, and Stage 6 launched, there was a massive series of mistakes that killed morale.
Advice to Senior Management
Listen to your employees.
It may be tempting to write off comments like these as disgruntled employees, but there's obviously friction between labor and management. Shareholders may not want to acknowledge it, but they would be foolish to ignore it.
If DivX's reign of hell is allowed to continue, labor problems will only get worse. Lower payroll may be good for the bottom line, but it does nothing to boost their revenue, long term potential or the health of the underlying business. Going into zombie mode may be the safest way for management to keep their jobs, but zombies move slow and now is the time for action, not caution.
DivX's digital eco-system is shifting like quicksand beneath them
Like the DVD, DivX's codec is being made obsolete by high definition. To DivX's credit, they saw this trend earlier than most and had the foresight to buy MainConcept to help manage this shift, but even there we've seen talented defections.
Support for H.264 doesn't automatically mean that their codec won't be skipped over in lieu of generic HD certification. The biggest threat to DivX's business model is that CE makers will use the DivX to HD transition as a way to build support for generic certification. If consumers aren't demanding DivX support, it will make it easy for them to cut DivX out of the equation. Managing this change to their eco-system should be the company's top priority. If DivX can't convince device makers that consumers really want their product, more and more manufacturers will leave DivX for cheaper alternatives, creating a downward spiral on their licensing business.
Winbox COO Niklas Samios shares his rationale for choosing to skip DivX certification
Since Hell took the helm of the company, DivX has been focused on licensing premium content from the major studios. They have scored agreements with Sony (NYSE:SNE) and Time Warner (NYSE:TWX), but between their P2P reputation and their Stage6 experiment, one can understand why some of the studios would be reluctant to dance with them.
Last August, they announced a partnership with Cinema Now for showcasing DivX content. While it's unclear as to when their collaboration will start, it sounds like they are working on creating some kind of new entertainment destination.
According to CEO Kevin Hell, DivX is "actively working with retailers to launch sites that can sell content leveraging our DRM in the marketplace. We announced Cinema Now last year and we are actively working to launch a retail offering with Cinema Now and other parties that are out there. The whole idea being that we want to bring content and allow that content to move to all the different devices out there that have our DRM inside." (Note: Bold added by me)
While I'm of the belief that there can never be too many internet video sites, I did find it curious that Hell used the word "launch" to describe their initiative. When you consider how difficult it's been for businesses to gain traction in the online video space, it's a little surprising that DivX wouldn't be using Cinema Now's own flagship website as their distribution system.
The need for a brand new site reveals that DivX content initiatives have a fatal flaw in their Hollywood ambitions. Even with a third tier internet video provider, they can't convince Cinema Now to incorporate DivX into their main site, because they'll never be able to get a license from all of the content providers.
Even if they could get a couple more studios on board, their lawsuit with UMG will effectively torpedo any hope of them ever being able to offer a comprehensive catalog to consumers. If you think UMG has any intention of backing down on this one, take another look. Read through DivX's latest dust up over whether or not UMG should be allowed to use Audible Magic on Stage6's 60 terrabyte database and form your own conclusions as to how far UMG seems willing to take this.
In the past, DivX management has argued that access to premium content was a key component to their growth, but at the Thomas Weisel investor conference, Hell backed away from previous comments.
This space does I think take some time to play out, I think that there's a lot of interesting opportunities out there right now in the premium space, but they're taking time to really play out, so we're making sure to pace ourselves in this space and not get ahead of the market.
Going after the studio content is a mistake in my opinion, it's like ditching the girl you took to the prom for the cheerleader that all the jocks are already trying to make a move on. If DivX had a clean record and was bulging with cash, they might have a shot at some of that hot mainstream content, but when their P2P ex-girlfriend is more horrifying than Carrie to the content providers, it seems foolish not to stick with the girl you took to the dance.
DivX doesn't need Hollywood content, they need consumers to DEMAND support for DivX in their consumer electronics. Supporting the dark side of the content business wouldn't earn them any friends in Hollywood, but it would win them the hearts of consumers and would rebuild their moat in high definition.
One of the biggest challenges that Blu-Ray players have faced isn't so much the high cost of the hardware device, but the extra money that studios are insisting on for Blu-Ray content. DivX could turn themselves into a recession play if they'd be more vocal about advertising the "free" content that people can use on their devices. As Paul Sweeting so aptly put it earlier this year, "hardware makers are adding all sorts of other gimmicks to their Blu-ray players, too, from wireless connectivity, to portability, to, wait for it…VHS playback. Yep, anything to try to avoid slashing the price of players. And anything to try to give consumers options beyond paying $30 for Blu-ray movies."
Instead of promoting their latest licensing scheme as an H.264 solution, DivX should be pointing out that DivX Plus certification offers "Blu-Ray quality" high definition without this $30 cost. Again, it wouldn't help their content negotiations, but it would help drive consumer demand back to DivX Plus devices, which is what ultimately drives CE interest and powers DivX's business.
Content deals make sense as a way to extend their eco-system, but only if they're on DivX's terms. Instead of begging studios for access, DivX should be developing their consumer pipeline and rewarding the content companies who recognize the benefit of being able to access millions of consumers at their television sets. DivX's greatest opportunity is the chaos caused by Hollywood's licensing terms. If they go through official channels, it will be years before they can reach their core fans, but if they fight against the system, they will be the only international solution for a very long time.
How much buzz could DivX get, if they actually spoke out about their lawsuit against UMG or if they ran some kind of "pirate" friendly promotion like giving free ISOhunt toolbar installations, while trying to find a replacement for Yahoo? These moves wouldn't make them any money, but it would be a clear signal about who their end customer really is. DivX does almost zero marketing because their consumers have built their brand. By going hostile against Hollywood, DivX would magnify the strength of their signal. When consumers show passion for the DivX brand, CE companies will quickly fill the void.
Fat Tube and little DivX
DivX's other big "growth" initiative has also turned out to be a flop. Despite two years of pitching the concept, DivX has yet to see Connected integrated into other consumer electronics. The sad part is that I believe Connected could radically transform DivX's value proposition.
Currently, if you want to play a DivX movie on a DVD player, consumers must find the content, transfer it to a portable storage device (i.e. burn a DVD or move the file onto a memory stick) and then physically transport the media to their DVD player. If you're a hard core fan, it's worth going through all this trouble to get access to your media, but I'd be shocked if more than 5% of users were taking advantage of this feature.
The beauty of the Connected business model is that it dramatically simplifies the process. If consumers buy a TV that is powered by DivX Connected, they'll get curious as to how to take advantage of the functionality. Not everyone will adopt DivX, but if even 25% of those customers plug their television into the internet, it would drive mass adoption for DivX content.
Compared to their DVD licensing, DivX Connected could have an atomic impact on the content industry. Make no mistake about it, if Connected takes off, it will be a weapon of mass piracy from the studio perspective. Because Connected makes it so easy to access your content, it has the potential to turn mainstream customers into rabid file sharing animals. Why it hasn't already taken off remains a mystery to me, but it could have a serious impact on the demand for DivX, if they can ever get it released into the wild.
Last fall, I had the opportunity to meet Hell in person and I asked him whether or not he felt that the premium they were asking for Connected had anything to do with manufacturer resistance.
His response was, "I wouldn't attribute it to the pricing, I think it's more an issue of implementation and the fact that a lot of these guys are still trying to figure out what they're doing there. They either have their own initiatives or they're confused about it, they want to try X, they want to try Y, anything that's out there to figure out what it's all about and in my mind it's a lack of coherent focus and understanding by the CE partners."
Since then, CES has come and gone, but it looked pretty clear to me that the CE industry isn't all that confused about their connected television plans. The fact that DivX hasn't been able to get their product in the door may or may not have something to do with their pricing, but deep discounting may be their best option for jump-starting the program again.
In 2002, DivX was struggling to convert their company into a licensing business. Manufacturers were skeptical that consumers would pay extra for the support. To prove the value of DivX certification, DivX signed a licensing agreement with a little known third tier DVD maker known as KISS. It was officially certified in August 2003. The product immediately began to pick up buzz and less than six months later, Phillips signed on to have DivX included in their own DVD players as well. After Phillips made their move, other CE companies were forced to follow and by mid 2004, DivX DVD players were pretty much available anywhere on the globe. To this day, the Phillip's DVP642 remains one of the most reviewed DVD players on Amazon.
A couple years after DivX helped to put Kiss on the map, Cisco (NASDAQ:CSCO) bought them out for over $60 million. I would argue that there are many similarities between Divx's initial efforts to convince DVD player manufacturers to licensing their technology and their current struggles in the Connected market. Rather then continuing to hold out for a premier deal, DivX would be well served in signing a teaser deal with a small television provider. When large CE companies see proof that DivX Connected can move TV sets, they'll quickly begin signing contracts to ensure that they remain competitive. While heavy discounting is less than desirable from Divx's perspective, getting more Connected devices in the wild would at least give them an opportunity to prove that there's still value in the DivX brand.
Death of a Salesman
While I support discounting when it helps to secure DivX's moat, it's hard to be encouraged by the cracks that we're seeing in their value proposition.
To help take a closer look at DivX's pricing erosion, I reached out to Jack Wetherill from Futuresource Consulting for data on global DVD player sales. According to Mr. Wetherill, "DVD players in their broadest sense (i.e. set-top players, recorders, integrated home theaters, DVD/VHS combos and portable DVD players) totaled 122m in 2006 and 127m in 2007. We expect the market to level off at 127m in 2008, although year end numbers are still being finalized."
When DivX first went public, the company said that they had a 25% penetration rate in the DVD player market. This translated into approximately $47 million in core licensing revenue for 2006 or approximately $1.54 per DivX certified device. In 2007, DivX grew their global DVD player market share to 37%, which translated into approximately $66 million in core licensing revenue or $1.40 per unit.
At the Thomas Weisel Technology conference, DivX said that they've now captured 50% of the DVD player market, but according to their own projections, they are only expected to grow their core licensing business by 13% in 2008. With core revenues around $75 million, this would suggest that DivX is now earning a unit licensing fee of $1.18 per certified device - a decline of approximately 23% in pricing power since the company went public.
When you consider that consumer trends have been much kinder to upscaling DVD players (where you almost always find DivX) vs. traditional DVD players and when you consider that DivX's core revenue numbers include other electronic categories and Main Concept revenue, one could argue that these calculations are much more conservative than the actual results.
DivX has always said that they provide volume discounts to partners, but with over half the market now captured, it would appear that DivX's DVD upside is somewhat limited.
Saving Private DivX
Along the way, DivX has made their fair share of mistakes, but they've also achieved tremendous wins as a result of the risks that they've taken. Compared to the mainstream studios they may only be a tiny mouse, but when you look at the effect their technology has had on the media landscape, it's clear that they've been able to frighten the Hollywood elephants.
The good news is that it's not too late to turn DivX around, but without some kind of action, I fear that DivX will remain in cruise control while their franchise continues to lose value. What does DivX need to do in order to return to their glory days of growth? It all comes to restoring confidence in the company.
First and foremost, DivX must put a stop to the bleeding from employees leaving the company. Given their labor issues, I don't believe that this can be accomplished without replacing their management team, so I believe that new leadership needs to be a top priority.
Once a new team is in place, I would take .25 cents worth of earnings and commit to investing it in DivX's growth. DivX's employees are more accustomed to the culture of a start up than a publicly traded company. DivX should be playing to these strengths. Spend $500k per month building out new businesses. Adopt a Google model where employees are encouraged to spend 15% of their time thinking outside the box. Become a technology incubator with the long term goal of spinning off divisions when the markets recover. Start funding a profit sharing contribution to the company's retirement plan, so that DivX's success is shared by everyone instead of those lucky enough to get options. Take the time to listen to your employees and address their concerns.
Second, DivX must restore faith to their investor base. New leadership could help to accomplish this, but it will likely take more than promises of growth to soothe the rattled nerves of their investors. Reinforce DivX's long term commitment to shareholders by paying a .25 cent dividend as a way to reward investors while they wait for evidence of a turnaround. Taxes on a dividend would be better avoided through a buyback, but further buybacks would only reward short term shareholders and increase volatility by reducing an already low share count. With a 5% yield, a dividend should help to establish a floor on DivX's share price until earnings multiples expand back to growth levels.
Finally, restore confidence in your consumer base by speaking out for consumer rights. Use the UMG trial as a way to create passion in your fans and drum up support for digital rights. Squeezing marketing leverage from the lawsuit would at least help to justify the costs involved with going to trial. Focus on Divx Plus's quality advantage for HDTV consumers. Instead of throwing good money after bad, abandon your content plans until you have better leverage. Use small independent content providers to show how powerful the DivX user base can be to progressive studios. Sign a sweetheart deal with a small CE television manufacturer to put pressure on the rest of the market.
If investors do nothing, DivX won't necessarily go bankrupt, but it will torpedo their brand and market position. DivX CFO Dan Halverson said that their #1 goal in '09 is to protect the balance sheet. This may seem prudent during such difficult economic times, but sleepwalking through a format change won't position DivX for the long term. There will be a time for Divx to cash in on all of their hard work, but to try and do so at such a crucial point in the digital transition seems foolish and short sighted.