Introduction
Schlumberger (NYSE:SLB) is the industry leader in developing and producing compelling and innovative solutions for the oil industry. The company's profit margins have eroded due to the great recession, but as economic conditions continue to improve, it is likely that Schlumberger will be able to command a higher price on its products and services, which may improve its profitability. The company remains a compelling investment opportunity in the energy space.
Qualitative Analysis
The largest area of growth in the drilling space will be offshore drilling. The problem with offshore drilling is the lower profit margins, which may explain why the company's rate of profitability has been declining.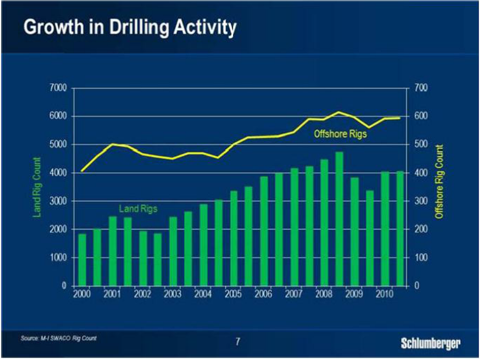 Profit margins are below the ten-year average based on the profit margin chart below. This is because land-based rigs have remained constant at approximately 4,000, whereas offshore rigs have continued to grow in number. The cost of ocean-based drilling is generally higher, which squeezes the pricing power Schlumberger may have on oil developers. This is because oil developers can only spend so much before it becomes unprofitable for them to drill offshore.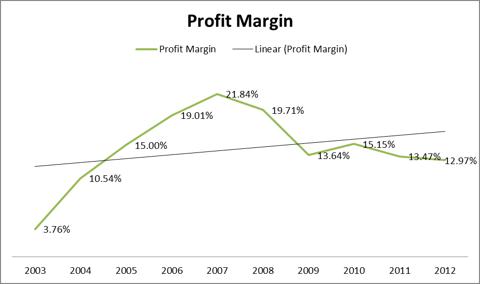 The profit margin has remained at a respectable 13.64% to 12.97% range over the past 4 years. The company's profitability is likely to remain in this range even as crude oil production continues to trend higher. This is because offshore rig counts are likely to trend higher in the foreseeable future as pre-existing land-based oil wells run dry.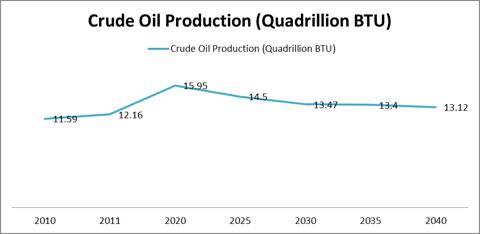 Source: Data from U.S. Energy Information Administration
Crude oil production is projected to increase to approximately 15.95 quadrillion BTU by the year of 2020. The crude oil production is projected to decline by 2025. But depending upon the type of hydraulic fracturing techniques developed, peak oil may happen at a later point, perhaps 2030. This means that Schlumberger's business remains secure and unaffected by externalities in the foreseeable 5 year investment time frame I have for investors in my articles. Even if oil production were to decline, Schlumberger is further downstream and has less risk exposure to declining crude oil production, and may in fact benefit from declining production by offering services and solutions to further maximize the yields from pre-existing oil fields.
The company's cash from operations has been able to break above the trend line. However the cash flow has remained fairly constant over the past 5 years. Analysts (including myself) do anticipate the cash flow of the company to improve. Revenue growth will be driven by growth in its reservoir characterization services (which has grown by 15% year over year), and the drilling division (which has grown by 15.2% year over year).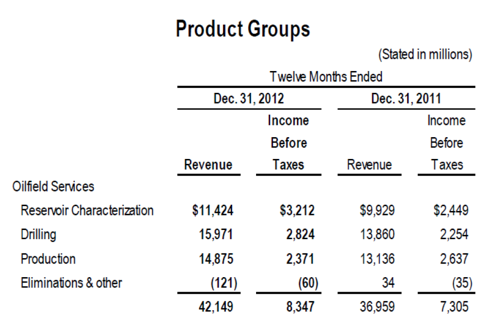 The reservoir characterization and the drilling are the fastest growing units in the company. I anticipate this trend to continue because the oil services industry will have a key role in identifying and exploiting oil resources. This may mean that while profit margins are likely to remain the same, the company's sales are likely to continue to grow, due to an increasing need for solutions to either optimize pre-existing wells, or identify oil wells that have yet to be discovered. Oil rig counts are likely to increase in the foreseeable future as oil production is projected to increase over the current decade.
Half of the oil production that has been projected by the end of the current decade has yet to have been discovered. By 2030, it is estimated that 66% of the "future" oil production has not been discovered. Furthermore it is estimated that the average recovery factor for crude oil from fully developed wells is 35%, for 70% of the world's oil fields. This means that developing solutions for these types of oil fields, where oil recovery is difficult, will improve the global supply of crude oil. It also means that future oil discoveries are becoming increasingly difficult, so it is becoming more and more practical to optimize the pre-existing oil wells rather than trying to identify undiscovered oil wells.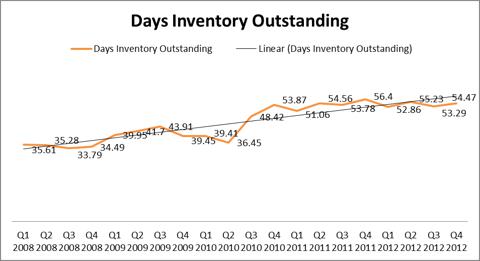 Schlumberger's cash from operations has not seen any drastic improvement over the past several years. This may have to do with the increasing inventory levels. While inventory has remained on an overall uptrend, the days in inventory outstanding has declined below its 4 year average which may imply improvements in profitability in the foreseeable future. If not improvements in profitability, investors should at least anticipate an improvement in the amount of cash flow the company will generate as a result of managing inventory better.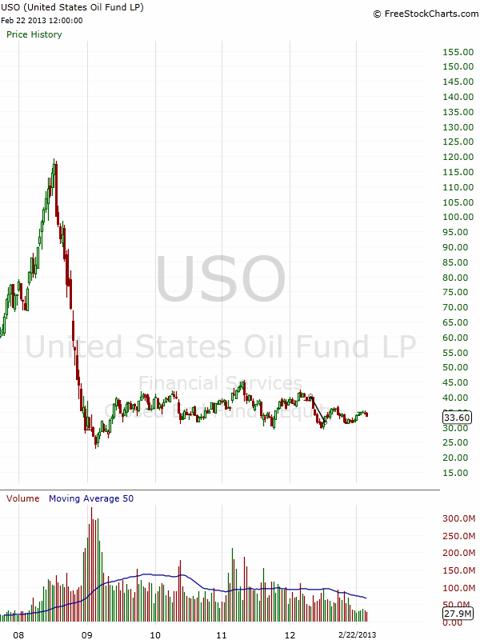 Source: Chart from freestockcharts.com
The demand for oil rigs declined before the price of crude oil fully peaked, meaning that rising prices decreases the demand for oil rigs. This is because consumers consume less crude oil when the price of oil goes up, and as a result production of oil decreases. During the 2008-2009 period, speculation on crude oil futures kept prices of crude oil at artificially high levels. I don't anticipate this type of behavior over the next 5-years, and believe that what happened during 2008 and 2009 was a statistical anomaly. I have a stable outlook on the price of crude oil, meaning that I anticipate the price of crude oil to rise at a rate higher than inflation; but I don't anticipate a sudden jump in the price of crude similar in magnitude to 2008 and 2009.
Technical Analysis
Schlumberger's stock price has been extremely volatile over the past decade. The company is exposed to the price of energy and it can be generally assumed that sudden rises in the price of energy can have a drastically negative affect on the demand for oil rigs. Despite this fact, I believe that since production is likely to increase in the foreseeable 5-year future, it is likely that the stock will trade at new all-time highs by 2015 to 2016.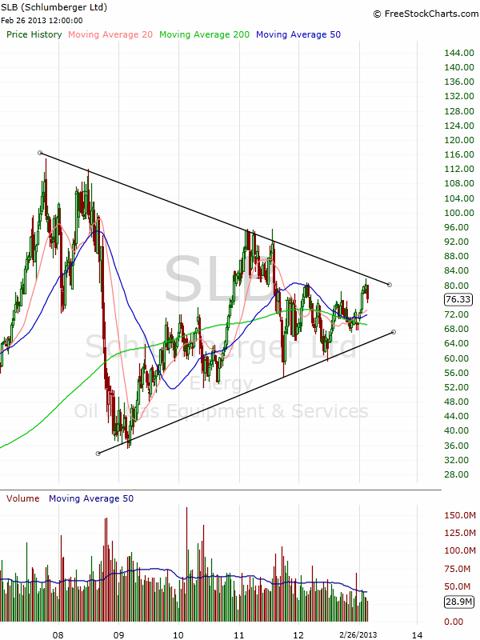 Source: Chart from freestockcharts.com
The stock is trading above the 20-, 50-, and 200- Day Moving Averages. The stock will continue to appreciate over the long term, and is in the beginning stages of a multi-year uptrend.
Notable support is $60.00, $62.30, and $68.75 per share. Notable resistance is $82.80, $92.60, and $100.00 per share.
Street Assessment
Analysts on a consensus basis have expectations for the company going forward.
| | | | | |
| --- | --- | --- | --- | --- |
| Growth Est | SLB | Industry | Sector | S&P 500 |
| Current Qtr. | 3.10% | 7.10% | N/A | 11.40% |
| Next Qtr. | 7.60% | 29.00% | N/A | 17.80% |
| This Year | 13.90% | 8.00% | 1.80% | 9.50% |
| Next Year | 23.20% | 13.10% | 3.20% | 12.70% |
| Past 5 Years (per annum) | 0.43% | N/A | N/A | N/A |
| Next 5 Years (per annum) | 17.15% | 13.82% | 13.44% | 8.82% |
| Price/Earnings (avg. for comparison categories) | 16.38 | 20.05 | 21.13 | 15.65 |
| PEG Ratio (avg. for comparison categories) | 0.96 | 2.13 | 2.09 | 2.06 |
Source: Table and data from Yahoo Finance
Analysts on a consensus basis have a 5-year average growth rate forecast of 17% (based on the above table). This growth rate is above the industry average for next 5 years (13.82%).
| | | | | |
| --- | --- | --- | --- | --- |
| Earnings History | 12-Mar | 12-Jun | 12-Sep | 12-Dec |
| EPS Est | 0.97 | 1 | 1.06 | 1.07 |
| EPS Actual | 0.98 | 1.05 | 1.08 | 1.08 |
| Difference | 0.01 | 0.05 | 0.02 | 0.01 |
| Surprise % | 1.00% | 5.00% | 1.90% | 0.90% |
Source: Table and data from Yahoo Finance
The average surprise percentage is 2.2% above analyst forecast earnings over the past four quarters (based on the above table).
Forecast and History
| | | |
| --- | --- | --- |
| Year | Basic EPS | P/E Multiple |
| 2003 | $ 0.33 | 74.24 |
| 2004 | $ 1.04 | 29.17 |
| 2005 | $ 1.87 | 23.79 |
| 2006 | $ 3.14 | 18.56 |
| 2007 | $ 4.36 | 21 |
| 2008 | $ 4.54 | 8.78 |
| 2009 | $ 2.62 | 23.75 |
| 2010 | $ 3.41 | 23.72 |
| 2011 | $ 3.70 | 18.11 |
| 2012 | $ 4.13 | 16.71 |
Source: Data from YCharts
The EPS figure shows that throughout the 2003- 2006 period, the company was able to grow earnings. Throughout 2007-2009 earnings contracted. The contraction in earnings was due to the great recession. Following the recession, the company was able to grow earnings.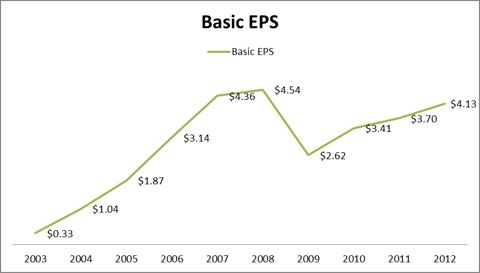 Source: Data from YCharts
By observing the chart, we can conclude that the business is somewhat cyclical and is affected by macroeconomics. Therefore one of the largest risk factors to SLB is the slowing of international gross domestic product growth. So as long as the global economy continues to grow, the company will generate reasonable returns over a 5 year time span based on the forecast below.

By 2018, I anticipate the company to generate $11.16 in earnings per share. This is because of production growth, improving global outlook, earnings management and continued development overseas.
This forecast is proprietary, and below is a non-linear chart indicating the price of the stock over the next 5 years.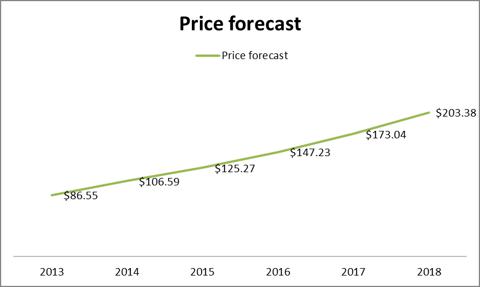 Below is a price chart incorporating the past 10 years and the next 6 years. Detailing 16 years in pricing based on my forecast and price history on December 31st of each year.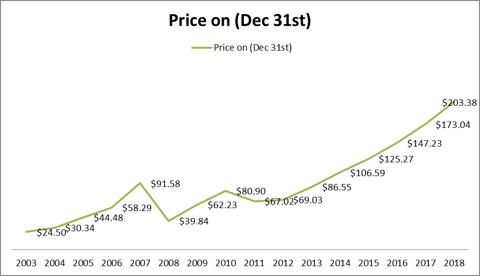 Source: Data from YCharts and price history is from Yahoo Finance.
Investment Strategy
SLB currently trades at $76.33. I have a price forecast of $86.55 for December 31st 2013. The stock is currently trading at a reasonable valuation, but should be bought on pullbacks as a part of a longer-term accumulation strategy.
Short-Term
Over the next twelve months, the stock is likely to appreciate from $76.33 to $86.55 per share. This implies 13.33% upside from current levels. The technical analysis indicates a long-term uptrend. While the previously mentioned price forecast using fundamental analysis further supports the assessment.
Investors should buy SLB at $76.33 and sell at $86.55 in order to pocket short-term gains of 13.33% in 2013.
Long Term
The company is an exceptional investment for the long term. I anticipate SLB to deliver upon the price and earnings forecast despite the risk factors (competition, regulation, economic environment). SLB's primary upside catalyst is international expansion, production growth, share buy-backs, and managing costs. I anticipate the company to deliver upon my forecast price target of $203.38 by 2018. This implies a return of 180.1% (including dividends) by 2018. This is a great return for an oil well services stock.
| | | |
| --- | --- | --- |
| Year | Dividend Yield @ $76.33 per share | Cumulative Total |
| 2012 | 1.65 | 1.65 |
| 2013 | 1.80 | 1.80 |
| 2014 | 1.97 | 3.77 |
| 2015 | 2.16 | 5.93 |
| 2016 | 2.36 | 8.29 |
| 2017 | 2.58 | 10.87 |
| 2018 | 2.83 | 13.70 |
A higher yielding investment opportunity albeit having higher risk is to buy the Jan 17, 2015 calls at the $77.50 strike. The call premiums trade at $9.98. The price forecast for the end of 2014 is $106.59. The rate of return if the calls expire at $106.59 is 191%, the option will break-even when the stock trades at $87.48.
The risk-to-reward on the option is compelling. The risk however is somewhat high (1.4 beta).
SLB has a market capitalization of $101.4 billion; the added liquidity makes this an investment opportunity appropriate for larger institutions that require added liquidity.
Conclusion
Oil wells always need an extra set of eyes. The future of energy development will rely heavily upon maximizing the yields from pre-existing wells, implying that the oil wells and services companies are the best positioned in the energy sector. The conclusion remains simple: buy SLB.
Disclosure: I have no positions in any stocks mentioned, and no plans to initiate any positions within the next 72 hours. I wrote this article myself, and it expresses my own opinions. I am not receiving compensation for it (other than from Seeking Alpha). I have no business relationship with any company whose stock is mentioned in this article.
Source: Information pertaining to SLB came from the shareholder annual report, shareholder quarterly report, Investor presentations, Energy Information Administration, along with YCharts.