A Wall Street Journal article titled "Samsung Sparks Anxiety at Google" Monday solidified our belief that Google is helping BlackBerry (NASDAQ:BBRY) intentionally. The following excerpts outline where Google's (NASDAQ:GOOG) smartphone business is deriving its revenues: advertising.
Google executives worry that Samsung (OTC:SSNLF) has become so big - the South Korean company sells about 40% of the gadgets that use Google's Android software - that it could flex its muscle to renegotiate their arrangement and eat into Google's lucrative mobile-ad business, people familiar with the matter said.

...

Samsung last year shipped 215.8 million smartphones, virtually all of which were Android devices, representing 39.6% of the global market, according to research firm IDC. Apple shipped 136.8 million iPhones, or 25.1% of the smartphone market.

...

Several people familiar with the relationship between the companies said Google fears that Samsung will demand a greater share of the online-advertising revenue that Google generates from its Web-search engine.
And the most important excerpt:
Samsung in the past has received more than 10% of such revenue, one of the people said. Samsung has signaled to Google that it might want more, especially as Google begins to produce more revenue from apps such as Google Maps and YouTube, another person familiar with the matter said.
This sheds light on the little understood financial impact of how Google is sharing advertising revenue with the device manufacturers.
An article on the Asymco website by author Horace Dediu explains the revenues to GOOG from Android and advertising activities. Here is a snapshot: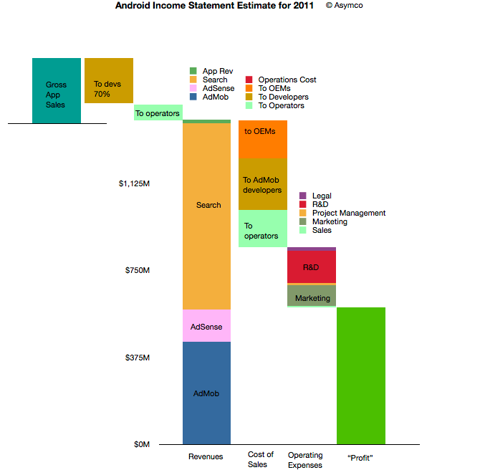 Horace Dediu goes on to explain that he estimates GOOG derives $6.50 from each mobile customer annually. We quote:
The bulk of revenues are therefore from other sources: Search, AdSense and AdMob. I'm modeling that overall revenues are based on a "revenue per device in use" multiplied by the number of devices in use. Google has publicly stated that they are targeting $10/device/yr. in revenues. This is probably ambitious as the amount was nearly that much in early 2010 but the number of devices bought by emerging market consumers exploded. As they are not actively targeted by Google's primary customers (especially in China), the average revenue per phone is likely to be much lower. I estimated $6.5 on average for 2011.
He goes on to explain how these revenues are shared with different parts of the smartphone food chain. GOOG has outlined traffic acquisition costs (TAC) and under the OEM portion, which is phone vendors, we can see what a Samsung or other vendor may get as their cut of the ad revenues. We quote:
As Google also explains, the channel receives revenue share-so-called traffic acquisition costs (TAC)

I used an overall allocation of 39% for TAC. Crucially, this includes the payments to developers for AdMob traffic. The rule of thumb I used was:
Network operators get 20% of Search.
Developers get 50% of AdMob.
OEMs get the rest (of the TAC).
We see from this article that 30% of the $6.50 in 2011 went to the phone manufacturers, or $1.95. For Samsung that would equate to 215 million times $1.95 or $419 million per year from their share of advertising. Apparently, Samsung wants more.
What this strategically means is GOOG is looking to increase the number of hardware vendors to share their advertising revenue and grow the OEM ecosystem and reduce Samsung's dominant marketshare/power. This bodes well for BlackBerry as they are currently sharing the Android apps which can be ported to BB10 devices for the new line of BBRY devices coming to market. GOOG seems to be embracing this activity. Perhaps GOOG is also looking to make their search engine the default setting on BB10 devices in order to share revenues with BBRY. If BBRY maintains its current user base, the revenue share attributable to them in this type of a deal would equate to $154 million of pure cash flow with no real administrative or support costs. Of course, BBRY is looking for other ways to profit from the new BB10 platform. Looking at the Google business model may yield some additional possibilities for BBRY.
Moreover, we have seen Google's other foe, Apple (NASDAQ:AAPL), shares fall to the $450 level from $700 and GOOG shares do the opposite and breaking $800, the battle here between the two may be providing BBRY the 'cover' it needs to rebuild its relevance as a needed and trusted number 3 player. Ironically, it looks very familiar to real war strategy where former foes team up against new ones.
Let's take a look at the installed base for OPERATING SYSTEMS (OS) from Q3 2012 as reported by communities-dominate.blogs.com: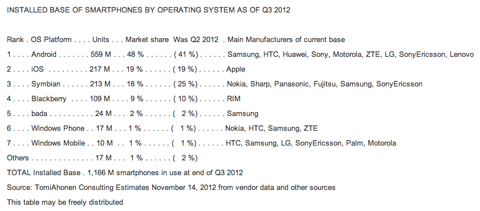 As you can see, Android is way ahead. With 559 million Android users at an estimated $6.5 per user annually, equates to $3.633 billion in advertising revenue for GOOG. This market is growing and therefore should be seen as the gem in the vast landscape of smartphones; a gem well worth fighting over.
In addition, there are some surprising revelations here as well. The installed base of Symbian which has no support from Nokia (NYSE:NOK) anymore is still 217 million. These have to migrate to a new platform. BlackBerry is number 4 in terms of installed base of 109 million and Microsoft (NASDAQ:MSFT) Windows Phone and Mobile combined only have 27 million. These numbers show that there is plenty of room for multiple players in the OS world. Moreover, there are 11 manufacturers of phones listed above and more that are not listed. We may soon see a world where hardware and OS do not come bundled; thus a world where the users rule which OS they will put on the hardware of their choice. We write about a changing landscape in our most recent SA Instablog which we welcome you to read. Predicting who will win and who will lose is a much tougher handicapping task with the onslaught of new devices and apps and operating systems. Beware those predicting the death of any of the players mentioned in this article.
Disclosure: I am long BBRY. I wrote this article myself, and it expresses my own opinions. I am not receiving compensation for it. I have no business relationship with any company whose stock is mentioned in this article.