As the ongoing economic downturn prompts many consumers to seek cheaper alternatives to their favorite dining locations, many of the components in the PowerShares Dynamic Food and Beverage ETF (NYSEARCA:PBJ) are benefiting from the shift. Despite the downward Dow trend, PBJ has been consistent in our ETF Sector Momentum rankings, staying within the top 20 funds since its inclusion in late October 2008. PBJ reached the No. 15 spot in the rankings in early February 2008, before settling into the No. 17 spot on February 17. PBJ includes some of the country's most recognizable brands, and as consumers continue to seek less expensive alternatives to pricier items and dependable brands, PBJ could continue to prove a consistent investment in 2009.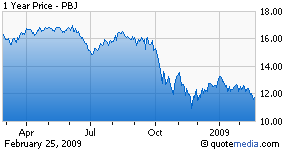 PBJ tracks the Dynamic Food and Beverage Intellidex Index, which comprises 21.71% consumer discretionary and 78.29% consumer staples stocks. Components included in the index are chosen based on fundamental growth, stock valuation, investment timeliness and risk factors. The fund invests at least 80% of assets in common stocks of food and beverage companies. The 30 companies that compose the index are primarily concerned with the manufacture, sale or distribution of food and beverage products. Currently, the top ten components of PBJ include industry leaders such as soft drink makers PepsiCo Inc. (NYSE:PEP) and Coca-Cola Co. (NYSE:KO) and fast-food giant McDonald's (NYSE:MCD).
The increased presence of certain trading strategies has indicated to some analysts that investors are becoming more bullish about the food and beverage industry. On February 20, Reuters reported that a number of food and beverage companies appeared to be the subject of covered-call or buy-write strategies—indicating that the traders involved had a bullish feeling toward the sector. Frederic Ruffy, options strategist at WhatsTrading.com, noted that "the interest in buy-writes on food and beverage names might be based on the view that even if the economy continues to deteriorate, consumer demand for food and beverages will remain." Three out of the five companies for which Ruffy noted this bullish strategy—KO, PEP and Kellogg Co. (NYSE:K)—are included in PBJ's top ten components.
McDonald's, which constitutes 4.75% of PBJ's portfolio, has been a bright spot in a difficult economy. Despite recent layoffs and credit setbacks, many American consumers are still turning to MCD at mealtime. This month MCD announced a strong 7.1% increase in worldwide same-store sales for January. While most of the recent growth has come from abroad, U.S. same-store sales for January were up 5.4%. Incoming cash has allowed McDonald's to continue to pay dividends, invest in new locations and buy back stock. As the recession stretches further into 2009, more consumers may find themselves "trading down" to fast-food providers like McDonald's instead of pricier options. This trend could spell profits for MCD's investors as well as for PBJ shareholders in the months ahead.
PBJ's top component, Yum! Brands (NYSE:YUM), reported strong results on February 3. YUM, the world's largest restaurant company for system stores, reported profits of $0.46 a share, beating analyst expectations of $0.45. While fourth-quarter profits in 2008 were down 12% from 2007, total revenue jumped from $3.26 billion in 2007 to $3.38 billion in 2008. Much of the reported revenue was drawn from restaurants overseas, as YUM opened a record 1,495 restaurants outside of the U.S. and reported an 18% growth in the China division. The Louisville-based company has four of the top brands, KFC, Pizza Hut, Taco Bell and Long John Silver's, in their respective food categories. If the recession continues to drive consumers to cheaper restaurant alternatives, Yum! Brands and PBJ could benefit from the same shift evidenced by MCD.
The second-largest component in PBJ's portfolio, Archer Daniels Midland (NYSE:ADM), also boosted investors with a recent dividend increase. ADM recently approved a $0.01 increase in its quarterly dividend, bringing the total dividend to $0.14 a share. ADM, which acquires, transports, stores, processes and merchandises agricultural commodities, has consistently raised its dividends for 34 consecutive years. ADM has also recently been vying for other distressed assets in the industry, bidding on everything from grain elevators to cocoa operations across the globe. This agricultural giant could find itself in a good position to acquire more assets as distressed companies fold in the global economic meltdown.
While PBJ could be a good defensive play that adds diversity to a portfolio, prospective investors should be aware of certain liquidity limitations. The three-month daily average trading volume for PBJ is just 44,000 shares, indicating that shares of the ETF could potentially trade at significant premiums or discounts to NAV. In order to avoid having to pay a premium for PBJ shares, investors may be better-served by placing limit orders near NAV, buying their shares in smaller blocks, or buying and selling shares at less volatile times during the trading day.