On Tuesday, February 26th Range Resources Corp. (NYSE:RRC) announced its 2012 fourth quarter and full year results. The company's Q4 EPS results of $0.46 beat street estimates by $0.18 and the company's total revenue combined with its other income totaled $458.0M. In this article I wanted to discuss the three catalysts driving my decision to establish a position in the stock at current levels.
Range Resources Corp., based in Fort Worth, Texas, operates "as an independent natural gas, natural gas liquids, and oil company. It engages in the acquisition, exploration, and development of natural gas and oil properties primarily in the Appalachian and southwestern regions of the United States. The company drills and produces shale tight gas, coal bed methane, conventional natural gas, natural gas liquids, and oil in Pennsylvania, Virginia, and West Virginia of the Appalachian region".
Over the course of the last 3 months, shares of RRC have traded an average of just 1.55 million shares per day and currently yield 0.20% ($0.16). One the things potential investors should note is that shares of RRC have traded 15.07% higher since January 1st of this year.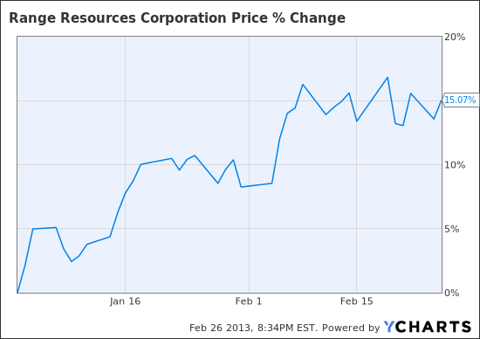 RRC data by YCharts
When it comes to Range Resources Corp., there are three things potential investors should consider before establishing a position in the company and they are the company's recent uptrend status, the catalysts behind the company's balance sheet improvement, and its 2013 production per day guidance which seems to be quite positive.
Uptrend Status: Shares of RRC are trading 1.96% above its 20-day simple moving average, 6.75% above its 50-day simple moving average, and 9.47% above its 200-day simple moving average. That indicates a short-term, mid-term and long-term uptrend for the stock which generally translates into a buying mode for traders.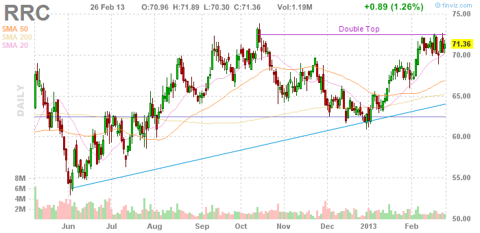 Balance Sheet Improvements: According to the company's press release regarding its quarterly and full year results, the company noted a significant improvement in its balance sheet.
During 2012, Range strengthened its balance sheet with the sale of its Ardmore Woodford and other miscellaneous properties for approximately $170 million. The sale proceeds were used to pay down the outstanding balance on its bank credit facility. At year-end 2012, following the redemption of $250 million in high-coupon 7.5% bonds, the company had over $900 million of liquidity on its credit facility. Increasing quarterly cash flow and the proceeds from additional asset sales are expected to strengthen the balance sheet in 2013.
If Range can continue to sell off miscellaneous properties and subsequently reduce the outstanding balance of its bank-based credit facility, I see no reason why its balance sheet can't improve even further during the first half and throughout the remainder of 2013.
Liquids Production Guidance: One of the things that really stood out for me when it came to Range's earnings was the fact its production per day outlook for 2013 was quite impressive. According to the company's earnings report,
Range expects the completion of a number of its wells (which were temporarily halted due to inclement weather) to be finished as well as the number of wells being turned into sales to accelerate throughout the rest of the year. Such conversion activity is expected to be weighted toward the liquids-rich areas. As a result, Range is also expecting liquids production growth during 2013 to be greater than the 20%-25% year-over-year overall production growth target.
If the company can succeed in its acceleration efforts and surpass its growth projection of 20%-25% by 2%-3% on the conservative side, 2013 could end up being another stellar year for the company.
Conclusion: When it comes to those who may be looking to follow my lead in establishing a position in Range Resources Corp., I'd continue to keep a watchful eye on the company's quarterly and annual results throughout 2013. The improvement of its balance sheet as well as its 2013 outlook pertaining to its liquids production could send shares higher over the next 6-12 months. And from a technical standpoint, the company's uptrend status should also trigger a buying mode for traders.
Disclosure: I am long RRC. I wrote this article myself, and it expresses my own opinions. I am not receiving compensation for it (other than from Seeking Alpha). I have no business relationship with any company whose stock is mentioned in this article.