One day after CommonWealth REIT (NYSE:CWH) announced a public offering of 27 million shares, causing the stock to drop over 12%, here comes Corvex and Related to say, "Hold up, wait a minute!!", we don't agree with that.
Together Corvex Management and Related Fund Management own 9.8% of the outstanding common shares of CWH. So needless to say, they will be heard. The letter sent to the Board asks the company to immediately cease the dilutive equity offering announced yesterday (Tuesday).
Commonwealth is a REIT engaged primarily in the ownership and operation of central business district (CBD) office buildings, suburban office properties, and industrial properties. The investment portfolio consists of 526 properties in 34 states worth about $7 billion. It is well-diversified, with no tenant exceeding 3% of annualized rental income.
However, with a book value of $37 per share and a current price of $21.25 (it is up $5 today alone), I would have to agree with Corvex and Related that the shares are undervalued. Corvex and Related have prepared a detailed presentation of the changes they are calling for, all of which have to do with the interconnectedness and conflicts of interest inherent in the current structure:
Internal Management Structure
CommonWealth is managed by a company called Reit Management & Research LLC ("RMR"). It's not uncommon for REITs to have external management companies for business and/or property management. But in this case, the relationship is questionable to say the least. The management and board members for Commonwealth own only 0.8% of the outstanding shares of CommonWealth, but own 100% of RMR. The estimate by Corvex/Related that CWH has paid out $209 million of management fees to RMR- during a period in which CWH's market cap has declined by $647 million- draws this relationship into question.
The Corvex/Related proposal suggests an internalization of management to eliminate this huge conflict of interest and to align objectives with those of shareholders. This change is expected to represent a 15% improvement in equity value, according to Corvex/Related.
Replace Declaration of Trust and Bylaws
Basically, these are documents that outline the terms of how the REIT should be managed, and, according to the Corvex/Related presentation and the paragraph above, it obviously needs some changes. Corvex/Related are calling for the new documents to conform to ISS and Glass Lewis best practices, which should go a long way towards restoring investor confidence in the company. Something that is clearly lacking at the moment.
Appoint three new independent trustees
We won't beat a dead horse, but if the current trustees are owners of RMR, then this one goes without saying.
The Corvex/Related presentation also outlines a few more requests but the general idea is pervasive: Management should fire themselves!
Valuation
According to the Corvex/Related proposal, CWH is worth anywhere from $40 to $55 per share. Their estimate of NAV per share on a bottom-up property by property analysis is about $40. This assumes a cap rate of 7.91% versus a cap rate of 11.18% implied by the current stock price. And a price/square foot on the portfolio of $125, versus an implied price of $89 per square foot.
Using comps from metrics taken from CWH peers results in price ranges anywhere from $30 to $73 with an average of $47.46. See chart below. Add in multiple expansion and the resulting estimate is $55 per share.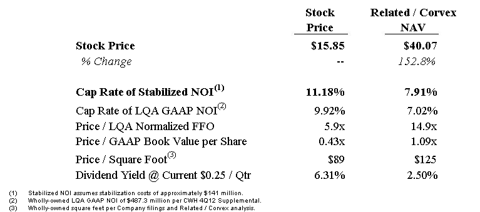 In addition, the implied CWH share price from management fee savings and asset sale proceeds are staggering. The charts below indicate stock price ranges between $31 and $49 for management fee savings of between $10 and $35 million, as well as varying levels of cap rates.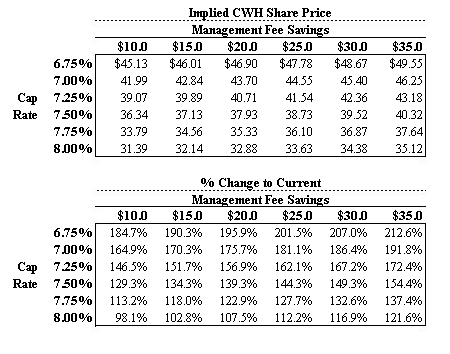 And if the company uses asset sale proceeds to buy back stock, as suggested by Corvex/Related, the implied share price ranges from $42.68 to $72.56.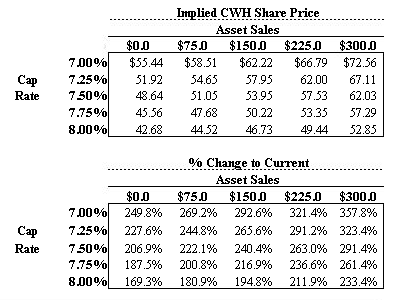 The data presented in the 13D filing today are quite compelling.
Corvex/Related - Who are they?
If you are an investor in CWH or are considering investing, rest easy knowing that both Corvex and Related are formidable players in the real estate sector. Corvex is led by Keith Meister, who previously worked at Icahn Enterprises and has continued the activist investor approach that Mr. Carl Icahn is famous for. Related Management, on the other hand, is led by Stephen M. Ross, and coincidentally, the majority owner of the Miami Dolphins. His Related Companies LP is best known for developing Time Warner Center.
The involvement of these two formidable real estate powers should help alleviate investor concerns and bring some clarity to an investment in CWH. While the battle has just begun, I would be willing to take sides on this one with Corvex and Related. In fact, while this article was being written, Corvex/Related released a statement indicating their willingness and capability to pay $25 per share for CWH. Sounds very compelling.
Source: 13D Filing dated 2/26/2013
Disclosure: I have no positions in any stocks mentioned, but may initiate a long position in CWH over the next 72 hours. I wrote this article myself, and it expresses my own opinions. I am not receiving compensation for it (other than from Seeking Alpha). I have no business relationship with any company whose stock is mentioned in this article.