Johnson Controls, Inc. (NYSE:JCI) shares have enjoyed a significant rally since July of 2012. Back then, the stock was trading for about $23, but recently it went over $32. That is a gain of nearly 50% in just a few months. However, the stock has started to experience some weakness recently, along with the markets in general. This may entice some investors to consider buying the pullback, but it seems way too early to do this, especially since the stock is still trading at the upper end of the recent trading range and still appears extended. This can be seen by looking at the chart below: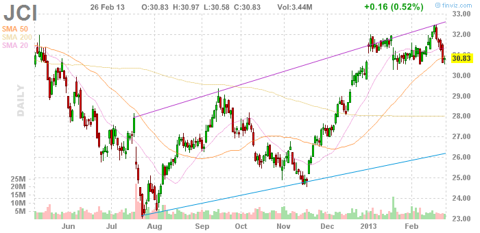 Click to enlarge
Johnson Controls could benefit from signs of a early rebound in the U.S. housing market because it manufactures a number of products that are used in this industry, including integrated heating, air conditioning, and ventilation systems. It also makes building management systems, commercial and industrial refrigeration, energy efficiency systems for buildings, fire and safety solutions for buildings. However, optimism for strong sales from the housing sector is perhaps not warranted because this company also sells to the commercial sector and to many countries beyond the U.S., and the demand does not appear as strong from those two segments (as it is from the domestic housing market).
Furthermore, Johnson Controls also makes automotive products such as car batteries, car interiors and seating. This is another area where sales are going well domestically, but once again, a significant portion of this company's revenues are from outside the United States. Europe is suffering from a weakening economy and increasingly high unemployment. This is seriously impacting new car sales in the Euro-zone. That weakness is likely to persist for a while, and it could lower European demand for products made by this company.
As the lower blue line in the chart (above) shows, this stock might have trend line support at around $26, especially if the recent weakness turns into a more significant correction. That is one reason why this stock might pullback to that level. Another reason is because of valuation. Analysts expect Johnson Controls to earn about $2.59 in 2013. Based on that, the current price to earnings ratio is about 12 times. The average stock in the S&P 500 Index (NYSEARCA:SPY) trades for about 15 times earnings, but many stocks like Ford (NYSE:F) and General Motors (NYSE:GM) and others in the auto sector trade for around 7 times earnings. While Johnson Controls easily deserves a higher multiple thanks to its diversification into housing related products, the PE ratio of 12 seems generous.
This stock was trading below $25 just about 3 months ago, so it has had a nice run and could be ready to re-test the lower levels of the trading range. With the stock appearing to have hit a top recently, and with the trend possibly reversing as weakness has surfaced in the past few days, investors might want to consider holding off on any "bargain" hunting until the stock trades down to about $26. At this level, the price to earnings ratio would be at about 10 times, and that appears to be more reasonable for a company that is likely to see continued weakness from Europe.
Here are some key points for JCI:
Current share price: $30.83
The 52 week range is $23.37 to $33.78
Earnings estimates for 2013: $2.59 per share
Earnings estimates for 2014: $3.08 per share
Annual dividend: 76 cents which yields 2.4%
Data is sourced from Yahoo Finance. No guarantees or representations are made. Hawkinvest is not a registered investment advisor and does not provide specific investment advice. The information is for informational purposes only. You should always consult a financial advisor.
Disclosure: I have no positions in any stocks mentioned, and no plans to initiate any positions within the next 72 hours. I wrote this article myself, and it expresses my own opinions. I am not receiving compensation for it (other than from Seeking Alpha). I have no business relationship with any company whose stock is mentioned in this article.