Healthcare is one of the sectors that is positioned to prosper in 2013, as an estimated 32 million previously uninsured Americans receive coverage under the Patient Protection and Affordable Care Act. Year-to-date increase of Biotech was 6.1%. Ophthalmology will be one of the industries that will benefit from this growth. Bausch & Lomb just completed the buyout of a German ophthalmology laser company Technolas Perfect Vision even as the eye-care giant itself remains an acquisition target. From now on, the division - whose technology is based on femtosecond and excimer platforms - will be known as Bausch & Lomb Technolas. The availability of a technology platform for both cataract and refractive surgeries should open up the market for the femtosecond laser technology. The reason behind the deal is the current owner Warburg Pincus may also be beefing up the company for acquisition. It hired Goldman Sachs Group Inc. (NYSE:GS) to explore a sale of Bausch & Lomb to several large health-care companies - Johnson & Johnson (NYSE:JNJ), Abbott Laboratories (NYSE:ABT) and Sanofi Aventis SA (OTCPK:SNYNF).
In addition, Bausch & Lomb has initiated its Phase III clinical program of latanoprostene bunod for the reduction of intraocular pressure (IOP) in patients with glaucoma or ocular hypertension. This pivotal Phase III program includes two trials - APOLLO and LUNAR - designed to compare its efficacy and safety administered once-daily with timolol maleate 0.5% administered twice-daily.
Ophthalmology companies that performed well in 2012, continued their pace in 2013. Thus, Glaukos Corp., maker of the smallest device - iStent - ever approved by the FDA, got $30 million in venture funding from VC giants OrbiMed, InterWest and Facebook investor Meritech. iStent is a micro-invasive device designed to relieve eye pressure caused by fluid buildup during cataract surgeries on glaucoma patients. The company has been working through the commercialization process ever since, and $30 million will likely go a long way in getting iStent shipped to as many surgeons as possible.
Another ophthalmology company, Sucampo Pharmaceuticals, Inc. (NASDAQ:SCMP) - a global pharmaceutical company focused on innovative research, discovery, development and commercialization of proprietary drugs based on prostones - announced that the Japan Science and Technology Agency (JST) has adopted unoprostone isopropyl ophthalmic solution .15% in the Adaptable and Seamless Technology Transfer Program. As part of this program, R-Tech Ueno, Sucampo's development partner shall provide most of funding for Phase III clinical development of unoprostone isopropyl for retinitis pigmentosa (RP) - a genetic disease characterized by progressive, irreversible vision loss. There are no drugs or therapeutic procedures currently approved for the treatment of RP today. Currently, the FDA has granted orphan drug designation to unoprostone isopropyl for treatment of RP.
This project is the only one out of 17 that was selected for this prestigious Technology Transfer Program. The agreement also provides Sucampo with the clinical data needed to file for an RP indication in the US and Europe, an important step in treating other ophthalmic diseases.
One of the best prospects in ophthalmology industry is Omeros (OMER), which is much undervalued. Its lead drug candidate - OMS302 - a surgical irrigation solution maintains pupil dilation and reduces postoperative pain during lens replacement surgeries. In January Omeros has successfully completed the second positive Phase III trial of OMS302.
According to analysts at Wedbush, annual sales of OMS302 could reach over $600 million. Nevertheless, Omeros's market cap is only $144.2 million. In addition, Maxim Group sees 95% probability of approval for this product. Omeros plans to file an NDA for OMS302 in the first quarter of 2013, followed by a Marketing Authorization Application in mid-2013 and launch OMS302 in the first half of 2014.
In January, three (out of six) directors have bought Omeros's shares. When insiders buy at depressed prices, it means the shares are oversold and offer great long-term value. Currently, 41% of the company's outstanding shares are owned by insiders, institutions and mutual funds (approximately 5.4% by the CEO). It is a good indicator, since they have access to sophisticated research and have a great deal of information on the company. Among the five analysts the lowest price target stands at $13, which implies a potential upside of approximately 133% from the current closing price of $5.60 per share.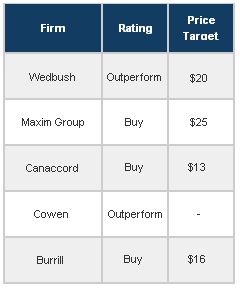 At the Oppenheimer 23rd Annual Healthcare Conference the CEO has been asked about the company's cash position and partnering plans. The CEO answered that the company had $34 million in cash, with additional $40 million of equity credit line, which the company had not used. With respect to partnering, the company is now in partnering discussions to all or almost all of its programs.
InSite Vision (OTCQB:INSV) continues to bring positive news. The final patient has completed dosing and evaluation in InSite Vision's phase 3 clinical trial of BromSite (ISV- 303) for the reduction of pain and inflammation after cataract surgery. BromSite combines a low dose (0.075%) of the agent bromfenac with InSite Vision's DuraSite drug-delivery technology. Top-line data will be available in the first quarter of 2013, according to a company news release.
The active pharmaceutical ingredient in BromSite is the NSAID, bromfenac. However, as Bausch & Lomb will be introducing a new and lower dose formulation of bromfenac called Prolenza. In early 2015, InSite will do another pharmacokinetic study to determine how BromSite stacks up against Prolenza. If it shows little or no improvement in tissue penetration against Prolenza, it will be a "me-too" product in a $100+ million market and would have sales potential of about $25 million five years after launch. However, if it is pharmacologically superior it could have $100 million of potential sales in that time frame. This drug alone justifies the current price of $0.33 per share.
Disclosure: I have no positions in any stocks mentioned, and no plans to initiate any positions within the next 72 hours. I wrote this article myself, and it expresses my own opinions. I am not receiving compensation for it. I have no business relationship with any company whose stock is mentioned in this article.