Kuroda and Itawa Both Likely Nominees for BoJ Top Jobs
It has finally leaked out who will be nominated as BoJ chairman and who will likely get one of the deputy posts – both are known for favoring massive monetary easing. We've already briefly discussed the gentlemen in question previously: they are Haruhiko Kuroda and Kikuo Iwata.
Here is an excerpt from a Reuters report on their likely nomination:
"Japan's government is likely to nominate Asian Development Bank President Haruhiko Kuroda, an advocate of aggressive monetary easing, as its next central bank governor, sources told Reuters on Monday.

Prime Minister Shinzo Abe is also seen filling one of two deputy governor posts with Kikuo Iwata, an academic critical of Bank of Japan policy and an advocate of unorthodox monetary easing steps, the Nikkei newspaper reported.

The yen sank 1.4 percent in early trade to 94.67 against the dollar on expectations the reported nominees will steer the central bank toward bolder monetary stimulus measures.

"Kuroda's nomination won't change the course that has been dictated by Abe in recent months – that is aggressive monetary policy, but perhaps thanks to the inclusion of Iwata the market will expect more eye-catching bold easing measures," said Masamichi Adachi, senior economist at JPMorgan Securities in Tokyo.

The government will submit its nominations for the governor and two deputy governor posts to parliament this week. The incumbents leave on March 19.

Kuroda, 68, has been considered a strong candidate to replace current BOJ Governor Masaaki Shirakawa because of his extensive experience in international policy and his calls for more aggressive monetary easing that matched the views of Abe.

The choice of Kuroda, who has long criticized the BOJ as too slow in expanding stimulus, will likely nudge the central bank into more aggressive, unorthodox measures to achieve its new 2 percent inflation target set in January.

As Japan's top financial diplomat from 1999 to 2003, Kuroda aggressively intervened in the exchange-rate market to weaken the yen to support the country's export-reliant economy.

Iwata, one of the most vocal advocates of aggressive monetary expansion, is likely to be nominated as deputy BOJ governor, the Nikkei said on Monday without citing sources."
(emphasis added)
What a pairing – are they supposed to outprint each other? However, the leak turned into a 'buy the news' event for the yen. The JGB future meanwhile has been rising from its mid January low for several weeks already, so the bond market remains intensely skeptical about the BoJ's willingness to actually inflate, no matter what candidates are announced.
---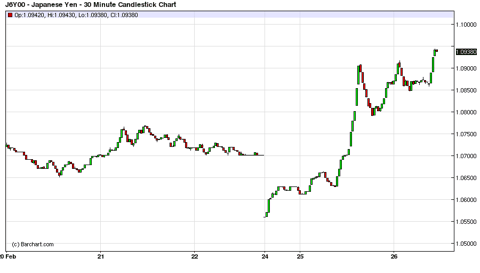 Click to enlarge
(Click to enlarge)
A close up of the yen, showing the initial 'sell the news' reaction that quickly gave way to "buy the news big time".
---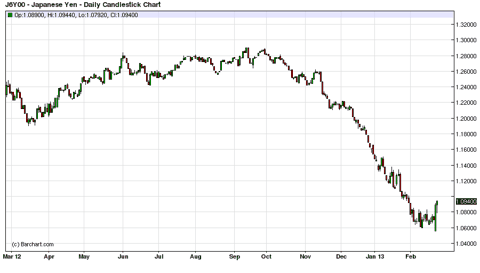 Click to enlarge
(Click to enlarge)
The daily chart shows how big a decline the yen has suffered since the Abe government was elected, but also what a big "buy the news" move occurred when news about the BoJ nominations leaked.
---
So are these two really of one mind as to how to proceed? Apparently not. Both want to print Japan back to a prosperity it has never lost in the first place (one cannot actually 'lose' the phantom prosperity of a bubble: one can only belatedly recognize how much capital has been consumed during it), but they have slightly different views of how to go about it:
"At first glance, the expected new team is a balanced one with a governor with strong international contacts, an academic sharing the premier's calls for unorthodox stimulus as deputy and a conservative central banker taking the other deputy's post.

But they differ on what approach to take on monetary policy and face a board that is also split on how to proceed to revive growth. That is likely to test the new governor's leadership and may delay any radical change in the way the central bank set policy. "There's a gap in how Kuroda and Iwata approach the means for monetary easing," said Yasunari Ueno, chief market economist at Mizuho Securities in Tokyo. "Markets will be focusing on how they would mend this gap."

The Bank of Japan, like the U.S. Federal Reserve, has been forced to adopt unorthodox policy measures after cutting interest rates – the usual policy tool for central banks – close to zero. The BOJ has had an asset-buying program since 2010 to pump cash into the economy, but with little apparent success in defeating years of deflation. Abe has pushed the central bank to be more radical.

Asian Development Bank President Haruhiko Kuroda, who sources said on Monday is the government's expected nominee for next central bank governor, sides with a "credit easing" approach to policy, in which central banks funnel money directly into credit markets, such as corporate bonds or exchange traded funds (ETFs), to nudge up asset prices and encourage investors into taking on more risk.

Academic Kikuo Iwata, the expected nominee for deputy governor, prefers expanding Japan's monetary base by boosting purchases of longer-dated government bonds, instead of risky assets. The central bank currently buys bonds with up to a three-year maturity.

He belongs to a camp of academics who advocate quantitative easing, a policy of pumping money into the economy through government bond purchases, and believes that deflation can be overcome by flooding markets with cash.

The other expected deputy, Hiroshi Nakaso is not expected to feature so heavily in setting policy, although his experience will be vital in understanding the inner workings of the BOJ and other central banks."
(emphasis added)
Our feeling is that Shinzo Abe is hoping they will do both – in other words, he thinks by nominating these two, the BoJ is going to buy up everything that's not nailed down with massive gobs of money from thin air.
Of course the whole operation is utterly nuts – and that is actually putting it very politely. We reiterate that there is absolutely nothing that can be"fixed" in Japan (or elsewhere) by printing money. In fact, Japan was lucky that consumer prices were falling slightly and that its currency was strong. Who else could boast of such a fortuitous combination in the world of fiat confetti?
Japanese consumers enjoyed rising real incomes and the country was able to import much needed raw materials at fairly low prices. It has an unemployment rate of a mere 4.2%. Why throw all that away? It simply makes no sense whatsoever. The export sector is far too small to justify subsidizing it. And then there is of course the government's giant debt mountain. Abe and his friends could eventually provoke a fiscal crisis if the inflationary policy actually "succeeds". Japan's government simply cannot afford higher interest rates, so one wonders what their game plan is with regards to that (if they even have one).
For the moment the JGB market remains however completely unimpressed by Abe and his hoary inflationist ideas:
---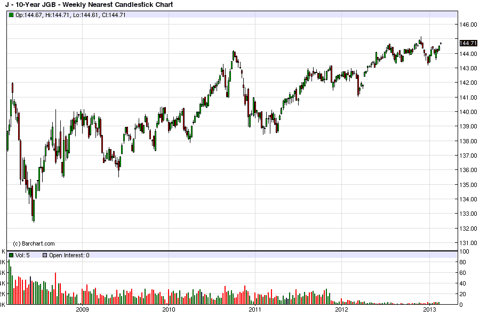 Click to enlarge
(Click to enlarge)
The continuous JGB futures contract over the past 5 year – still rising (yields falling).
---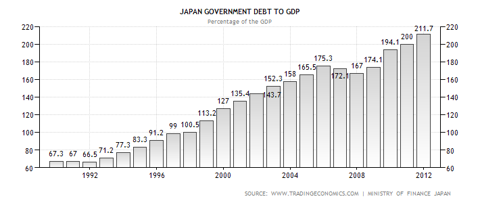 Click to enlarge
(Click to enlarge)
Japan's horrendous debt-to-GDP ratio. It is estimated to reach nearly 240% this year.
---
Everyone should keep a wary eye cast in the direction of Japan. We will see what actually happens next, but there remains a more than latent danger that Abe's inflationary phantasies will actually be realized. The recent decline in the yen has shown how huge market moves can become these days based on nothing but perceptions alone. Our bet is that the global markets would not be very happy to see anything remotely similar happening in the JGB market.
Charts by: BarCharts, Tradingeconomics