Looking at the global economy - the last peak was set in early 2011 based on global PMI manufacturing data. Not surprisingly, the typically late-cycle S&P 500 Material Sector (NYSEARCA:XLB) has underperformed relative to the broader S&P 500 index (NYSEARCA:SPY). However, since last fall it looks as though the bottom is being put in and therefore it is time to look under the hood for potential investment opportunities.
Figure 1: Material Select SPDR vs. S&P500 Index SPDR
We didn't start on a high note as we reviewed one SPDR holding, Sherwin-Williams (NYSE:SHW) last week. While Sherwin-Williams is a potential investment opportunity, the valuation is currently too rich for us as the company has benefited in our opinion from the recovery in the U.S. housing market. (Note that Sherwin-Williams has outperformed both the Material SPDR and the S&P 500 Index since 2011.)
Figure 2 plots the valuations of the top 10 holdings in the Material Sector SPDR [excluding LyondellBassell (NYSE:LYB) due to insufficient data] as well as those material sector companies that are also included in the S&P 500 High Quality Index (NYSEARCA:SPHQ). While we are fans of long-hand discounted cash flow analysis, the plot reflects our short-hand metric to vet current company valuations relative to what we believe their theoretical value implies. The solid line is a fair value demarcation line and reflects a 1:1 ratio between its market multiple and its implied multiple. In theory those companies that are undervalued based on economic profits would be found below the line.
Figure 2: Valuation Comparison Plot
The plot results reflect a fairly valued group of companies. The average group valuation was 2.0X EV/IC compared to an implied valuation of 1.1X. Note that our data is normalized over a five year period to remove some cyclicality of the profits, whereas current valuations often reflect current profitability. Alcoa (NYSE:AA) was the lone material sector company to fall below the fair value line although its cyclical profitability bring its 5 year ROIC numbers below its cost of capital.
Figure 3 provides an index for the plot in Figure 2. Pricing is of the close on Friday (2/22). To provide some perspective - we included two recent acquisition targets including H.J. Heinz (HNZ) and Dell (NASDAQ:DELL). Heinz, which is shown based on its pre-acquisition stock price, shows it was modestly undervalued whereas Dell, which is based on its post-acquisition announcement price, shows the most attractive valuation in the group. Not surprisingly those companies tied more to raw materials such as copper and aluminum have the lowest valuation metrics and those tied to housing and consumer durables have the highest valuations.
Figure 3: Company Plot Data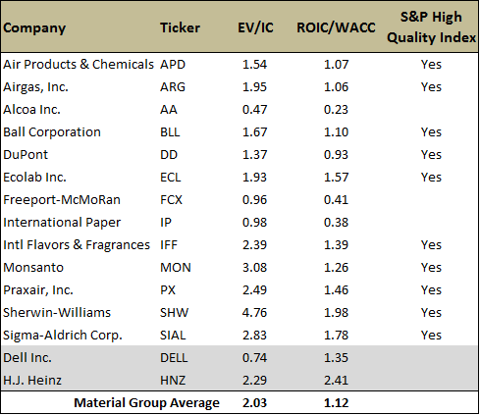 (Click to enlarge)
Based on this cross section of material sector company valuations, which are ~69% of the weighting of the Material SPDR, we would be tempted to hold off on the group until valuations improve - especially with those tied to the housing market and building materials.
If the business cycle does shift from mid-cycle to late-stage cycle dynamics, where inflation sensitive, commodity oriented firms do better, then we would believe companies tied to raw materials would provide the best opportunity. Currently Alcoa, Freeport-McMoRan (NYSE:FCX), and International Paper (NYSE:IP) show the lowest valuations based on invested capital and therefore if operating profitability improves then there is the most upside for these companies.
Disclosure: I have no positions in any stocks mentioned, and no plans to initiate any positions within the next 72 hours. I wrote this article myself, and it expresses my own opinions. I am not receiving compensation for it (other than from Seeking Alpha). I have no business relationship with any company whose stock is mentioned in this article.