Bernanke's testimony yesterday was a bit rougher than we had expected, however in the grand scheme of things everything went according to plan. He looked flustered at points due to the line of questioning, but 'Big Ben' said what needed to be said and the markets heard what they needed to hear.
This morning world markets are up and the Italian news has abated a bit, but as is always the case with the Europeans it is but a matter of time before it all comes back to the forefront and we can expect some more volatility ahead of any more elections over there.
Chart of the day: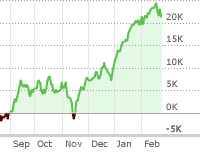 Chart courtesy of Ameritrade.com
The chart above is the advance-decline line for the NYSE, and it will be interesting if we can keep that trend in place or whether it will begin to fall. Already it is backing off due to the recent market movements so we are watching to see how investors react to the next batch of news up - sequestration in the States.
We have economic news due out today, and it is as follows:
MBA Mortgage Index (7:00 AM EST): N/A
Durable Orders (8:30 AM EST): -3.5%
Durable Goods - Ex Transportation (8:30 AM EST): 0.2%
Pending Home Sales (10:00 AM EST): 1.0%
Crude Inventories (10:30 AM EST): N/A
Asian markets finished higher today:
All Ordinaries - up 0.62%
Shanghai Composite - up 0.87%
Nikkei 225 - down 1.27%
NZSE 50 - up 0.88%
Seoul Composite - up 0.20%
In Europe markets are trading up this morning:
CAC 40 - up 0.62%
DAX - up 0.20%
FTSE 100 - up 0.24%
OSE - up 0.01%
Retailers
Yesterday Home Depot (NYSE:HD) rose strongly and set the tone for the Dow after reporting that its earnings exceeded analysts' expectations and also raised their guidance for the upcoming year. The company also raised its dividend by 34% and continuing the company's efforts to return cash to shareholders also announced a $17 billion share buyback program. The company is executing on all fronts these days and continues to beat competitor Lowe's (NYSE:LOW) as it relates to same store sales. Where Lowe's once dominated in certain categories it is becoming quite obvious that Home Depot is making inroads there and this past holiday season may be the best example yet. We remain bullish on the entire sector right now as we think housing will continue to charge ahead, but obviously would have to favor Home Depot right now.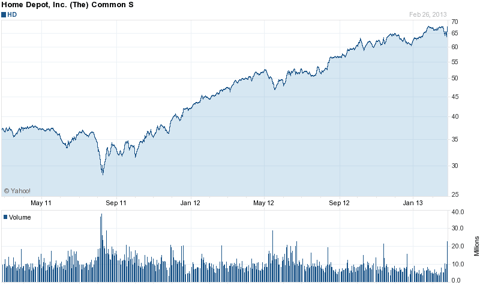 Chart courtesy of Yahoo Finance.
This is not to say that Lowe's is not a buy here, simply that Home Depot has the serious 'mo-mo' and management appears to be on a role in executing their plan. One fact that should not be lost upon investors is that historically Lowe's has outperformed later in the cycle as the houses have already been built and the female consumer begins to shop for accessories and other items for remodels and/or finishing touches. Home Depot did report strong lumber sales this past quarter so it is quite possible that this trend will hold true and we see a reversal of fortunes for the two, either way both are viewed in our eyes as solid plays looking out 12-24 months.
Homebuilders
For all the reasons we like the Home Depots and Lowe's of the world, the same holds true for the homebuilders. It is hard not to like a story where the bottom has already been put in and the narrative has quickly shifted from a situation where there were in some cases decades worth of inventory on the market due to lack of transactions to a situation where homes sales numbers are actually being hurt because of a lack of inventory to sell! We did not turn on a dime and it was painful, but names like Hovnanian (NYSE:HOV) should continue to garner investor attention as the story plays out. There are parts of the country where sales continue to lag, but looking at the big picture it is but a matter of time before those areas of the country see rising prices too (we base this off of our view that resource development will drive a renaissance in the US's Northeast). We mention Hovnanian this morning because we have been asked more than a few times which homebuilders we would look at for trading purposes. It seems to fit the bill and does garner attention among our day-trading readers and friends while also providing liquidity on a daily basis which is very important as it pertains to spec plays.
Technology
Applied Materials (NASDAQ:AMAT) named Bob Halliday as the company's new Chief Financial Officer yesterday, which is a position he held with Varian Semiconductor prior to Applied Materials' purchase of that outfit. Also helping the shares move higher was news that Goldman Sachs added the company to its 'Conviction Buy List' yesterday which has a pretty good track record over the years of picking winners. Shares rose $0.40 (3.02%) on the day to close at $13.63/share on volume of 22.8 million shares.
Biotechnology
Vivus (NASDAQ:VVUS) saw its shares fall $1.52 (12.25%) to close at $10.89/share yesterday as the company disappointed investors with their Q4 results. Sales of Qsymia, the firm's FDA approved weight-loss drug, were below expectations as they were only 66% of what the analysts were expecting. For Q4 the company saw sales of $2 million, when everyone was estimating $3 million, which is a pretty big miss no matter which way you slice it. Management continues to indicate that the business model currently being used is not what will be used moving forward and that investors can expect sales to increase and costs to decrease as more contracts are signed, but with Europe now out of the question this rollout becomes more important than ever.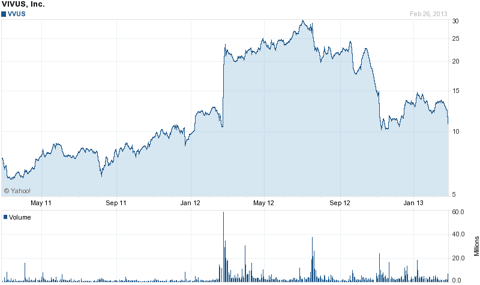 Chart courtesy of Yahoo Finance.
As one can see, there has been a letdown after the hype but we must now look to see whether the support around $10/share will hold as competitors enter the market.
Disclosure: I have no positions in any stocks mentioned, and no plans to initiate any positions within the next 72 hours. I wrote this article myself, and it expresses my own opinions. I am not receiving compensation for it (other than from Seeking Alpha). I have no business relationship with any company whose stock is mentioned in this article.