The question many investors and portfolio managers have is what soda company to invest in: Coca-Cola (NYSE:KO), PepsiCo (NYSE:PEP), or Dr Pepper Snapple (NYSE:DPS)? Many investors have their opinion on which one to own and why. In fact, even Cramer chimed in on the debate last week by picking PEP for a variety of reasons. The dividend adjusted performance over the last five years is shown below (Source: Capital IQ):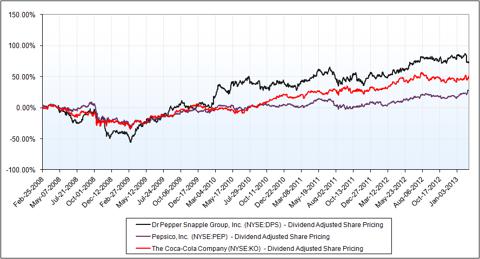 Ironically, most don't realize that it has been DPS outperforming the other two. Excluding dividend adjusted share price, DPS still outperformed KO and PEP. If future performance was based on past performance, the clear choice would be DPS. This is not the case though and will need to be looked into further.
Industry
The three companies have various segments and types of product offerings, including carbonated beverages, energy drinks, bottled water, and sport drinks. The main dealing of DPS, KO, and PEP are the carbonated beverages. Carbonated beverages are under scrutiny for the high amounts of sugar and the negative health effects associated with soda. Here are some other trends in the industry (Source: Bloomberg Terminal):
Beverage product innovation will increase in 2013, with 64% of the companies planning to increase their product launches in 2013
Research and Development budgets are expected to increase due to the product development (Source: Bloomberg Terminal):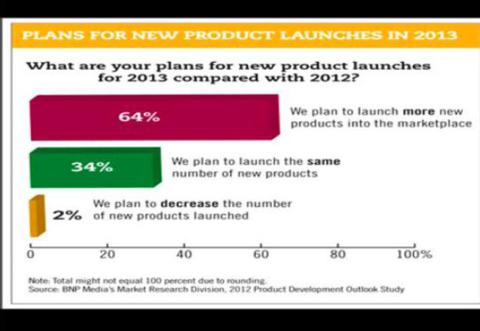 Healthy, natural, and convenience beverages in the US are gaining the most traction, and the water and juice segments will have the highest innovation in 2013 (Source: Bloomberg Terminal):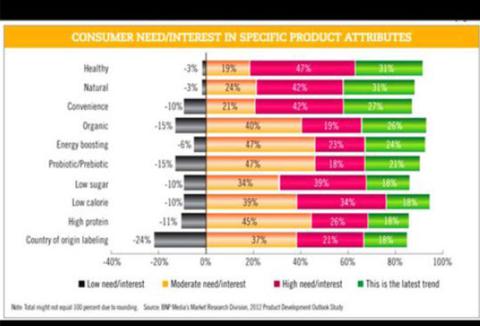 An improvement in the labor market will lead to an increase for the industry. As shown in the graph below, unemployment and US Spending on non-alcoholic (and alcoholic) beverages are correlated. As unemployment rises, spending declines. Unemployment gains and consumption are negatively correlated with a -0.6 correlation factor (Source: Bloomberg Terminal):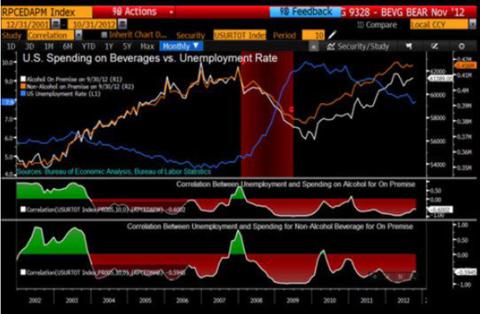 EPS will outpace sales in the industry due to cost savings, buyback plans, and other bottom-line growth drivers.
Global non-alcoholic beverage sales have grown at an 8% CAGR since 2007 due to strong growth for soft drinks (7% growth rate) and hot drinks (9%) (Source: Bloomberg Terminal):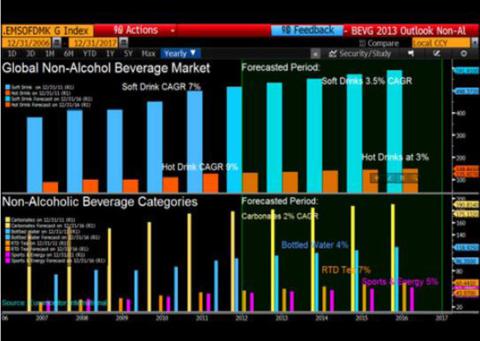 The intense scrutiny of the industry is due to the sugar levels in most of the beverages, which has attributed to a rise in diabetes and thus overall healthcare spending. These values are projected to increase moving forward (Source: Bloomberg Terminal):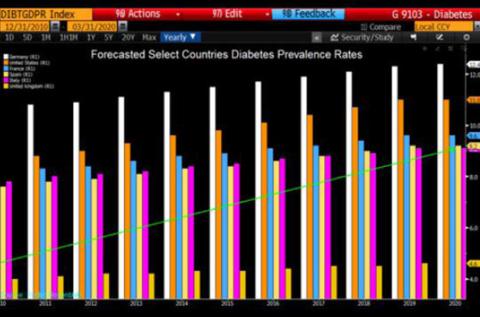 Costs are on the decline for the sector since the middle of 2011. This will expand margins and EPS growth for 2013, especially as many of these companies lock in input costs. Sugar especially has declined since December of 2011. Raw material inputs have declined roughly 30% and packaging materials also declined. Soft drink costs are comprised of 35% labor and manufacturing overhead, 25% raw materials, and 40% packaging (Source: Bloomberg Terminal):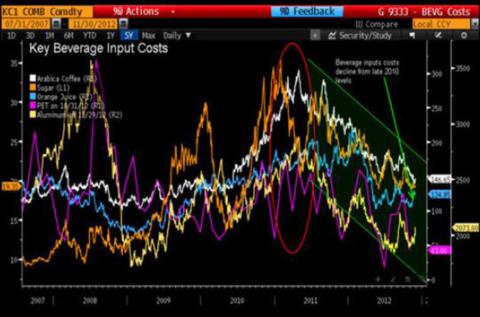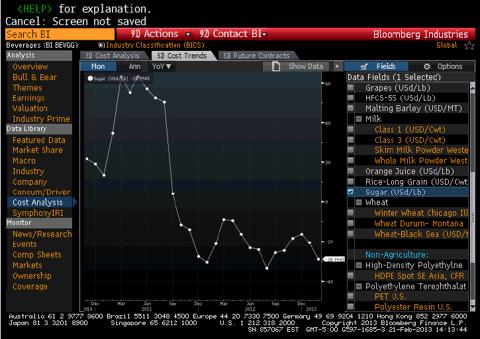 Brands and Market Share
Two of the biggest comparables in the industry are the brands of each company and the market share. KO's top brands are Coca-Cola, Diet Coke, Coca-Cola Zero, Fanta, Sprite, Vitamin Water, Powerade, Minute Maid, Simply, Georgia, and Del Valle. PEP's top brands are Pepsi, Aquafina, Diet Pepsi, PepsiMax, 7Up, Diet Mountain Dew, Tropicana, Sierra Mist, and Mirinda. PEP also has a snacks line, led by the Frito-Lay's chip maker. This has provided it diversification and opportunity compared to DPS and KO. DPS's top brands are Dr Pepper, Crush, Canada Dry, Sunkist, Schweppes, 7UP (US), A&W, Squirt, Sun Drop, Welch's, Snapple, Mott's, Yoo-Hoo, Deja Blue, AriZona, Country Time, Vernors, and Hawiian Punch. As clarification, DPS has the rights for distribution in the US and PEP has the non-US business. Clearly, all of these brands have global awareness, brand loyalty, and market share. Which company has the best brands though? The top ten soft-drink brands by volume are shown below (Source: Bloomberg Terminal):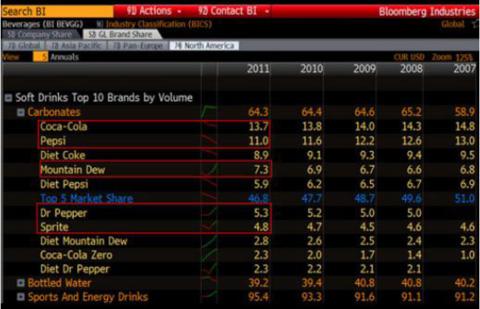 KO has two brands in the top five and four in the top ten. Its top brands controlled 27.4% of the market in 2011. This is down from the 28.3% the brands controlled in 2008. PEP also has four SKUs in the top ten and three SKUs in the top five brands. Its market share of the top ten brands declined from 28.3% in 2008 to just 27% in 2011. Where is the market share going then? DPS has taken market share with its growing Dr Pepper line. DPS just has its Dr Pepper and Diet Dr Pepper line in the top ten market share by volume. However, this market share climbed from 7.1% in 2008 to 7.6% in 2011. Combining the lower market share brands globally, KO had a 47.6% market share of soda in 2011, PEP had a 20.5% market share, and DPS had 3.8% of the market. KO actually charges a higher price per unit (as shown in the graph below). Price is relatively demand inelastic as shown by the price per unit. KO has the highest prices and DPS the lowest, yet KO has the highest volume share. Over the last four weeks, Symphony IRI's data shows that Coca-Cola has maintained its higher market share on dollar and unit bases. However, PEP with Pepsi and Mountain Dew bring up second and third. Despite its smaller size and distribution, DPS's Dr Pepper brand comprises the top five on unit and dollar, despite its below average price. The clear winner in the soda segment is KO, but look for DPS to chip away at the market share of both its peers. In just 2012, DPS got rights to sell at Chicago Bears games. It also has more potential to expand internationally (Source: Bloomberg Terminal):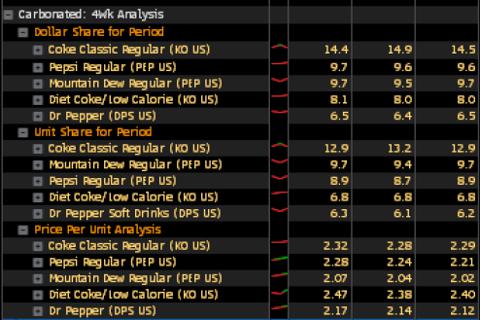 Sports and energy drinks are huge growth drivers for KO and PEP but not for DPS. Gatorade for PEP was 33.2% of the market in 2011 but declined from its 2007 37.3% share. Powerade, KO's answer to Gatorade, has taken market share away as it rose to 9.9% of volume. Even combining Powerade with Aquarius does not equal Gatorade's market share. This shows the first-mover advantage in the industry. Monster Beverage (NASDAQ:MNST) and Red Bull are the two main brands in the energy drink market. MNST stole market share from Red Bull in 2012 in almost every geographic market (Source: MNST Analyst Meeting). MNST's market share has more than doubled since 2007. This has led to speculation that KO or PEP would acquire MNST as Amp, Rockstar, NOS, Full Throttle, and many others can't compete with Monster or Red Bull. DPS has no real exposure to any of these higher growth markets. What could be interesting that is not mentioned is a merger between DPS and MNST. DPS is looking to expand its distribution and products. MNST would be better suited with KO due to its larger current distribution and KO's past desire to acquire MNST (Source: Bloomberg Terminal):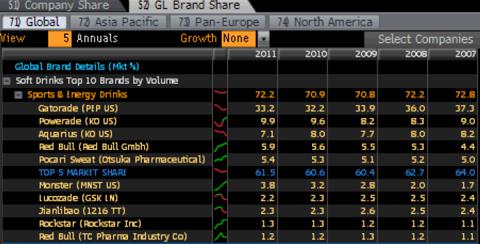 Over the last four weeks, Gatorade is still performing admirably. Sport drinks have the perception of being healthy despite certain additives in them. The reason that they are healthy is due to the vitamins and minerals within them, as well as the strong amount of electrolytes. It keeps an athlete hydrated. A brand not mentioned in the market share that is growing is Vitamin Water (KO brand). Gatorade is able to command such a high dollar market share because of its much higher prices. On a price per unit basis, Gatorade is $2 compared to Powerade's $1.30. PEP is able to charge a higher price because of the perception of higher quality due to its first-mover advantage. Gatorade's dollar basis was 64.9% over the last 4 weeks but just a 58.9% unit share. PEP on the other hand was only a 20.1% dollar share but a 29.3% unit share. Powerade has to charge lower prices to try to take market share and encourage brand switching. The winner in the sports drink segment is PEP as its first-mover advantage has put it well-ahead of peers (Source: Bloomberg Terminal):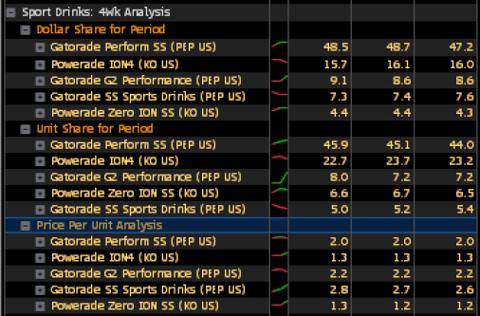 The energy drink category's domination by Red Bull and Monster is evident. In the last 4 weeks, Red Bull has been able to maintain its market share dominance. MNST, despite negative news articles and litigation, also has grown its dollar share over the period. MNST is also cheaper than most peers' drinks, as it has the capability to expand this in the future. Red Bull charges $3.25 per unit but MNST is $1 cheaper. On a unit basis, MNST closes the gap due to the price difference being eliminated. Red Bull is still the dominant player, but MNST could eat its lunch moving forward. The sub-industry itself is facing lawsuits due to the contaminants in it and recent deaths. There will probably need to be marketing changes to the labels on these products, but as CEO Rodney Sacks said here, one of MNST's products has less caffeine than a cup of coffee from Starbucks (NASDAQ:SBUX). The winner in the energy drink segment is neither PEP, KO, nor DPS. Assuming that there is no material change to the energy drink category, the winner is either Red Bull or MNST. For now, Red Bull controls the market but MNST is innovating more and launching new products in new markets. MNST should start to steal share. It would not be surprising to see Red Bull (after its founder died in 2012) or MNST get acquired by KO or PEP. Once again, a merger with DPS could be an interesting play for DPS. Both MNST and DPS have market caps of just under $9B, with DPS being the larger market cap (Source: Bloomberg Terminal):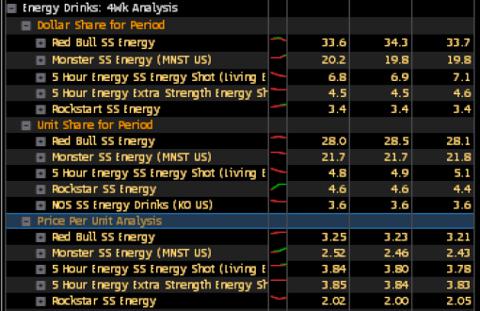 Fruit and juice and bottled water are other segments that these beverage giants compete in. KO is the top-dog in the juices market with a 10.7% share that grew from 9% in 2007. PEP also has gained share by 250 points. After PEP and KO, market share is mostly equal across peers but with notable market share gains from Tingyi and China Huiyuan Juice. In the bottled water category, Danone ("Dannon") is the leader. Part of the reason for this is Danone's exposure to the European market. After just recently visiting Europe, Danone's Evian, Acua, Volvic, Badoit, Naya, and other brands are huge. Europeans consistently prefer these brands over tap water. On a company share basis, Danone had a 12.3% of the bottled water market compared to 9.3%, 8.6%, and 4.2% for KO, PEP, and Nestle (OTCPK:NSRGY), respectively. Fortunately for KO and PEP, they are taking share from NSRGY and Danone (Source: Bloomberg Terminal):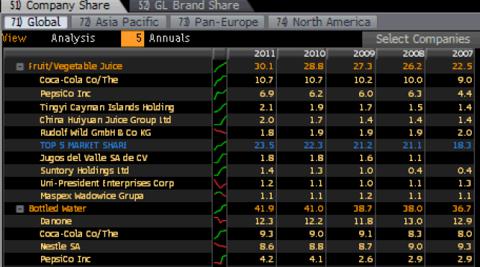 KO with Minute Maid leads the juice market with a 5.3% market share. Tropicana of PEP is secondary to it with a 3.1% market. Minute Maid, a brand with very similar products to Tropicana, appears to be taking share from Tropicana and the rest of the market. Minute Maid's market share jumped from 4.1% in 2007 to 5.3% in 2011. It would be interesting to see a company make a run at Ocean Spray in this segment, given the strong M&A perception in the industry since the H.J. Heinz (HNZ) acquisition. In July 2006, PEP and Ocean Spray entered into a joint-venture for $100M. The joint-venture is for 25 years and still has a long way to go. With low interest rates, it would make sense for PEP to try to acquire the co-operative. Ocean Spray has juices with high anti-oxidants which PEP can market into the current health-trend. Given Minute Maid's current dominance in juices, KO is the winner in this segment (Source: Bloomberg Terminal):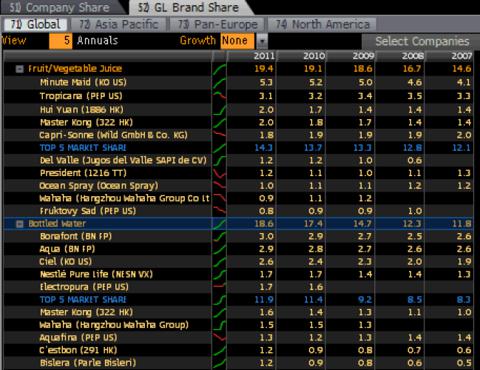 Bottled water's top two brands belong to Danone, with a combined 5.9% market share. KO's Ciel comes in a close-third. Ciel is a large brand due to its exposure to thirsty Mexico, where people are frequently warned not to drink the tap water. Surprisingly, Aquafina is 8th on the list and lost share since 2007. Even more surprising is that KO's Dasani brand does not even crack the top ten. In North America, NSRGY controlled 24.1% of the bottled water market with its Zephyrhills, Poland Spring, Perrier, Pellegrino, and Pure Life brands. KO was a distant second with a 13.4% market share and PEP even farther behind with just a 7.4%. If KO, PEP, or DPS want to win in the water markets, they will need to enter and have better distribution in poor-quality water areas. DPS has no real exposure to the bottled water market. KO and PEP are attempting to expand their presence in areas like China, Brazil, India, and Mexico. These areas lack quality water and will have high demand for bottled water as the middle class in these countries rise. With a stronger market share in North America and a brand in the top three of the sub-segment, KO is the better of the three. However, none of these three companies really has meaningful exposure as of now. If anything, NSRGY is the better play on bottled water.
To sum up the brands, KO has the better brands. Soft drinks are forecasted to grow in low-single digits. Bottled water is projected to grow 4%, but sports and energy drinks will grow the most at 5%. Exposure to the higher growth markets and sub-segments will be necessary to meaningfully grow. There is room for M&A in this grouping. Soda itself is facing unhealthy trends and low growth. Juices and sport drinks can grow with the health trend perception (despite some of the beverages being actually not healthy). Energy drinks have grown strongly but are now facing litigation and bad perception due to recent news. MNST has obtained over 20% sales growth in the past few years to give readers a clue into the high growth of this industry. Bottled water is growing exponentially, but none of these companies has meaningful exposure to either the global market or the brands to back this up. KO is better than PEP and DPS in overall brands.
Geographic Exposure
As mentioned already, geographic exposure will be important moving forward. The current trend in the Consumer Staples sector is towards emerging markets. Part of the reason Buffett acquired HNZ was due to the emerging growth exposure HNZ had. It was a no-brainer from that standpoint.
KO has surprisingly become more dependent on North America since 2010. More than 50% of its revenue is from its North American sales. This is not to say other segments have not grown. In fact, the only segment that has not grown is its Europe segment. Otherwise, the other geographies experienced compounded growth between 6.5% to 8.3%. Its second strongest growth (lagging the North American segment) came from its Latin American segment (Source: Capital IQ).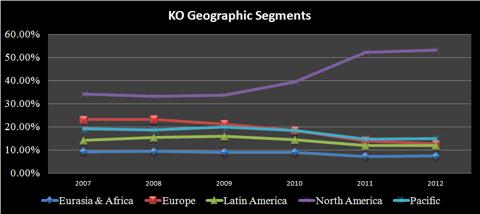 PEP is a different story. The problem with just looking at PEP's sales are that it includes its snacks business as well, which may give skewed results. PEP's US market has declined from 2007 to 2011 as a percentage of sales. It still grew 10.74% compounded though during this time. The biggest growth driver for PEP is its exposure to many countries. Under the 'All Other Countries' segment, PEP grew sales 16.13% compounded. This resulted in it becoming 27.5% of sales in 2011! It appears that PEP has exposure to greater growth markets than KO, but is lagging KO in North American growth. By combining its US, Mexican, and Canadian segments, PEP has grown North America's business 10.7%. This is half of what KO has done. North America accounted for almost 62% of sales in 2011, down from 69.5% in 2007 (Source: Capital IQ):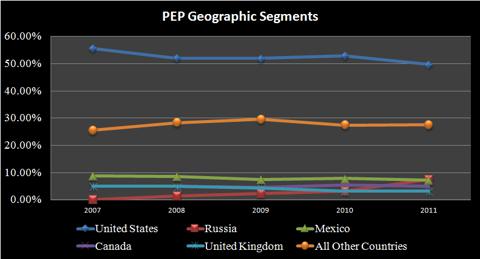 DPS is not nearly the size of its behemoth brothers. It only breaks out its sales by US and International. It has exposure to Latin America as a good part of its International segment. International increased 20 bps since 2007 as a percentage of sales and grown 1.33% compounded. Its US business is the driver of sales but only grew 0.85% compounded since 2007 (Source: Capital IQ):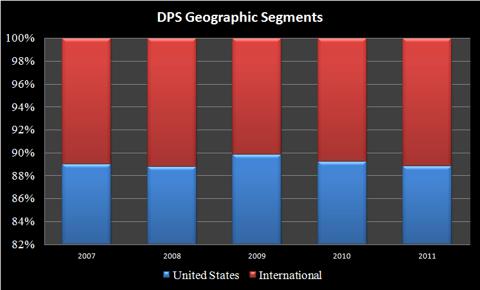 DPS does not have the high growth markets that its peers have. PEP has higher exposure to North America but is really getting its growth from its smaller countries. KO on the other hand gained significant exposure to North America in recent years as it has been its biggest growth driver. The two are having different successes in different arenas. With slowing population growth, which helps to drive consumption in the Consumer Staples industry, PEP has a better geographic play due to its stronger growth in those areas. As shown below, seven of the top ten countries per capita are experiencing slower growth of carbonated beverages over the past five years. This once again shows the trend away from soft drinks and more toward healthier beverages, even in developing nations (Source: Bloomberg Terminal):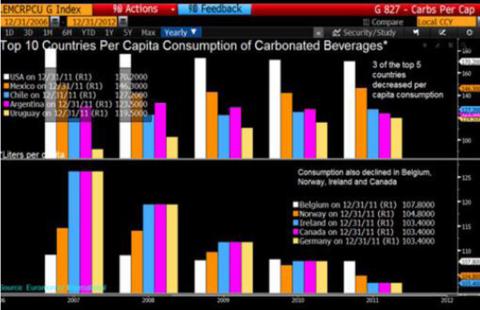 Ratios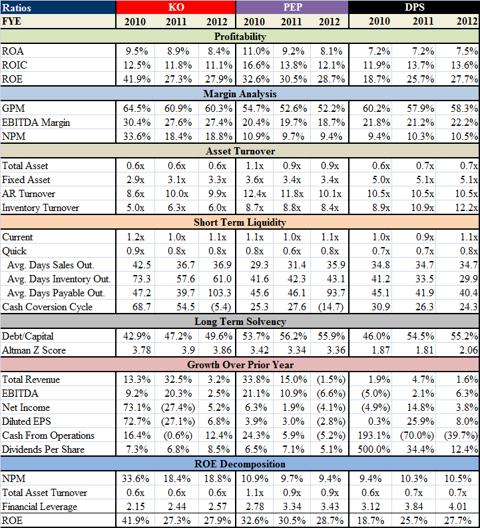 The table above (Source: Capital IQ), shows the ratios of the three companies over the last three years. Across the board in 2012, KO, PEP, and DPS had similar ROE. PEP had the greater ROE, but DPS had the greatest ROIC. Ironically, KO had the highest ROA. In other words, these three companies have similar returns. KO's ROE took a large nose-dive from 41.9% in 2010 which could be a cause for concern. DPS was the only company able to increase its ROE over the last few years. As shown in the DuPont Analysis, DPS drove its ROE higher by increasing all three drivers: profit margins, total asset turnover, and financial leverage. The shrinking margins have been the downfall of PEP and KO over the last three years. The reason for this is because gross profit margins declined. For KO, they declined over 400 bps in three years! In other words, KO is more exposed to input costs than its peers as it charges the most for its major brands. With lower input costs compared to past year, KO could significantly benefit in 2013. PEP's beverage business accounts for roughly 33% of its sales. Snacks carry higher margins than beverages usually, as shown by PEP's operating profit margins since 2007 (Source: Capital IQ):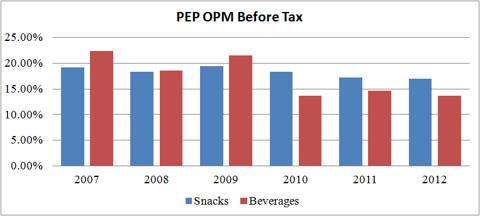 Beverages prior to 2010 were the higher margin business. Due to operating efficiencies within its snack business and higher input costs in its beverage segment, PEP drove higher profit from its snacks segments. If costs continue to trend downward, PEP could experience the switch back to higher beverage operating profit margin.
DPS trumps its larger peers in turnover. It is a smaller company that turns over its assets more. It doesn't need to carry as much inventory then and uses its assets better. DPS's inventory turnover is twice that of KO. In other words, DPS's management team is using its assets more wisely.
Liquidity is very similar, based solely on their current and quick ratios. One must look deeper than this though as the cash conversion cycle tells it all. PEP actually had a negative cash conversion cycle due solely to its higher payables outstanding. KO is similar in this aspect as well with a days payable of 103.3! The negative cash conversion cycle is compounded by shrinking days sales and days inventory outstanding. DPS has improved its cash conversion cycle as 24.3 days is nothing to laugh at. Pepsi and Coca-Cola's outstanding cash conversion cycles are something to be admired. From a solvency perspective, all three firms are similar with debt at approximately 50% of capital.
Growth is the reason investors like companies and what drives stock prices higher. DPS has the lowest revenue growth but highest dividends per share growth. KO had strong revenue growth in 2011 but had lower income growth. PEP was the weakest in growth in every category in 2012. The question for PEP will remain if its bet on emerging markets is the best option.
Valuation
It would appear that the market is favoring PEP. The reason for this has to be because of its snack segment as it is the only one of these three with a different business. Each of the three companies are valued similarly on a P/E basis. KO has a much more volatile than its two peers and is trading at the high end of its range on a P/E basis. DPS appears to have more value with its lower multiple, but it could be justified with its weaker brands, lower exposure to international markets, and poor growth. The reason to own it is based on its return to shareholders and potential to expand (Source: Capital IQ):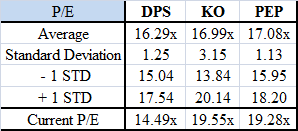 On an EV/EBIT basis, KO is valued more. This is due to its better EBIT margin than peers though over its capitalization (Source: Capital IQ):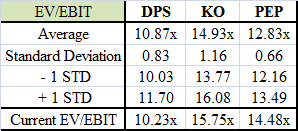 On a PEG basis, it shows the story that growth may be factored into KO and PEP already. Typically when the PEG gets to greater than 2x, growth is getting expensive. This industry is typically a slow growth industry. However, DPS presents a better value than both KO and PEP. PEP's PEG is currently at 2.06x, well-below its average but still higher than DPS and KO (Source: Capital IQ):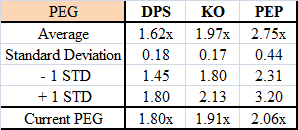 Conclusion
What does all of this mean though? Which stock is the better one to own right now? By solely taking analysts' estimates and the P/E range from above for each company, the following valuations are obtained (Source: Capital IQ):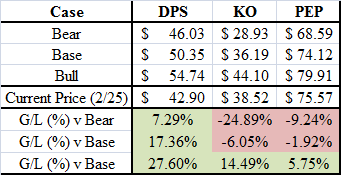 DPS offers the best risk/reward scenario at the current levels. It just released a dismal quarter on February 13. DPS appears to have value to it at these levels that could be justified. At just 15x earnings of $3.06, an investor could experience a price increase of over 7%. As shown by Equity Watch, PEP appears overvalued. The same could be said for that of KO. Due to its higher P/E volatility, KO has a wider risk-to-reward range than PEP.
Despite the analysis that DPS lacks certain competitive advantages, from a valuation perspective as of February 25, 2013, it appears to be the best choice. This is just a battle compared to the war though. DPS could continue to turn out to be a great play long-term and continue its outperformance, but given its lack of competitive advantages right now, this does not seem likely. KO has the better brands at this point, which have been key all along. PEP is clearly not the best option currently but has exposure to snacks. From a diversity standpoint, that is great. Over the long-run, beverage margins are better than snacks. With raw materials expected to be lower and KO's greater exposure to raw material volatility, the better brands, higher exposure to the bottled water market, the potential acquisition of MNST, and better current value than PEP, I would expect KO to outperform PEP long-term. Currently, my bet would be on DPS based on the better value, stronger yield, lower expectations, lower volatility, potential expansion into more markets, ability to enter new segments like the bottled water segment, and growing Dr Pepper brand. In other words, from a value perspective, DPS is best here. Investors looking for long-term growth here, KO is the best option. For those investors looking to diversify away the potential 'sugar' risk, PEP is the best bet of the three. Either way, investors are getting rewarded with these positions over the long-term.
Disclosure: I have no positions in any stocks mentioned, but may initiate a long position in DPS over the next 72 hours. I wrote this article myself, and it expresses my own opinions. I am not receiving compensation for it (other than from Seeking Alpha). I have no business relationship with any company whose stock is mentioned in this article.