Italy Becomes 'Ungovernable'
Once again an "unexpected" event has struck – this time it was the election in Italy, the outcome of which we have warned about for some time. This is what we wrote in our 2013 Outlook for the Euro Area on January 5:
"The bigger near term worry is however Italy. While the markets are by now used to apocalyptic news flow from Spain, they seem remarkably unconcerned about the potential for the upcoming election in Italy to upset the apple cart. And yet, it is Italy where there has so far been the least progress in terms of reform and restoration of competitiveness. Consequently, the country's economic performance continues to disappoint, to put it mildly. Most recently it was reported that new car sales in Italy have plummeted to a 30 year low in 2012, nearly 20% below the 2011 numbers. Fiat recorded its worst sales in 33 years. Note bene, Italy is Europe's third largest car market, so this is quite significant.

We have most recently discussed the developments on Italy's political scene here. Silvio Berlusconi's comeback and the strong support enjoyed by euro-skeptic newcomers like Beppe Grillo's 'Five Stars' party all make for a potentially interesting election outcome. While the former communist (now 'center left') Pier Luigi Bersani is widely expected to win the election (he remains officially in support of the 'Monti program'), it won't be smooth sailing even if he does, as he is unlikely to get control of the senate. Moreover, the potential for an election upset remains considerable."
Admittedly it was not difficult to make that forecast, but apparently the media and the markets somehow managed to be 'surprised' by the election outcome anyway. In news reports on the election we come across adjectives like 'stunning' to describe the result, so it is probably fair to say that this is the political expectations equivalent to the forecasts of mainstream economists on the euro area economy, which are regularly undercut by 'unexpected' declines on occasion of all sorts of economic data releases.
Anyway, it is certainly true that from the point of view of the eurocracy it was almost the worst possible outcome (Silvio Berlusconi winning an outright majority would presumably have been seen as even worse).
The big problem is twofold: first of all, the biggest winner was Beppe Grillo's 5 Star moment. However, all that is basically known about Grillo is that he is a euro-skeptic and despises the Italian political establishment with a vengeance. Both Berlusconi's PdL and Grillo's 5 Star movement each have enough seats in the Senate that without their say-so, no laws can get passed.
Pier Bersani's PD has been the big loser in spite of winning the election and Monti has been an even bigger loser: from an approval rating of 70% upon his arrival as the EU-imposed technocratic prime minister deposing Berlusconi, his fortunes have declined to getting just 10% of the vote. That reflects well what Italians think of his policies. The fact that the eurocracy had pinned its hopes on an ex-communist (Bersani) to help it to pull Italy out of the debt-mud is quite ironic as it were.
Here is the market reaction: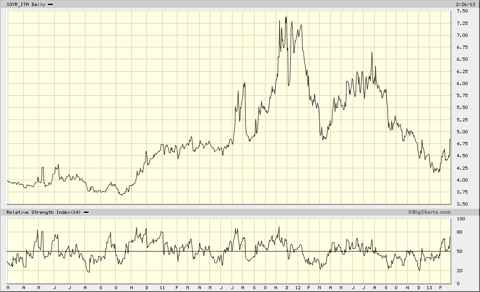 (click charts to enlarge)
Italy's 10-year yield keeps rising from its recent lows – once the election result was known, it jumped by 38 basis points.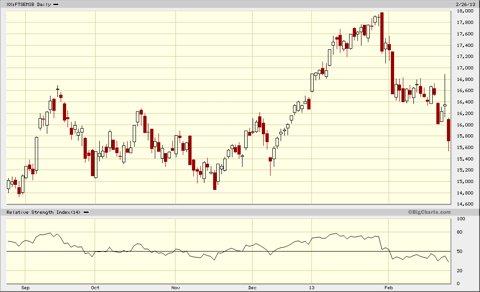 On Monday morning the hopium pipes were passed around and traders initially tried to rally the MIB in Milan. It subsequently lost about 1,000 points from the Monday intraday high.
The Problem
The election result is problematic for the euro area in several respects: the 'Draghi put' that was declared operative last year with the announcement of the OMT program had to be designed in a manner that made it acceptable to Germany and her allies in the North, i.e., the comparatively 'hard money' bloc of the euro area. Thus it was tied to strict 'conditionality', meaning its actual activation requires that the government applying for OMT must also apply to an ESM bailout – read: knuckle under to the budgetary diktats issued by Brussels and the IMF. Will Beppe Grillo ever give his placet to more austerity? We doubt it, and most likely neither will Silvio Berlusconi. They probably would rather return to the lira – but then the euro's 'irreversibility' would be forever shattered.
Without Italy, the euro would likely break apart. In fact, Berlusconi is on record for demanding unconditional money printing from the ECB. Berlusconi has already let it be known that he is prepared to enter into a coalition with Bersani, but even together they still won't control the Senate. And as far as Grillo goes: no-one actually knows what he really wants. It is more or less known what he is against, but not what he is for.
The next problem is that something is now becoming true in Italy that has so far been narrowly avoided elsewhere: EU/euro-skeptic parties are getting a significant slice of the vote, so significant in fact that they are becoming a factor in whether the current policies can be continued. To be sure, Syriza in Greece has also become a major party, but it was possible to outmaneuver it. Syriza can block nothing. Grillo's party can't be outmaneuvered, it has real power now, at least in the sense that it can stop legislation from getting passed.
Here is Reuters on the election:
"The Italian stock market fell and state borrowing costs rose on Tuesday as investors took fright at political deadlock after a stunning election that saw a comedian's protest party lead the poll and no group secure a clear majority in parliament.

"The winner is: Ingovernability" ran the headline in Rome newspaper Il Messaggero, reflecting the stalemate the country would have to confront in the next few weeks as sworn enemies would be forced to work together to form a government.

In a sign of where that might lead, former prime minister Silvio Berlusconi indicated his center-right might be open to a grand coalition with the center-left bloc of Pier Luigi Bersani, which will have a majority in the lower house thanks to a premium of seats given to the largest bloc in the chamber.

Results in the upper house, the Senate, where seats are awarded on a region-by-region basis, indicated the center-left would end up with about 119 seats, compared with 117 for the center-right. But 158 are needed for a majority to govern. Any coalition administration that may be formed must have a working majority in both houses in order to pass legislation.

Comedian Beppe Grillo's anti-establishment 5-Star Movement won the most votes of any single party, taking 25 percent. He shows no immediate inclination to cooperate with other groups. Despite talk of a new election, the main established parties seem likely to try to avoid that, fearing even more humiliation.

[…]

In a clear sign of worry at the top over what effect the elections could have on the economy, Prime Minister Mario Monti, whose austerity policies were repudiated by voters, called a meeting with the governor of the central bank, the economy minister and the European affairs minister for later on Tuesday.

Other governments in the euro zone sounded uneasy. Allies of German Chancellor Angela Merkel made no secret of disappointment at Monti's debacle and urged Rome to continue with economic reforms Berlin sees as vital to stabilizing the common currency.

France's Socialist finance minister also expressed "worry" at the prospect of legislative deadlock in Italy but said that Italians had rejected austerity and hoped Bersani's center-left could form a stable government to help foster growth in Europe."
(emphasis added)
Evidently others in the euro area realize what the election outcome could mean in the worst case. However, the biggest worries naturally emanated from Spain:
" Spain said it was extremely worried about the impact of Italy's deadlocked election result, warning on Tuesday the deadlock could affect the entire euro zone.

Foreign Minister Jose Manuel Garcia-Margallo said there was a feeling of "extreme concern" over possible movements in bond spreads as a reaction to the results. "This is a jump to nowhere that does not bode well either for Italy or for Europe," Garcia-Margallo told journalists on the sidelines of a conference in Madrid.

The Spanish government said it was monitoring the situation, especially the fallout on financial markets as the premium investors demand to hold Spanish 10-year debt rather than the German benchmark jumped to 393 basis points, a level not seen in several weeks, when it emerged a cabinet could be hard to form. Spain's blue-chip index Ibex was down 2.87 percent at around 0900 GMT."
(emphasis added)
Spain fears that if Italy's debt market begins to wobble again, its own bonds will wobble right along with it – not exactly an unlikely prospect as it were.
At Some Point, It Will Be 'Game Over'
Depending on how the cookie crumbles in Italy in upcoming weeks and months, the success of Grillo's movement could inspire voters elsewhere in the periphery as well. However, contrary to what happened in Greece's case, no-one can actually 'make an example' of Italy. That is just too risky, given the country's huge debtberg (the biggest in Europe and the third-largest in the world after the U.S. and Japan). Funny enough, even Bersani's party and its allies are trying to establish their 'anti austerity' credentials now:
"Stefano Fassina, a professor of economics who belongs to Bersani's Democratic Party, was more concrete. The austerity policies pursued thus far, he said, have only led to recession, and he promised that his party would not introduce additional belt-tightening measures. He said that growth must be stimulated via increased state spending on education, research and infrastructure. That, of course, would only increase the Italian debt load — and would hardly find approval from Monti.

Furthermore, Bersani is allied with Niki Vendola, head of Left Ecology Freedom. He is even more opposed to EU-wide austerity than the Democratic Party."
(emphasis added)
Of course this is all just so much empty blather. Italy's government is essentially bankrupt. In December of 2012, Italy's public debt for the first time ever exceeded the € 2 trillion mark (about $2.65 trillion), or more than € 33,000 for every man, woman and child in Italy (nearly $44,000). It remains at more than twice the Maastricht limit – which it by the way has never even once approached while it was a member of the euro area. In other words, Italy should never have been able to join the euro in the first place.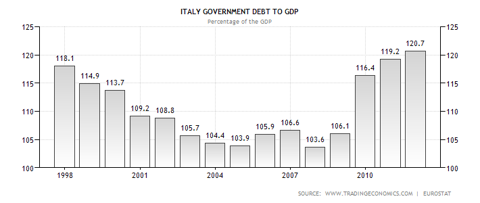 Italy's public debt as a percentage of GDP.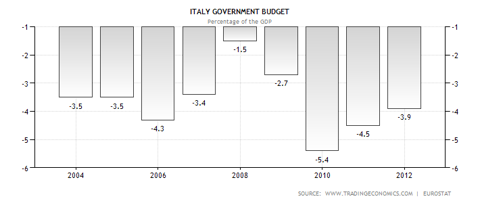 Italy's budget deficit as a percentage of GDP.
So the worries are well founded and there is actually no way for an Italian government to veer from the austerity path, regardless of what it would like to do. Consider also what Monti's vaunted 'austerity' policy actually consisted of in 2012: Italy's debt grew by nearly € 72 billion in 2012 alone.
That's the 'austerity' everybody is complaining about! Imagine what would happen if there were some real austerity imposed. Naturally the debt mountain cannot possibly shrink in this manner. However, it also cannot keep growing indefinitely. Eventually something will break and then it will be game over.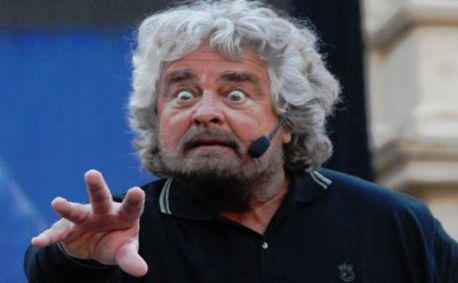 Italy's big election winner, comedian Beppe Grillo.
(Photo via liberoquotidiano.it)
Charts by: BigCharts, Tradingeconomics