By Todd M.
Summary
Deckers Outdoor (NASDAQ:DECK) is scheduled to report 4Q2012 earnings on Thursday, February 28. Results are typically available at 4:00 p.m. EST and will follow with a conference call at 4:30 p.m EST. This will be an important release for Deckers Outdoor, due to the seasonality of their UGG business, coupled with a significant number of shares held short.

Outliers & Strategy
Earnings Per Share: Analysts are expecting earnings to come in at $2.61 with a range $2.22 - $2.80. In the 3Q2012 earnings release, Deckers stated that they expects "fourth quarter 2012 diluted earnings per share to decrease approximately 14% from 2011 levels," or $2.73 per share.
Revenues: The current Street estimate is for revenues of $623.02 mln, with a range $590.30 MLN - $640.10 mln. In the 3Q2012 release, Deckers stated that "The Company now expects fourth quarter 2012 revenue to increase approximately 6% over 2011 levels," or $640.08 mln. Notice that the company's guidance is at the top of Street estimates.
Earnings Per Share Guidance (1Q2013): The current consensus estimate sees Deckers EPS for 1Q2013 at $0.06 with a wide range of ($0.43) - $0.29. (Source: Yahoo! Finance)
Earnings Per Share Guidance (FY2013): Analysts are expecting FY2013 EPS of $3.70.
Revenues Guidance (1Q2013): Analysts are expecting 1Q2013 of $257.23 mln.
Revenues Guidance (FY2013): Analysts are expecting FY2013 revenues of $1.48 bln.
Recent News
02/20: According to a post on Benzinga.com, Wedbush downgraded Deckers Outdoor from Outperform to Neutral, with a $45 price target. The firm cites a poor risk reward at current levels, due to valuation. Wedbush further states that guidance in the upcoming release will be critical to the price action following earnings.
02/04: Jefferies raised their price target from $50 to $60, according to a post on Benzinga.com. The firm's research concluded that "the UGG brand is still a core winter staple."
01/22: According to a post on StreetInsider.com, Canaccord Genuity has decreased their price target on Deckers Outdoor to $35, from $37. The firm cites warm weather and the belief that retailers will reduce wholesale orders after a weak fourth quarter.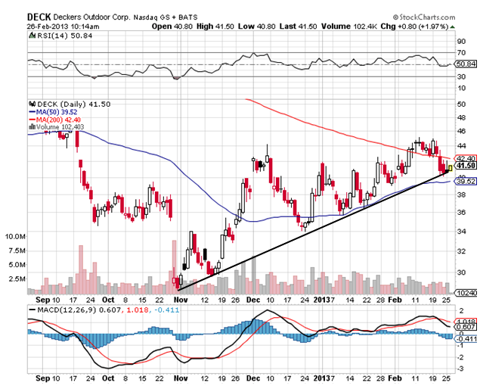 Techincal Review
Deckers Outdoor shares have bounced well off of its lows in recent months, climbing 22% on the quarter. It is worth noting that the 52-week range is relatively wide, trading as high as $80.88 and as low as $28.53. If fourth quarter results surprise to the upside, we could see a squeeze with initial resistance at the recent highs of $45.20, followed by the $49 area. Conversely, should earnings disappoint, look for initial support near the 200-SMA, followed by strong support at $35. (Chart courtesy of StockCharts.com)
Summary
The upcoming earnings release for Deckers Outdoor is the most important of the fiscal year, due to the seasonality of its business model. Sell-side sentiment is mixed, with the warmer holiday season causing some to reduce estimates for the quarter. Other analysts have contended that the UGG brand is alive and well. This ambiguity, along with an approximately 40% short interest, creates an ideal set-up for a large directional move. Look to the guidance provided in the release for a confirmation signal one way or the other.
Disclosure: I have no positions in any stocks mentioned, and no plans to initiate any positions within the next 72 hours. I wrote this article myself, and it expresses my own opinions. I am not receiving compensation for it (other than from Seeking Alpha). I have no business relationship with any company whose stock is mentioned in this article.
Disclaimer: By using this report, you acknowledge that Selerity, Inc. is in no way liable for losses or gains arising out of commentary, analysis, and or data in this report. Your investment decisions and recommendations are made entirely at your discretion. Selerity does not own securities in companies that they write about, is not an investment adviser, and the content contained herein is not an endorsement to buy or sell any securities. No content published as part of this report constitutes a recommendation that any particular investment, security, portfolio of securities, transaction or investment strategy is suitable for any specific person.