During 2010 I became very interested in the prospects for a group of North American unconventional (horizontal) oil producers.
I became interested in these companies for the following reasons:
1. I believe that reasonably high oil prices (as in $70-plus) are here to stay. The world isn't running out of oil, but it is getting to the point where we can't get it out of the ground fast enough to keep up with the global daily demand for the stuff. Daily demand for oil continues to grow relentlessly because of China, India, and the rest of the emerging world, while daily oil production appears to be flattening.
Combine that difficulty with the fact that the marginal cost of supply continues to rise (deepwater, oil sands) and I think our future is one of high oil prices.
2. I think Mr. Market greatly underestimates the growth that these unconventional oil players have in front of them. Many of these pure-play unconventional names have drilling inventories in unconventional plays that virtually assures they can grow production for the next decade or more, yet Mr. Market values these companies as though future growth is uncertain.
3. The value of the acreage in these resource plays continues to increase year after year as the technology and techniques used to develop the plays improves. These unconventional plays have only become economic in the last decade because of horizontal drilling combined with hydraulic fracturing. Improvements are being made on a regular basis that increase the amount of oil that can be recovered, decrease costs, or increase production rates.
I like these unconventional producers because they sit on enormous amounts of oil in the ground through the acreage they hold. Small improvements in the amount of oil that can be recovered will make big changes to the value for shareholders.

EOG Resources (NYSE:EOG) is by far the largest American horizontal crude oil producer. The chart above shows that EOG produces twice as much oil from horizontal drilling than any other company.
EOG's experience in the Eagle Ford shale is a perfect example of why I think an unconventional oil producer makes for a really solid long term investment.
Eagle Ford - 2011 Year End Reserve Increase
It is hard to believe now, but heading into 2011 the Eagle Ford play in Texas was still really a bit of an unknown entity. The huge gush of production from the play really started in 2011 and accelerated in 2012.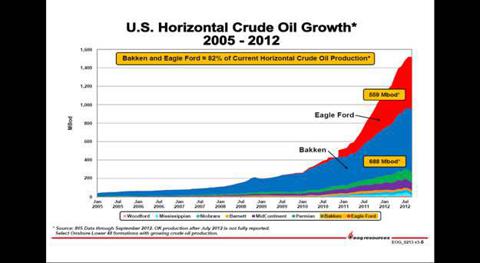 EOG has the largest position in the core of the Eagle Ford. Heading into the 2011 year end EOG has previously indicated that the company would be able over time to recover a massive 900 million barrels of oil from the Eagle Ford.
Then at the end of 2011 EOG increased that number pretty dramatically. Here is CEO Mark Papa explaining (transcript from Seeking Alpha):
First, we now have up to 200 days of well performance for multiple down spacing test, and we've concluded that our original 130-acre spacing was too wide to maximize NPV and recovery factors. Based on reservoir modeling and pilot results, we now calculate the spacing of 65 to 90 acres is more appropriate and will vary across the field depending on a number of factors including lease configuration, geology and reservoir conditions. Using this new spacing, we have a total of 3,200 additional wells yet to drill plus the 375 we've already drilled for a total potential recoverable reserve estimate of 1.6 billion barrels of oil equivalent net after royalty.

This is a 700 million barrel oil equivalent net after royalty or 78% increase from our previous estimate. Just this net increase of 700 million barrels of oil equivalent is larger, we believe, than any net domestic discovery by any company in recent history. And the total size of 1.6 billion recoverable barrels is the biggest U.S. discovery net to any one company since Prudhoe Bay in the late 1960s, in our opinion, including the deepwater Gulf of Mexico. We tend to kind of rollover some of these numbers and sometimes one gets lost in the numbers, but this is an extremely significant number and I want to quote it you again, the total size of 1.6 billion barrels of oil equivalent net after royalty that we've captured in Eagle Ford, we believe, is the biggest U.S. discovery including the entire deepwater Gulf of Mexico net to any one company since Prudhoe Bay in the late 1960s.

The outcome of our down spacing test is that we've taken the original 4% recovery factor and are now using 6%, based on geologic analysis, logs and studies, we now estimate the net after royalty oil in place under our acreage to be 27.9 billion barrels of oil equivalent.
This is why my portfolio is loaded with these unconventional oil landholders and why I keep buying more. At the end of 2011 EOG indicated that its Eagle Ford acreage would produce 700 million barrels more than previously thought.
Do you know how much revenue 700 million barrels of oil being sold at $90 per barrel generates? $63 billion!
How did EOG create this increase in recoverable oil? By taking its recovery factor from 4% to 6%. That is the power of sitting on such an enormous amount of oil in the ground.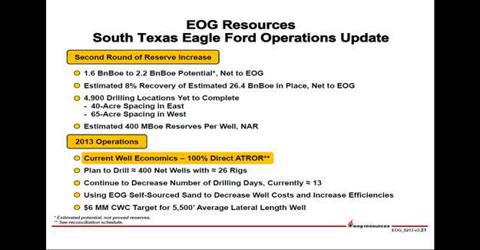 With its Eagle Ford acreage EOG is sitting on 26.4 billion barrels of oil in place. Small increases in the percentage that can be recovered makes for huge increases in value per EOG share.
Eagle Ford 2012 Year End - Another Recovery Factor Increase
CEO Papa provided shareholders with more good news during this year's year end conference call:
Third, through year-end 2012, we drilled and completed 630 net wells and conducted multiple spacing studies, and reservoir computer simulations. Simply put, we understand the reservoir much better than we did a year ago and we reached several important conclusions. The bottom line answer is that we are increasing our net potential recoverable reserve estimate by 600 million Boe and the development economics are still excellent.
That recovery factor that started at 4% and moved to 6% at the end of 2011 is now expected to increase to 8%. This increase takes the expected amount of recoverable oil from 1.6 billion barrels to 2.2 billion barrels.
And the great part for EOG shareholders is that this oil is all coming from land that EOG already owns.
This increase in recovery comes from EOG's experimenting with the ideal number of wells to drill on the property to maximize recoveries. By going from 65 acre well spacing down to 40 acre well spacing EOG believes it will both increase the amount of oil recovered and the net present value per acre by 42%.

There is More To Come - Secondary Recovery
In the 2012 year end conference call Mark Papa was asked if he thought that 8% was as good as it would get with respect to a recovery factor. He addressed the question as follows:
There is, no, we can't say that the 8% is the final, final, final answer at all. In terms of what we are still looking at doing on there, there is the continued work on potential additional spacing improvements and from frac enhancement, and then the one that I think is the big hitter potential hitter out there is secondary recovery.

In the case of the Eagle Ford, it would be through the gas injection and we have commenced our pilot gas injection project down there in the Eagle Ford. It may be as long as two years before we really have a read on the outcome of a pilot project, but it is worth our investors knowing that the pilot project is underway. It is fair to say that we are cautiously optimistic that we will come up with a method of significantly enhancing the recovery above the 8% number.
The increases from 4% to 6% to 8% in recovery factors has all related to what will be recovered through primary development. The message that I see through this industry is that secondary recovery such as natural gas injection or waterflooding will be the really big prize.
Petrobakken (PBKEF.PK) which is a company that I follow very closely is already well into a natural gas injection secondary recovery project on its Bakken property in Saskatchewan. Petrobakken (and its main competitor Crescent Point Energy) both believe that secondary recovery will almost double the amount of oil recoverable.
The beautiful thing about the boost in recoveries that will come from secondary recovery efforts are the economics involved. For secondary recovery there is no additional land cost and a huge percentage of the infrastructure is already in place from primary recovery efforts.
A barrel of oil produced through primary or secondary recovery techniques will both sell for the same price in the market. The cost of producing that barrel using secondary recovery might cost half of what producing a primary barrel did.
That is why I love these unconventional producers like EOG and Petrobakken as long term investments. The land that these companies hold is going to keep on giving more year after year.
It is hard to ignore the daily and weekly noise in the stock market and just hold a company for the long term. But that is what I'm trying to do, and as long as I'm right about oil prices staying reasonably high I think I should do ok.
Disclosure: I am long PBKEF.PK. I wrote this article myself, and it expresses my own opinions. I am not receiving compensation for it (other than from Seeking Alpha). I have no business relationship with any company whose stock is mentioned in this article.