Pengrowth Energy (NYSE:PGH) has to be the most frustrating stock I own. During most of 2012, Pengrowth was trading in lockstep with the price of natural gas and oil. However, this is no longer the case. Since mid-September, Pengrowth has seen its share price steadily decline, from about $7.00 to its current price at under $4.00. Pengrowth currently offers a monthly dividend of $0.04 per share. At current prices, the stock yields about 12%.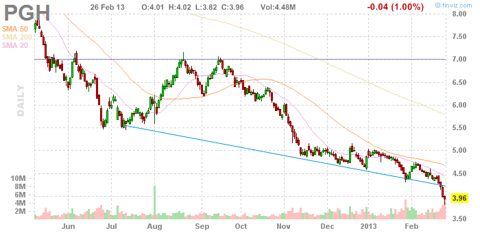 Click to enlarge
(Click to enlarge)
On January 11, 2013, Pengrowth held its Investor Day, and it announced that it was sanctioning Phase 1 of its Lindbergh thermal bitumen project. This project is a huge gamble for Pengrowth, as its capex cost are a massive $450M for Phase 1 only. I have already discussed in great detail the reasons why Pengrowth is pursuing this strategy, however, just to summarize:
Pengrowth plans to diversify away from Western Canadian light oil & natural gas markets and shift to thermal oil (also known as heavy oil), which has much lower decline rates and lower maintenance costs.
Pengrowth plans to sell this thermal oil to

U.S.

Gulf C

oast refiners, who are currently being supplied this heavier oil by Venezuela and Mexico at Brent crude prices.
Pengrowth plans to fund Lindbergh with asset sales and does not plan to issue debt or equity.
Before reducing the dividend, Pengrowth would sell assets and or reduce capital spending.
It is no secret that the Canadian energy producers are currently realizing much lower prices than in the past. Indeed, as of Tuesday, the spread between Western Canadian Select ("WCS") and West Texas Intermediate ("WTI") was a massive $25. This spread is projected to continue until the necessarily pipeline infrastructure is built [see Kinder Morgan (KMI) and Enbridge (ENB)]. It is my opinion that Pengrowth is making the logical choice by pursuing Lindbergh. At current prices, it does not make much business sense to produce light oil and natural gas in western Canada.
However, this price spread has existed for some time. In fact, it has been narrowing recently. This begs the question: Why has Pengrowth fallen so much recently? Unfortunately, I do not have the answer to that question. What I do know is that Pengrowth is now trading at an insane discount to its net asset value ("NAV"). As of Q3 2012, Pengrowth had over $5.9B in oil and natural gas assets and about $1.6B in debt. This leads to a total NAV of $4.3B. Pengrowth currently has about 507M shares outstanding. Dividing the NAV of $4.3B by the current number of shares of 507M leads to a NAV of $8.48 per share. With the stock currently trading at under $4, this leads to a shocking discount to NAV of 53%.

Click to enlarge
(Click to enlarge)
How did Pengrowth amass so many assets? During better times, Pengrowth was an aggressive buyer of oil and gas assets in western Canada. Due to this, Pengrowth now has a vast array of high cost, non-core assets. As of Q3 2012, Pengrowth had an estimate 434M BOE of proved plus probable reserves, 94K BOE/d of production with a 53% liquids/47% gas mix, and over 1.4M acres of undeveloped land.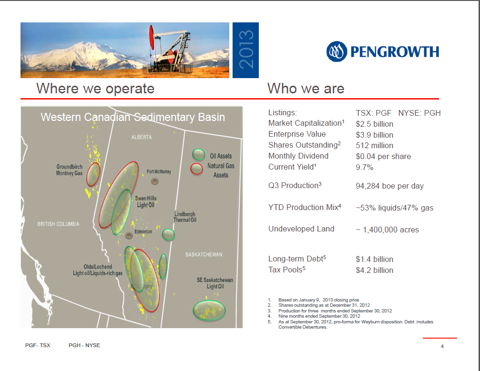 Click to enlarge
(Click to enlarge)
Is the valuation of $5.9B too big for the estimated 434M BOE of proved plus probable reserves? To answer this, we first need to see how much this is per BOE. By simply dividing $5.9B into 434M BOE, we arrive at a price of $13.60 per BOE. Now that we have this figure, let us look at some other facts:
During Q3 2012, Pengrowth achieved and average realized price of $44.73 per BOE.
On December 21, 2012, Pengrowth announced the sale of its 10.01952% working interest in its non-operated Weyburn property for $315 million. Pengrowth's share of Weyburn produced an average of 2,500 BOE/d during Q3 2012 and had proved plus probable reserves of 20.935 million BOE. This leads to a price of $15.04 per BOE.
On December 19, 2012, Penn West Petroleum (NYSE:PWE) announced the divestment of non-core assets of approximately 13,000 BOE/d and 69 million BOE of proved plus probable reserves, for $1.35B. Average transaction metrics were approximately $103,000 per flowing barrel and approximately $19 per boe of proved plus probable of reserves.
On November 1, 2012, Enerplus Corporation (NYSE:ERF) closed the sale of crude oil assets in Manitoba for $216 million including estimated closing adjustments. These assets were producing approximately 1,600 BOE/day of crude oil and had an estimated 8.4 million barrels of estimated proved plus probable reserves associated with them. This selling price reflects valuation metrics of approximately $135,000 per flowing barrel and $25.70 per BOE of proved plus probable reserves.
Just like Pengrowth, Enerplus and Penn West also operate in western Canada. Considering these prior asset sales, I conclude that $5.9B valuation ($13.60 per BOE) is a fair valuation for Pengrowth's assets. However, with the 53% discount that Pengrowth is currently trading for, this leads to a shocking low valuation of $6.39 per BOE of proved plus probable of reserves.
Conclusion
Pengrowth will be reporting its Q4 and full-year 2012 results before the market opens on Friday, March 1. It is my opinion that Pengrowth needs to consider its strategic options, including the possible sale of the entire company. The market price for Pengrowth's stock is no longer rational considering its NAV and current yield. That Pengrowth reserves are currently only valued at $6.39 per BOE is a travesty.
Disclosure: I am long PGH. I wrote this article myself, and it expresses my own opinions. I am not receiving compensation for it (other than from Seeking Alpha). I have no business relationship with any company whose stock is mentioned in this article.