Fresh Del Monte Produce (NYSE:FDP)
Fresh Del Monte Produce is a world-wide leader in growing and selling fruit and fruit-related products. They had a solid 2012, seeing their earnings per share grow from $1.82/share to $2.54/share compared to 2011. They also saw their profits increase while overall revenue was actually down.
Del Monte has a reasonably limited and predictable downside, as large-scale problems with growing fruit can be observed ahead of time. Similarly, issues with world-wide demand for Del Monte's fruit products would likely be known by investors before they would be reported in an earnings call.
Del Monte is a global company, and you can expect that global economic issues would effect it more positively and negatively than larger, concentrated, national companies. Yet despite world-wide economic turmoil over the past few years, their bottom line profits have improved and their profit margins have improved every year since the end of 2010.
Click to enlarge
(image from finance.google.com; a year of modest growth)
In news that is undoubtedly pleasing to shareholders of Del Monte, the board of directors voted to increase their dividend 25% from $0.10/share to $0.125/share. This increase in the quarterly dividend will go to the holders of record on March 6, 2013 for the dividend paid out on March 29, 2013. Their board of directors seems to prefer to hold steady at one amount for a dividend every quarter, rather than aim for a particular yield, as the past consecutive six quarters were at $0.10/share as well.
In the most recent earnings call, Del Monte's CEO posited that there would be aggressive pricing competition in the US market in the coming quarter. He expected that this would result in a low single-digit price decline for Del Monte and all competitors yet wouldn't affect market share and would only lower profits for all involved.
For those interested in investing in Del Monte for its long-term stability, likely growth in developing markets, and modest dividend yield, there is something to be aware of: institutional holdings. 64% of all shares are owned by institutions. That can be a blessing and a curse since there isn't a large amount of float. FDP won't make you a mint in a day, but it likely won't crater in twenty minutes either. With over a 100-year history this is something to hold on to for the long haul.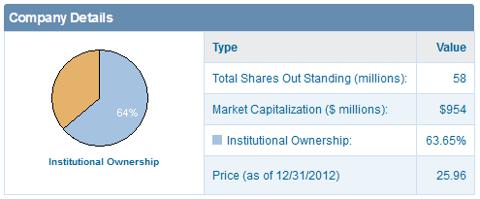 Click to enlarge
(from nasdaq.com; a picture of stability)
Disclosure: I have no positions in any stocks mentioned, and no plans to initiate any positions within the next 72 hours. I wrote this article myself, and it expresses my own opinions. I am not receiving compensation for it (other than from Seeking Alpha). I have no business relationship with any company whose stock is mentioned in this article.