Facebook (NASDAQ:FB) just became a one-stop shop. Graph Search, which is now in its beta testing stage, allows users to find people, places, photos, and other content that has been shared on the site. After a wild ride following its IPO, shares of FB have rebounded on a renewed confidence that Mark Zuckerberg, Sheryl Sandberg, and the rest of the leadership team are guiding the company in the direction to justify such a high valuation.
The street seems to once again believe in the darling tech company, as shares have moved from the IPO price of $38 to a low of $17.55 in early September, and have now rebounded to the $27 level after not being able to sustain a $32 price level. From a percentage perspective, the stock tumbled 53.8% after its IPO, then rose 85.2% from its September lows, and has dropped 16.5% since the end of January.
It has been a wild roller coaster ride, and it seems that the company is finally on firmer ground. There are no certainties (especially in this advertising-driven tech space), but there has been some leveling out during the past few weeks that point toward a stock poised for less volatility and more growth in the coming months.
Continued Growth in Users and Engagement
On an operational level, the company is executing seamlessly. Active usage is increasing and mobile usage is skyrocketing. When FB announced their fourth quarter earnings on January 30, 2013, the following operational highlights were noted:
Monthly active users (MAUs) were 1.06 billion as of December 31, 2012, an increase of 25% year-over-year
Daily active users (DAUs) were 618 million on average for December 2012, an increase of 28% year-over-year
Mobile MAUs were 680 million as of December 31, 2012, an increase of 57% year-over-year
Mobile DAUs exceeded web DAUs for the first time in the fourth quarter of 2012
(Source: Facebook)
Engagement among this active user base is growing, and will continue to do so at an accelerating rate with the new addition of Graph Search. As noted above, FB has now become a one-stop shop. The largest social network in the world now a searchable hub for everything you need. Remember how Yelp (NYSE:YELP) used to be the go-to spot for restaurant reviews? But you never really did trust "Amy H." or "John C." who had a terrible experience at your favorite restaurant because, well, they were just a name on the screen to you. With Graph Search, you can now read reviews about restaurants that your friends have been to, that are pertinent to you given your current location, or that jive with your style and taste in food. Remember when Zynga (NASDAQ:ZNGA) games dominated newsfeeds and actually made FB somewhat unattractive to users? Now users have ultimate access to any games their friends are playing through Graph Search. Do you want to know the coolest new musician out there? Graph Search allows users to see who their friends are listening to and liking.
Engaged Users Driving Financials
Past earnings must discount the future benefit of Graph Search, because the function was only introduced as recently as the last earnings call. Even so, FB has experienced tremendous growth, led primarily by their bolstered focus on mobile.
Revenue in the 4th quarter of 2012 was $1.585 billion as compared to $1.13 billion in the previous year, a 40% increase. Additionally, FY revenues were $5.09 billion in 2012 as compared to $3.71 in the previous year, a 37.2% increase. The increases in revenue significantly outpaced the percentage increases in daily average users, showing that FB has become better at monetizing their users and current active user engagement is growing as well.
| | | | | | | | |
| --- | --- | --- | --- | --- | --- | --- | --- |
| In millions, except percentages and per share amounts | Q4'11 | | Q4'12 | | FY'11 | | FY'12 |
| | | | | | | | |
| Revenue | $1,131 | | $1,585 | | $3,711 | | $5,089 |
| Income from Operations | | | | | | | |
| GAAP | $548 | | $523 | | $1,756 | | $538 |
| Non-GAAP | $624 | | $736 | | $1,980 | | $2,261 |
| Operating Margin | | | | | | | |
| GAAP | 48% | | 33% | | 47% | | 11% |
| Non-GAAP | 55% | | 46% | | 53% | | 44% |
| Net Income | | | | | | | |
| GAAP | $302 | | $64 | | $1,000 | | $53 |
| Non-GAAP | $360 | | $426 | | $1,164 | | $1,317 |
| Diluted Earnings per Share (NYSEARCA:EPS) | | | | | | | |
| GAAP | $0.14 | | $0.03 | | $0.46 | | $0.01 |
| Non-GAAP | $0.15 | | $0.17 | | $0.50 | | $0.53 |
| (Source: Facebook) | | | | | | | |
Potential Future Revenue Streams
With search comes optimization. Graph Search is the engine which will drive FB to new heights as a company, and in turn, as a stock. If you're not a beta user of the new FB function, you need to sign up immediately. This is the future of the social network, and in a few years investors might look back with regret that they didn't begin building a position at this level.
Graph Search introduces an entirely new field of monetization for FB. Potential new future revenue streams include:
Optimization Costs: Allow businesses to enhance their search position within Graph Search. Said businesses are paying other search giants like Google (NASDAQ:GOOG) and Yahoo (NASDAQ:YHOO) for better search positioning. FB is next to tap into this expansive revenue stream. In fact, tests have been in place with the Suggested Page feature, where companies have the ability to pay for their status updates and page recommendations to be broadcast more widely than to their users. With FB SEO, businesses will have a hand in how easily users can find them, from the global to hyper-local level.
Reservation System: Perhaps an acquisition of industry-leader OpenTable (NASDAQ:OPEN) is in the works. With FB's vast network of restaurant listings now at the forefront of search, a reservation system could be on their mind and OPEN would be the prime candidate for acquisition.
Music Systems: Monetization and further integration of Spotify relationship.
The growth that FB has experienced (and driven with focused efforts) in the mobile category has been groundbreaking because it opens them up to another completely new revenue stream. Whether through acquisition or internal development, FB has the ability to take advantage of the hyper-local knowledge of mobile devices and make Graph Search-type recommendations to users based on exactly where they are located. It's revolutionary, and it's going to make FB a lot of money.
How to Trade a Gem
FB's chart doesn't look pretty. As noted above, it has slumped pretty significantly during the past month, losing 16.5% of its value and is trending negatively. Momentum indicators and RSI is also trending downward, and given the fact that the stock has rallied some 55% since making lows in September, there still might be a little more to this correction.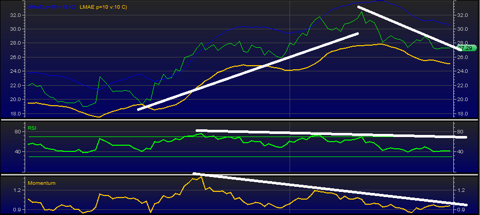 Click to enlarge
That all being said: FB is a buy. These levels are ripe to begin a long position, though it would be prudent to only invest some 30% of your total anticipated investment at this level. As always, if the stock continues to trend lower, an investor can average down to build a larger position. Similarly, if the stock reverses and begins a new uptrend, an investor can average up and build a stronger position in the stock. FB is experiencing the growth it only hoped for at its initial hundred billion dollar valuation. The fundamentals are strong, the growth story is in place, and Graph Search will help FB traverse the bounds from Nasdaq newcomer to perennial tech powerhouse.
Disclosure: I have no positions in any stocks mentioned, but may initiate a long position in FB over the next 72 hours. I wrote this article myself, and it expresses my own opinions. I am not receiving compensation for it (other than from Seeking Alpha). I have no business relationship with any company whose stock is mentioned in this article.