Reading articles on Apple (NASDAQ:AAPL) on Seeking Alpha these days is like reading the transcripts for political campaign ads. There is no common ground. Everyone either wants to proclaim the stock the deal of the century or dead money with endless downside risk. Even those articles that are self-proclaimed to be unbiased shed their true colors at some point. This polarization in sentiment is shocking to me as typically investors, especially value investors are more open-minded and realistic. While I am in fact long AAPL with a $450 entry point a few weeks ago, I do not deny the presence of risk. As a Seeking Alpha writer I feel that my job is to identify what type of articles that could help investors are not already available on the site, and then go about making them available. Right now I think we could all use an objective analysis of Apple and so I hope this article will provide just that. I will discuss all the heated points about the company and present my realistic view.
Downside Risk
I admit there is downside risk to AAPL stock at current levels. Though the company is cheap relative to earnings in the past 12 months at a p/e of 10.04, whose to say earnings can't decline from here? While I think earnings growth is likely considering the company's track record,

I accept the risk that earnings could potentially decline from here if the company fails to produce a new quality product or margins compress significantly. I can see why investors disagree so much on this issue. Just look at the EPS chart. EPS TTM went sideways in the last quarter, leaving little clue to investors as to which direction it is trending.
Shareholder Friendliness
Some investors are extremely angry with the company for failing to distribute a substantial amount of its $137 billion cash hoard in the form of dividends and buybacks. David Einhorn went so far as to sue the company. On the other side, Apple worshippers praise the company for the dividend and buybacks, citing that they never would have happened with Steve Jobs in charge. I think the truth lies somewhere in between these views. While Apple still has plenty of work to go to get on the level of companies like Costco (NASDAQ:COST) where the CEO makes significantly less than industry average pay and a special dividend equal to 7.25% is distributed, I think the company has taken steps in the right direction. The dividend and buyback were good starts and the company showed signs of improving candidness. In Apple's Q1 conference call, CFO Peter Oppenheimer said:
In addition to the reporting changes that we have already mentioned, to further increase transparency into business we are changing our approach to how we provide guidance.
In recent years, our guidance reflected a conservative point estimate of results every quarter that we had reasonable confidence in achieving. Going forward, we plan to provide a range of guidance that reflects our belief of what we are likely to achieve. While we cannot forecast with complete accuracy, we believe we are likely to report within the range of guidance we provide.
Basically, going forward we can be more confident that Apple's guidance is accurate, not just some 'low-ball' target that the company plans to blow away to surprise everyone and send stock price up. It certainly is a good step.
I also appreciated Cook speaking at the Goldman Sachs Technology and Internet Conference to address shareholder concerns over the cash hoard (though his answers didn't help much).
On the other side, a few things that I find more bothersome than the cash hoard is the companies extensive use of stock based compensation and Tim Cook's huge compensation package. Say what they will about it providing management with incentives to perform, adding stock directly cuts into shareholder profits.

Stock based compensation outweighed buybacks in Q1, decreasing earnings by almost 1%. 1% is significant when we consider most investors seek at least a 10% return in a year. Tim Cook was awarded $378 million in 2011, most of which he'll have to stay around to receive, but that is still an exorbitant amount.
Again, Apple is taking steps in the right direction but still has plenty of work to do to become a company I can truly call "shareholder friendly."
Historical Comparisons
Many investors pessimistic about Apple compare the company to BlackBerry (NASDAQ:BBRY) (formerly Research in Motion), Dell (NASDAQ:DELL), Nokia (NYSE:NOK), and various other 'fallen angel' consumer technology companies. Others disregard these comparisons, citing that Apple is different because it has several successful product lines and an ecosystem that the other companies did not possess.
I think these comparisons are worthwhile because they remind us of the fast-paced nature of the tech sector. In tech, you have to continue to produce innovative, differentiated products to succeed or you will fall just like these former darlings did. The comparisons don't tell the whole story though because of Apple's competitive advantages. Apple has iTunes, iCloud, and an extensive app ecosystem to keep its products 'sticky.' None of these other companies really had synergistic advantages like these.
The comparisons are meaningful though because if Apple fails to deliver another quality product, it will fall just like its predecessors, competitive advantages or not.
Size and Growth Potential
It is undeniable that Apple has been extremely successful in achieving growth in the past 5 years. Market cap has appreciated 300% in that time. Now however, the company appears to be at critical point.

Some investors claim the company has tapped into all revenue sources and reached market saturation, that revenues have nowhere to go but down. Others believe the company has near infinite sources of revenue and that size plays no factor in the company's growth. These are the type of investors who bid the price up to $700 per share.
I think the truth is that Apple does have some markets left to expand into, but the company's enormous size will certainly prevent it from coming even close to matching the 60% earnings growth it achieved in the past. All good things do come to an end eventually (unless you're General Electric (NYSE:GE)) and that will be true of Apple some day, but with Greater China largely untapped and due for big growth if the company comes to a deal with China Mobile Ltd. (NYSE:CHL) and emerging markets like India and Africa looking ideal for a lower priced iPhone, there is certainly still room to grow. Qualcomm (NASDAQ:QCOM) CEO Paul Jacobs came out a few days ago saying, "We are seeing strong growth around the world for both high end and low end smartphones. The smartphone tail winds are there and they are strong." Its also significant that Apple only had 21.8% market share in the global smartphone market in 4Q12, a relatively small fraction of the market for a company the size of Apple that could certainly be increased.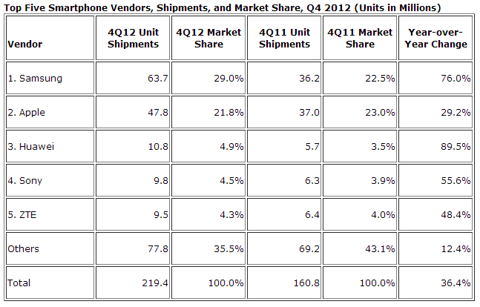 All that being said, look how Apple's YOY earnings growth has declined in the past 2 years.

Clearly there has been a significant decline in growth of late, giving many investors good reason to question Apple's future growth potential.
As far as growth is concerned, there really is no definitive answer right now good or bad and investors will just have to deal with that uncertainty until more performance data comes out and we get an idea which way the company is headed. For now, analysts are still predicting growth of about 19%, but honestly their guess is probably is good as ours.
Innovation and Talent
Some investors say that the company is no longer capable of producing an innovative product because Steve Jobs was their visionary and Tim Cook is far from a product guy. Others retort that there is more than one man behind Apple's products and that people like Jony Ive who played a major role in Apple's innovation while Jobs was around are still present. They also cite that Jobs recommended Cook for CEO and that Cook essentially was CEO for the last year or so of Jobs' tenure.
The truth is we don't really know what Apple is capable of in the future. The iPad Mini is the only first-generation product to be released post-Jobs and it really isn't all that different from the iPad. Until Apple releases a new product, we won't know what the current team is truly capable of. Rumors float around like the iWatch and iTV but that's all they will be, rumors, until the company actually announces a product release. Apple has always been very secretive of future plans. That's not necessarily good or bad but what it does mean is that we don't know much. Because the new team hasn't released much yet, we have nothing to judge them by and should just accept that this, like most other things about the company are relatively indeterminable for the moment.
Technicals
This is something I wasn't sure if I should include or not because technical analysts always find a way to disagree and argue. Apple is no exception though. Many momentum-based technical investors say Apple's chart looks disgusting, with the stock price's trajectory headed into the ground.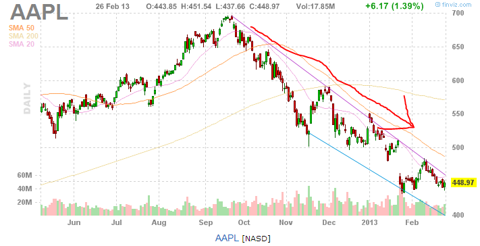 Other resistance based technical investors disagree about where Apple's resistance is. I've heard anything from $350 to $450. A 30% resistance range isn't very helpful in determining price movement.
Still other technical investors are optimistic about the stock simply because it is at a 52 week low and trading below all its moving averages. This is true but ask that momentum trader from before if this is a good thing and you can bet his answer will be no.
There really is no answer here. I've never been much for technical analysis, but if it does apply in some cases, it certainly doesn't work for Apple. Predicting which way price will move in a given day is as hard as predicting a coin toss.
Conclusion
While I do have a very large long position in AAPL, I do not deny that there is risk and much that is unknown about Apple right now. To toss Apple away as dead money with no potential for growth is ignorant as is denying the presence of risk. Investors who are long AAPL need to openly consider the risk of a technology company that operates in a fast-paced competitive environment. Investors who throw insult after insult Apple's way need to consider the possibility of a great company continuing to do great things. Can't we all just agree that Apple is a great, cheap company that could get a lot cheaper but also could appreciate a good deal. Can't we all just logically debate instead of ripping each other to pieces. There has to be some sort of common ground and that is what I have tried to establish in this article.
Disclosure: I am long AAPL. I wrote this article myself, and it expresses my own opinions. I am not receiving compensation for it (other than from Seeking Alpha). I have no business relationship with any company whose stock is mentioned in this article.