Natural Resources Partners (NYSE:NRP) is offering 10% yield and is set to surge on an economic recovery.
Summary
We are not going to fool you by saying that this is another stock that is "a sure bet", because nothing is. But we do believe, that if you buy in at the current price level of ~$21, you are looking at a potential upside of ~40% and a limited downside of 10% (that is, assuming '08 will occur all over again). The upside potential will very likely be realized if the following happens (or does not happen):
A mediocre recovery in industrial production in China or the US
No serious adverse geological conditions at the company's properties
Management keeps up with their good work of acquiring quality assets
The first condition is easily the hardest to predict but we will present you with our best estimate based on hard data and analysis. We are going to proceed and show you:
Based on solely historic financial data, the company is in a strong financial standing and is well positioned financially to profit on favorable economic trends, should they occur.
Forward looking analysis and statements with regard to the coal industry, in which NRP earns the majority of its revenue.
The current price level shows a unique opportunity to profit on the company's future growth.
Business overview
Natural Resources Partners L.P. ("the company" or "NRP") is a limited partnership that engages in the business of owning and leasing coal and oil & gas reserves in the US. The company is operated by its general partner NRP (GP) L.P., which is ultimately controlled by Corbin J. Robertson through multiple layers of ownership. The company does not operate any mines but leases its reserve holdings to mine operators to receive royalties. Revenue comes from three segments: coal royalty (74% of 2011 revenue), transportation and processing fees (8%), aggregates royalties, oil and gas royalty. Royalty income under the standard lease contract is a function of tons of coal mined and the sales price. Its financial performance is therefore subject to seasonal fluctuations of coal demand and prices. NRP regularly acquires new assets to offset the decline in production volumes from existing reserves. Its operations and acquisitions are financed through long-term credit facilities and bond issuance.
Strong balance sheet and adequate cash flow
MLP investors put more weight on dividend as opposed to capital appreciation so cash flow is always our number one concern as opposed to net income. NRP has produced stable increasing cash flow since 2007 with a 5-yr CAGR of 12.7%. It also has a rich cash balance of $122mi, or $1.15 per share that covers 2.5 times its interest expense in 2011. Total assets grew at 4.8% 2007-2011 financed by a reasonable amount of long-term borrowing that keeps annual interest expense below 20% of total operating cash flow. The company has a history of distributing 65%-75% of cash flow generated from operations and putting the rest of the cash aside for current or future expansion. Overall, we believe NRP has a strong balance sheet backed by adequate cash flow and is expected to have little to no trouble in fulfilling its debt obligations over the next 3-4 years.
| | | | | | | |
| --- | --- | --- | --- | --- | --- | --- |
| (USDmi) | FY2012Q3 | FY2011 | FY2010 | FY2009 | FY2008 | FY2007 |
| Total revenues | | $378 | $301 | $256 | $292 | $215 |
| Income from operations | | $104 | $196 | $154 | $197 | $128 |
| Interest expense | | ($49) | ($42) | ($40) | ($28) | ($29) |
| Net income | | $54 | $154 | $114 | $170 | $102 |
| Cash from operations | | $306 | $259 | $211 | $230 | $168 |
| EPS | | $0.50 | $1.54 | $1.17 | $1.95 | $1.11 |
| CF per share | | $2.88 | $3.16 | $3.11 | $3.54 | $2.61 |
| DPS | | $2.17 | $2.16 | $2.16 | $2.07 | $1.88 |
| Div/operating CF | | 75% | 68% | 69% | 58% | 72% |
| | | | | | | |
| Balance sheet data : | | | | | | |
| Cash | $122 | $215 | $96 | $83 | $90 | $58 |
| Cash per share | $1.15 | $2.03 | $1.17 | $1.22 | $1.39 | $0.90 |
| Total assets | $1,714 | $1,666 | $1,664 | $1,524 | $1,301 | $1,320 |
| Long-term debt | $852 | $836 | $661 | $627 | $479 | $496 |
| Total equity | $617 | $645 | $825 | $765 | $743 | $745 |
| D/E ratio | 138% | 130% | 80% | 82% | 64% | 67% |
| Operating CF/interest | | 6.21x | 6.21x | 5.25x | 8.11x | 5.86x |
We take a closer look at NRP's recent financials and relate it to its stock performance during the recent years. Noticeable in the table above is the abrupt decline in net income from $154mi in 2010 to $54mi in 2011, which in part contributed to the drop in share price from ~$30 at the start of 2012 to ~$22 early 2013. The reason is that the company took a one-off $161mi asset impairment charge in its Gatling West Virginia and the Gatling Ohio mining sites. The write-off was due to unforeseeable adverse geological conditions and is expected to impact future cash distribution by less than 10%. Despite its drag on earnings, the effect of impairment on cash flow is minimal and does not constitute a deterioration in earnings potential.
Another striking spot is the spike in debt to equity ratio in 2011. It appears partners capital did not grow in tandem with long-term debt but we would like to caution that this is again due to the one-off impairment charge that ate into the value of equity capital, without which the D/E ratio would have been ~100%. Still high, some might say; but if we take a closer look at the debt schedule, the operating cash flow of 2011 alone is enough for fulfilling the principal debt payment in 2012-2014. Operating CF to interest expense ratio, another common survivability metric, shows a very safe multiple of ~5x.
Our conclusion of the section is that NRP is financially sound as long as it keeps growing its assets and cash flow at the current pace. We do not, at the moment, comment on the future earnings and cash flow generation potential of the company and just stick to the conservative assumption that the company will keep going on the current track, as its future largely rely on macro factors such as coal demand, industrial production in China, which we shall discuss in the section that follows.
Coal demand set to surge in 2013
As mentioned above, NRP's earnings is strongly driven by coal production and prices. Despite Obama's call for clean energy (and I'm all for it), our nation will still rely on coal energy for years to come. As of March 2012, approximately 40% of the world's electricity needs were provided by coal. Yes, coal is the second source of primary energy after oil. Coal accounts for 21% of US total energy production in 2010 (for lack of more recent data), the same level as in 2006 (23%). Contrary to popular beliefs, coal is actually the fastest growing sector in the traditional energy space. As fancy as green energy initiatives can be, coal energy production is cheap, scalable, and safe. And it will remain that way unless there are some major technological advances in the green energy space. Sources of data and charts can be found here.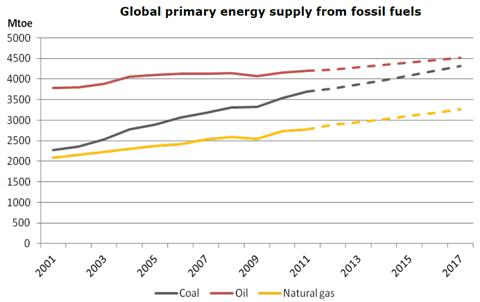 Click to enlarge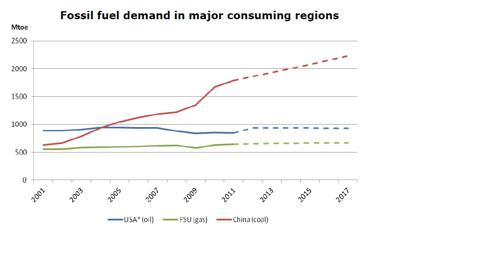 Click to enlarge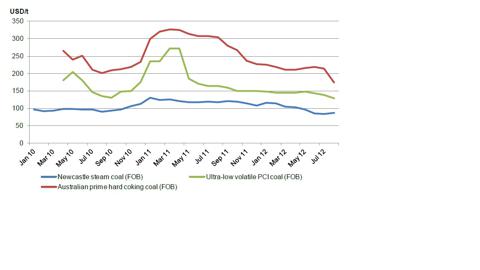 Click to enlarge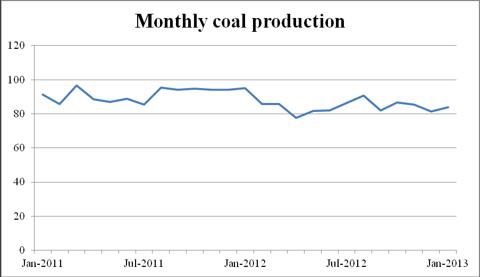 Click to enlarge
Forecasting future supplies of energy can be a murky business. But what we can do is provide an economic supply and demand framework and analyze both sides of the equation based on available data.
On the supply side, coal production in the US sees relatively little seasonality and has remained stable, if not a very slight downward trend, during the past three years. Despite the sluggish coal price across the country in recent years, the coal production industry maintained a near-constant output level. We have reason to believe that the production volume will not shoot up once demand comes back.
On the demand side, the story is little trickier. The demand for coal is primarily driven by energy production in non-OECD countries. It is therefore no surprise that the largest producer and consumer of coal is no other than the global production engine, China. China's thirst for energy coal is no secret to coal export countries. Indonesia, Australia, US (~15-20%) and Russia are the top four exporting economies of coal to the country.
Recent favorable macroeconomic developments suggest that China might turn into a economic growth engine soon. China's economy grew at 7.8% in 2011 down from 10.4% in 2010. HSBC's PMI index came in at 52.3 in January, the third month in a row that indicates improving business sentiments. Real economic indicators such as electricity output, freight traffic and cement production also showed signs of improvement. Sources of data can be found here.
Coal prices are at the moment out of sync with the generally improving economic sentiment most notably from China and the US. Primary indicators have dropped to a multi-year low. We believe the coal price decline that started in early 2011 is coming to an end with the production engines in both China and the US revving up.
Dividend and capital appreciation both attractive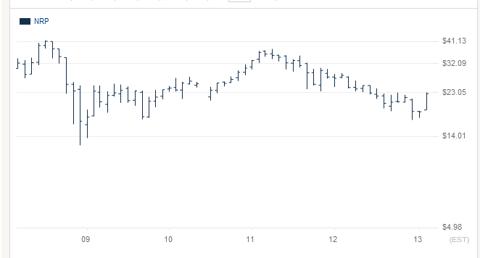 Click to enlarge
We believe NRP is trading at an absolute bargain level at the moment, trading at $21.49 as of Monday's close and yielding a record 10.24%. From a technical perspective, bottom formed at around $18-20 but with favorable macroeconomic environment, good dividend policy and a strong balance sheet, the upside is substantial. Our price target is $35 where, conservatively assuming the stock maintains its current dividend level, dividend yield would be ~6.3%.
At its current price level, we are talking about a downside of less than 15% and an upside of ~30% on stock price appreciation and ~10% on dividends.
Disclosure: I am long NRP. I wrote this article myself, and it expresses my own opinions. I am not receiving compensation for it (other than from Seeking Alpha). I have no business relationship with any company whose stock is mentioned in this article.