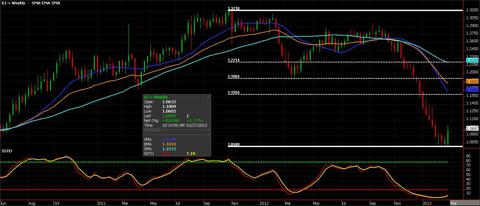 For months the Yen has traded lower as a number of trend followers have been able to print money on bearish trades right along the side of central banks. The party may be over as prices appear to be establishing a base in the last 4 weeks. Do I think the trade is over...maybe? As opposed to picking a bottom let's just say that I think we see a bounce and it is worthy of a trade. In this week's action we have a bullish engulfing candle in the making and as of this post prices are almost 3% off their recent lows. As long as March futures maintain above $1.08 I am friendly.
Prices on the daily chart settled above the 20 day MA for the first time yesterday since early November. We are bumping up against the 34 day EMA just under 1.10 which is our next hurdle. I think on a trade above that level prices swiftly make their way to the 50 day MA, currently at $1.1180 in March. Because bucking the trend I would opt to construct a trade with options as opposed to futures. Two possible plays would be bull call spreads or back ratio spreads. Assuming we've made an interim low a 38.2% Fibonacci retracement could get prices back near $1.15.
The Bank of Japan has targeted expanding the monetary base in the country for years now but when is enough? By weakening the currency by approximately 18% in the last 6 months has the BOJ accomplished its mission or do we have lower ground still? There have been whispers of a par trade but I don't see it just yet. At least not until we get a healthy bounce so that is why I think it makes sense to explore a bullish trade for the coming weeks.
Risk Disclaimer: The opinions contained herein are for general information only and not tailored to any specific investor's needs or investment goals. Any opinions expressed in this article are as of the date indicated. Trading futures, options and Forex involves substantial risk of loss and is not suitable for all investors. Past performance is not necessarily indicative of future results.
Disclosure: I have no positions in any stocks mentioned, and no plans to initiate any positions within the next 72 hours. I wrote this article myself, and it expresses my own opinions. I am not receiving compensation for it. I have no business relationship with any company whose stock is mentioned in this article.