This article focuses on KCAP Financial (NASDAQ:KCAP) and compares it to the 11 BDCs covered in my previous articles including:
Updates
February 25 - SLRC reported financial results with EPS higher than expected and covered its dividend but also increased the debt to equity ratio so I adjusted the profit category higher and the risk category lower (less

favorable

)
February 25 - Solar Senior Capital (NASDAQ:SUNS) reported financial results with EPS higher than

expected

February 25 - TICC Capital (NASDAQ:TICC) completed the sale of additional notes in an $80 million increase to the collateralized loan obligation transaction that originally closed on August 23, 2012
Over the past week some BDC prices fell including MCC, SLRC and HTGC so I adjusted the valuation category higher (more

favorable

)
Business Development Companies (BDCs) lend to small and mid-sized businesses, with limited financial leverage, paying out most of their income to investors and paying little to no corporate tax.
These are the five general criteria I use to evaluate BDCs:
Profitability (EPS to cover dividends, growth)
Risk (diversification, volatility, leverage)
Payout (sustainable, consistent, growing)
Analyst Opinions
Valuation (P/E, PEG, NAV)
For more information about BDCs, how I evaluate them, and my BDC investment philosophy, please see this article.
Below is an oversimplified chart evaluating the companies I have reviewed among my universe of 30 BDCs giving them a relative score between 0 and 10 (10 being the best). In reality I use different weightings for each criterion. In future articles I will add the new companies to this chart as well as update info.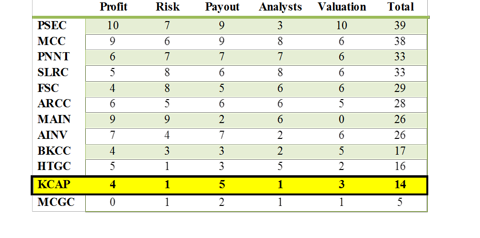 KCAP Financial
Market Cap: $268 million
Yield: 11.0%
Div/EPS: 96%
Div/Proj. EPS: 127%
P/E: 12.5
Price/NAV: 1.30
Debt/Equity: 0.43
Portfolio Yield: 17.6%
Recent Developments
October 10 -

Sold

$41.4 million in aggregate principal amount of 7.375% senior unsecured notes due in 2019.
November 28 - Announced it had reached a final settlement with the SEC to resolve the 2008 and 2009 valuations of certain investments and the valuation methodology and procedures used.
February 5 - Announced that it priced a public offering of 4,750,000 shares of its common stock at a price of $9.75 per share for total gross proceeds of $46.3 million. KCAP also granted the underwriters an option to purchase up to 682,500 additional shares of common stock.
Profit
KCAP Financial (formerly Kohlberg Capital Corporation) has had inconsistent quarterly earnings over the past two years and analysts are projecting annual EPS of less than $1.00 through 2014, yet dividends are $0.28 per quarter or $1.12 per year. My primary concern when evaluating BDCs is if they can afford their generous dividends. KCAP has grown dividends 60% over the past 18 months while issuing new shares. At this point it seems unlikely that KCAP will cover their dividend in the near future.
Risk
Board members and management own in excess of 17% of shares (high among BDCs) helping to align interests with shareholders.
It has a less than average industry diversification with very little in energy, technology, services, and basic materials. The portfolio asset class mix is weighted toward riskier mezzanine debt seeking higher portfolio yield with only 23% in first lien senior positions (see chart below).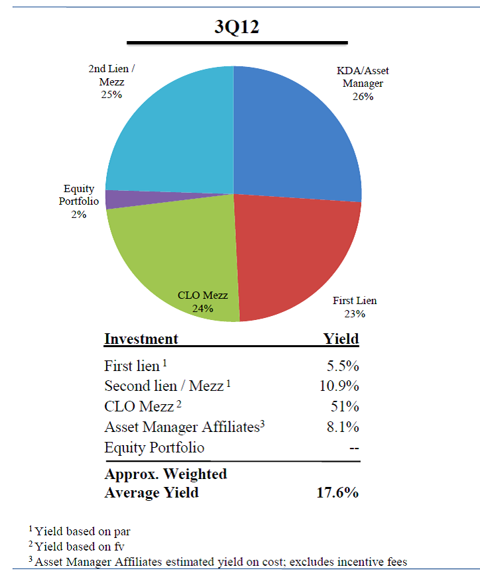 KCAP typically makes a minority investment in the most junior class of securities of CLO Funds managed by the Asset Manager Affiliates as well as other asset management companies. The CLO Funds invest primarily in broadly syndicated non-investment grade loans, high-yield bonds and other credit instruments of corporate issuers. In Part 2 of this series I discussed my discomfort with TICC and collateralized loan obligation investments because it's less transparent than the standard BDC portfolio investments. I need to do more research in this area.
Volatility ratios for KCAP are among the highest in the industry and it was one of the worst performing stocks (of the existing BDCs) during the recession with a decline of almost 90%. The debt to equity of 0.43 is below the group average but does not include debt/equity offerings since Q3.
Another concern is the institutional holders are starting to sell shares on a net basis.
Payout
The current dividend yield of 11.0% is among the highest due to recent increases in the quarterly payment from $0.17 to $0.28 in the last 18 months. However, as I discussed earlier it may take to some time to cover this dividend, especially while issuing new shares, and the potential for increases soon is unlikely.
Analysts
Recently analysts have started downgrading the stock and reduced the price target to $8 to $9.
Valuation
The stock has surged since increasing its dividends and is trading 30% over NAV and a P/E of 12.5 which is higher than the group average.
Summary
I have owned KCAP over the years but currently do not have a position. They should be reporting year-end financial results in March with projected quarterly EPS of $0.22 which does not cover the dividend. With its low EPS growth projections, higher risk investments, high volatility ratios, and higher valuation multiples, I would consider KCAP one of "The Bad" BDCs along with MCGC, HTGC and BKCC.
Disclosure: I am long MCC, PSEC, MAIN, PNNT, SLRC, ARCC. I wrote this article myself, and it expresses my own opinions. I am not receiving compensation for it (other than from Seeking Alpha). I have no business relationship with any company whose stock is mentioned in this article.